What Is a Degree In Sustainability?
What Is a Degree In Sustainability?
What Is a Degree In Sustainability?

Sustainability, or avoiding exhausting natural resources to support ecological balance, is changing the way people conduct business, consume products, and live their lives. In 2019, H&M, the Swedish retail clothing company, launched a line of sustainable clothes made from recycled textiles and metals. That same year, over 6,000 Amazon employees signed a letter urging the online retailer to increase its sustainability initiatives. Finally, in 2019 Etsy became the first major e-commerce business to offset 100% of its carbon emissions from shipping by balancing them with sponsored environmental projects.
Earning a degree in sustainability can help those interested in this field build their knowledge of sustainability initiatives, urban planning, environmental science, and corporate responsibility. Maryville University's online Bachelor of Science in Sustainability degree program prepares students with the skills needed to pursue rewarding careers that can have a positive impact on our planet's future.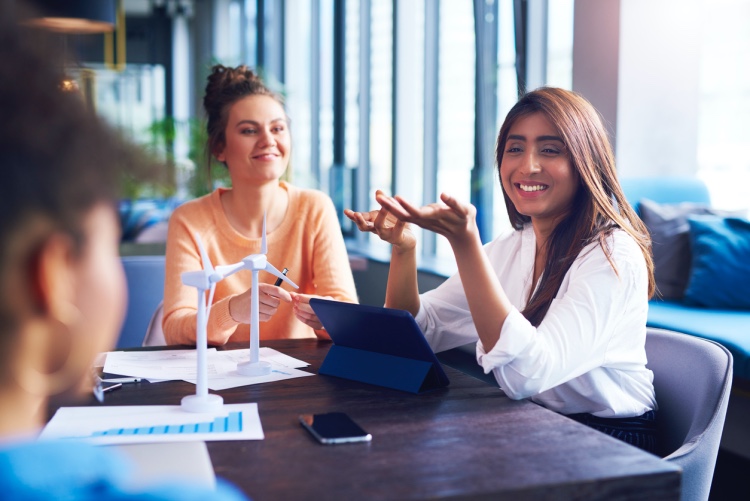 Degrees in Sustainability
A degree in sustainability prepares students to enter the field across a range of industries and careers. The growing interest in sustainability has affected all fields and businesses, such as technology, nonprofit organizations, and government agencies. In response, leaders are increasing investments in talent and initiatives that can create more environmentally friendly practices.
Sustainability degree programs allow students to develop the skills to lead and manage these practices. Students acquire core competencies in communication, problem-solving, research, and math and science. They also build their sustainability knowledge in courses on environmental science and health, sustainable agriculture, environmental law and policy, and ecosystem studies.
Graduates of a sustainability degree program might pursue such careers as conservation scientist, urban planner, ecologist, or director of corporate responsibility. They might also start their journeys to pursuing careers that require further education or certification, such as wildlife biologist, environmental attorney, or hydrologist.
Sustainability vs. Forestry Degree
Although a degree in sustainability and a degree in forestry have some similarities, they differ in scope. A forestry program prepares students for careers in forestry and conservation. Courses cover forest biology, wildlife management, botany, and geology, for example. Degrees in both sustainability and forestry can equip students with the skills to work with wildlife and develop conservation strategies and environmental practices to build a healthier world.
The sustainability curriculum prepares students for a wide range of industries and careers, such as urban planner, director of corporate responsibility, and environmental attorney. Meanwhile, a degree in forestry has a narrower scope, focusing more specifically on forest management and conservation careers, such as forester, forest technician, and conservation scientist.
Sustainability vs. Environmental Science Degree
An environmental science degree emphasizes the sciences, featuring courses in biology, ecology, chemistry, physics, and geology. This kind of program can prepare students for careers such as environmental scientist, anthropologist, marine biologist, and zoologist. Both a degree in sustainability and a degree in environmental science can equip students to tackle the scientific aspects of environmental initiatives, as each one offers coursework in biology, ecosystem studies, and chemistry.
A degree in sustainability, however, provides a future-focused, cross-disciplinary, global view of sustainable and environmental programs. Going beyond just technical knowledge, this degree program provides students with a comprehensive understanding of the philosophy of sustainability and the ethics of humans' responsibility to preserve our environment and protect natural resources. This degree program is also business-focused, preparing students for roles such as corporate steward, in which they would be responsible for helping companies develop more eco-friendly programs and processes.
Prepare for a Career in Sustainability
What is a degree in sustainability? It is the educational key to a future in the field of sustainability and environmentally focused careers. Maryville University's online Bachelor of Science in Sustainability degree program pairs an interdisciplinary curriculum with experiential learning opportunities, arming students with the knowledge they need to build initiatives that empower people to take action and effect change.
Learn how Maryville University's online Bachelor of Science in Sustainability prepares students to become leaders in this growing field.
Sources
Environment + Energy Leader, "More Than 6,000 Amazon Employees Sign Letter Urging Company to Increase Sustainability Initiatives"
Etsy, "Carbon-Offset Shipping: Delivering a World of Good"
Fast Company, "Consumers Want to Buy Sustainably — They Just Don't Know How"
Fire Science Online, "What You Can Do with a Forestry Degree"
Forbes, "88% of Consumers Want You to Help Them Make a Difference"
Thought Co., "Requirements and Training for Becoming a Forester"
U.S. Bureau of Labor Statistics, Careers in Forestry: Nature's Office Suite
U.S. Bureau of Labor Statistics, Careers in Sustainable Forestry
U.S. News & World Report, "What to Do with an Environmental Science Degree"
WayUp, "What Types of Skills Are Best for a Sustainability Studies Major?"


Be Brave
Bring us your ambition and we'll guide you along a personalized path to a quality education that's designed to change your life.