The Technical Side of Sports: How to Become a Sports Data Analyst
The Technical Side of Sports: How to Become a Sports Data Analyst
The Technical Side of Sports: How to Become a Sports Data Analyst
In the 21st century, those who excel in technology, math, and working with data have joined athletes and managers in the professional realm of sports. These newcomers to the sports industry have changed athletics like never before, equalling the impressive feats on the field with new feats in analytics.
In Major League Baseball, for example, Business Insider reports that sophisticated field f/x camera tracking systems in every ballpark transform every pitch, hit, and out into raw data. This information allows managers, coaches, and analysts to learn which fielder has the quickest reaction time to a batted ball, or exactly how much break is on a star pitcher's curveball. Soccer teams around the world use data analysis to track the individual movement patterns of each player. Basketball teams use data to chart every shot their players take and make — not just in games, but in practice — so they can help athletes hone their skills and develop plays that complement their strengths. The list goes on in hockey, football, tennis, and more — all of which use technology to advance the sport.
Data now affects every aspect of athletics, from on-field performance and sports medicine to marketing and fundraising efforts. Along the way, sports data analysts have become integral parts of billion-dollar franchises in sports, not just in the United States, but around the world. These days, data analysts help lead the charge. Read on to discover how to become a sports data analyst, what a sports data analyst does, and what the range is for a sports data analyst salary.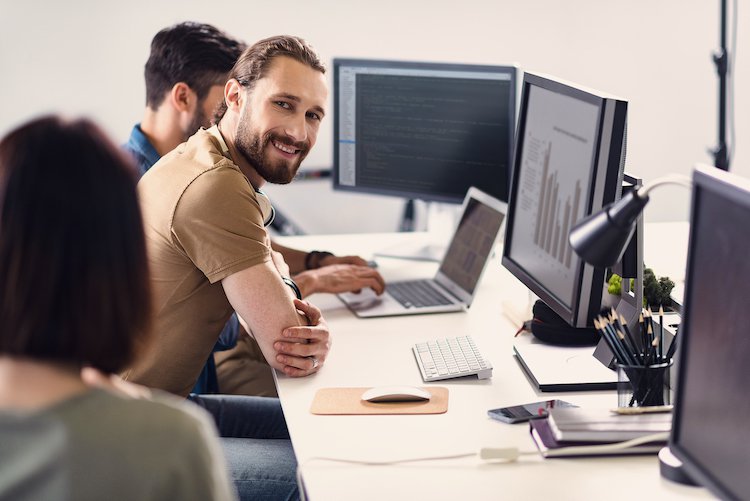 What Does a Sports Data Analyst Do?
Sports data analysts spend their time collecting on-field and off-field data from a variety of sources and then analyzing and interpreting that data looking for meaningful insights, according to Proem Sports. On-field data includes player performance and health, as well as the viability of plays and tactics. Off-field data can include fan behavior, audience purchasing habits, and social media interactions. It's vital sports data analysts understand statistics, data management, and data analysis — and that they know how to communicate conclusions to stakeholders, such as coaches, general managers, and scouts.
Discover the Steps to Become a Sports Data Analyst
Joining the data analytics team of a sports franchise often requires interested candidates to check off the right boxes in terms of education and experience before they hit the job market. Here are the steps.
Pursue the Right Education
As sports have evolved from recreational pastimes to parts of a global economic force — the sports industry is worth more than $73 billion in North America alone, according to Forbes — colleges have developed majors designed specifically for those who want to get involved in the field on a professional level. One example is Maryville University's online Rawlings Sport Business Management degree, which combines business classes with instruction specific to the sports industry; students can even select a concentration in Sport Data Analytics. To make themselves even more attractive to future employers, prospective data analysts should also have a basic understanding of computer programming.
Gain Professional Experience
Sports franchises find candidates with professional experience in data analysis more attractive than those without, so it can strengthen a resume to spend some time contributing to data analysis in a workplace setting. Many academic environments help students gain professional experience before they graduate, allowing them to find out what a sports data analyst does in the real world and how they can apply their classroom learning on the job. Maryville University's Sport Business Management program includes both a professional internship and a capstone course that ensures graduates not only receive a high-level education but that they also gain the crucial experience that can help them apply what they learned in their degree program once they get a full-time position in the sports industry.
Salary of a Sports Data Analyst
The sports data analyst profession is still in its early years. PayScale reports that the average salaries of related roles are as follows: sports marketing coordinator, $43,314; market research analyst, $60,375; and sports statistician, $71,917. In addition, the U.S. Bureau of Labor Statistics (BLS) reports that management analysts, advertising/promotions managers, and sales managers with related experience in the industry can make between $92,000 and $121,000, while market research analysts make on average $63,120. Salaries can vary depending on geographic location, experience level, employer, and other factors. In order to maximize their potential salary as a sports data analyst, candidates should consider earning additional years of experience as well as a master's degree.
Sports Data Analyst Job Outlook
According to the BLS, the job outlook for management analysts, advertising/promotions managers, and sales managers is strong. Companies are projected to create a total of 115,000 new management analyst positions between 2016 and 2026, indicating a 14% growth rate. Advertising/promotions managers are expected to experience a 10% growth rate, and sales managers a 7% growth rate during the same time frame. The number of market research analysts positions is projected to grow 23% from 2016 to 2026.
Learn More
The data revolution in sports is here to stay. Teams are constantly looking for new ways to gain a competitive advantage, and statistical analysis is a key tool for professional franchises to utilize as they improve their performance and profitability. Discover how Maryville University's Rawlings Sport Business Management online bachelor's degree can put you on the path toward a fun and impactful job in this exciting field.
Sources
BizTech, "How Data Analytics Is Revolutionizing Sports"
Business Insider, "FIELDf/x: The Amazing Tracking Technology That's About to Change Baseball Forever"
Forbes, "Changing the Game: The Rise of Sports Analytics"
Forbes, "Top 7 Skills You Need to Have as a Data Analyst"
Maryville University, Rawlings Sport Business Management Online Bachelor's Degree
PayScale, Average Director of Analytics Salary
PayScale, Average Market Research Analyst Salary
PayScale, Average Sports Marketing Coordinator Salary
PayScale, Average Sports Statistician Salary
Proem Sports, "The Evolution and Future of Analytics in Sports"
NY Times, "How Data (and Some Breathtaking Soccer) Brought Liverpool to the Cusp of Glory"
U.S. Bureau of Labor Statistics, Advertising, Promotions, and Marketing Managers
U.S. Bureau of Labor Statistics, Interview with a Sports Statistical Analyst
U.S. Bureau of Labor Statistics, Management Analysts
U.S. Bureau of Labor Statistics, Market Research Analysts
Be Brave
Bring us your ambition and we'll guide you along a personalized path to a quality education that's designed to change your life.