How to Become a Social Media Strategist in the Sports World
How to Become a Social Media Strategist in the Sports World
How to Become a Social Media Strategist in the Sports World
Social media's evolution has been meteoric, going from brand-new innovation in the early 2000s to the present-day phenomenon. As of 2020, it's estimated that 3.6 billion people worldwide are on social media sites such as Facebook, Twitter, Instagram, LinkedIn, and Snapchat, according to Statista. Nearly 72% of all Americans are on social media. Pew Research Center found that as of June 2019, approximately 74% of Facebook users and 63% of Instagram users in the U.S. log into the sites at least once a day.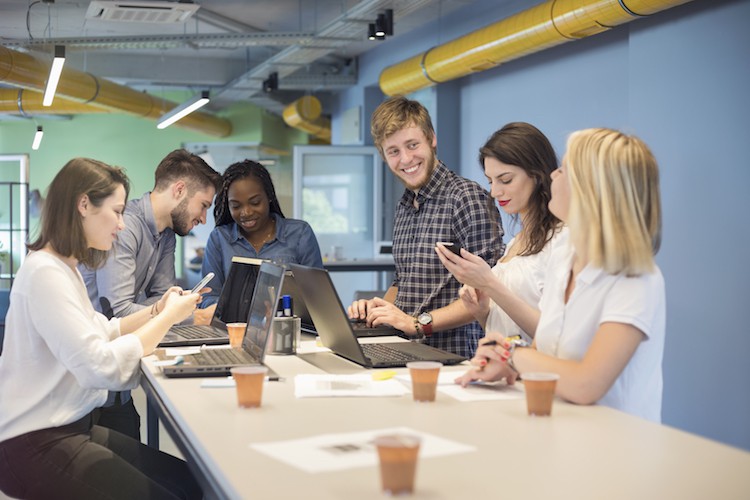 As individuals from every generation continue to join social media networks, Pew Research Center anticipates those percentages will only continue to climb. Social media has become an integral part of how humans communicate and socialize, and it's also become a key way that businesses market their products and services to the public.
One industry that extensively leverages social media is sports. Nearly every major professional sports team in the world has multiple social media accounts. The average American football team, for instance, maintains Facebook, Twitter, Snapchat, and Instagram accounts, with hundreds of thousands to millions of followers on those combined platforms. Even sports teams from universities, colleges, and high schools have their own accounts with thousands of followers.
Social media strategists play an essential role in developing a team's relationship with its fans and keeping engagement active year-round. Individuals wondering how to become a social media strategist in the sports industry might benefit from exploring a program such as Maryville University's online Rawlings Sport Business Management degree, which provides a strong foundation in building sports brand awareness.
What Does a Social Media Strategist Do in Sports?
A social media strategist, regardless of industry, works either for a marketing agency or in-house, helping a company, team, or brand market itself using various social media channels. What a social media strategist does involves big-picture thinking, as well as detail-oriented execution. They ultimately shape brand messaging through social media and leverage that messaging to grow an audience, make sales, and improve brand image.
In addition to working cross-functionally with sales and finance, social media strategists collaborate with other marketing staff to plan campaigns, develop creative plans, and execute them on social media platforms. In large companies, the social media strategist may have assistants to write each social media post or develop the branded images that support them. In smaller companies or with college teams, the social media strategist may be responsible for running each account, as well as the overall messaging.
Social media strategists also track engagement and growth metrics for each channel, report metrics to stakeholders, and foster communication with audience members by responding to comments and managing direct messages sent to each social media account. Social media strategists can develop and communicate a business's personality. People respond to brands with a defined voice and personality. Humor, voice, and a developed online personality can garner more attention for clients and lend their social media greater traction.
Part marketer, analyst, creative director, and customer service representative, social media strategists have exciting, dynamic jobs.
How to Become a Social Media Strategist
For those looking into how to become a social media strategist, entering a career in social media involves a strong, well-rounded education combined with plenty of real-world, hands-on experience.
Earn a Bachelor's Degree
While there's no one specific degree required to become a professional social media manager, candidates should seek a bachelor's degree program that prepares them for the role. Ideal programs will focus on teaching both written and verbal communication skills and will offer marketing and technology classes. If students have a particular industry they want to work in, like sports, they could pick an industry-specific major, such as Maryville University's Rawlings Sport Business Management online bachelor's degree.
Gain Experience
No matter the degree, there's no substitute for being active on social media and gaining on-the-job experience. Future social media strategists should explore all sorts of social media platforms, studying which posts gain more attention and learning strategies that are effective on different platforms. The ability to cultivate an engaged following is a strong sign to future employers that a candidate knows how to navigate social media. Students can gain experience on their own time through internships or related work experience in marketing or communication roles.
Social Media Strategist Skills
Aspiring sports social media strategists need to develop a variety of hard and soft skills to be successful, including copywriting, customer service, and creativity.
Copywriting: The primary role of a social media strategist is to create dynamic, engaging posts that capture readers' attention. Not surprisingly, strong copywriting skills are a must for professionals in this field. An ability to write solid copy will help strategists tell the story of the team, its athletes, and its coaching staff.
Creativity: No one can predict which posts will go viral, but all viral posts have a few things in common: They are fun, interactive, and share-worthy. Aspiring sports social media strategists will be well-served by fine-tuning their creative skills.
Customer service: A growing number of organizations are using their social accounts as customer support portals. Consequently, social media strategists have an enormous opportunity to provide top-notch customer service experience.
Social Media Strategist Salary
The U.S. Bureau of Labor Statistics (BLS) categorizes social media strategists as public relations specialists. As of May 2019, the BLS reports that those in the lowest 10% of the salary range for the role earned less than $34,590, while the median salary was $61,150. PayScale, which sources data directly from workers, reports that the median annual salary for social media strategists as of July 2020 was around $52,000. Of course, salaries can vary widely depending on various factors, such as geographic location, industry, years of experience, and education level.
Employment Outlook for Social Media Strategists
The BLS reports that there were 270,000 public relations specialists in 2018, and it expects that number to grow by 17,300 jobs from 2018 to 2028. This reflects a 6% growth rate for the profession, which is slightly higher than the average for all occupations. The BLS indicates that as companies increasingly leverage social media as a viable, significant marketing platform, they will continue to create more positions for social media strategists.
Future of Social Media in Sports
Social media continues to have a profound impact on professional sports. Trends such as livestreaming player interviews and post-game wrap-ups with coaching staff, along with growing interest in live-tweeting during games and tournaments, has created unprecedented levels of interaction between athletes, teams, and their followers.
Students who want to pursue this career path should know that when they work as a social media strategist in sports, they can connect with tens of thousands, if not millions of people, every day. Engaging a team's social followers is about more than updating the week's starting lineup, it's about creating meaningful interactions with fans, which, in turn, helps strengthen the bond that sports lovers have with their team of choice. It can also lead to increased revenue from ticket sales, team merchandise, and memorabilia. Social media strategy in sports has become a crucial marketing tool.
Discover More About How to Become a Social Media Strategist in the Sports Industry
Social media strategists combine social media and marketing know-how to help sports franchises and companies increase their visibility, sales, and fan engagement. See how Maryville's Rawlings Sport Business Management online program can help prepare you to become a social media strategist in the world of sports.
Recommended Reading:
The Evolution of Social Media: How Did It Begin, and Where Could It Go Next?
Traditional Marketing vs. Digital Marketing
Social Media Marketing vs. Traditional Marketing
Sources:
Buffer, "10 Important Skills and Traits Your Social Media Manager Will Need"
PayScale, Average Social Media Strategist Salary
Pew Research Center, Social Media Fact Sheet
Sotrender, "A Day in the Life of a Seasoned Social Media Strategist"
Statista, Number of Social Network Users Worldwide from 2017 to 2025
U.S. Bureau of Labor Statistics, Social Media Specialist
U.S. Bureau of Labor Statistics, Public Relations Specialist
Be Brave
Bring us your ambition and we'll guide you along a personalized path to a quality education that's designed to change your life.