How to Become a Behavioral Disorder Counselor
How to Become a Behavioral Disorder Counselor
How to Become a Behavioral Disorder Counselor
Behavioral health disorders are very common. The World Health Organization estimates that about one out of eight people live with some form of mental health disorder. These conditions can often involve disturbances in thinking, emotions, and day-to-day behavior.
The role of behavioral disorder counselors is to help individuals manage the effects of these disruptive conditions, providing diagnosis and treatment while helping their patients live normal, healthy, and productive lives. To pursue work in this vocation, it's critical to gain an advanced understanding of human cognition and social processing, something that can be achieved by completing a degree program in psychology.
What Does a Behavioral Disorder Counselor Do?
To begin, it may be helpful to consider the basic job description of a behavioral disorder counselor. These mental health professionals work primarily with patients who exhibit problematic behaviors. These behaviors may include actions related to mental health conditions, physical health conditions, or addiction and substance abuse.
Behavioral Disorder Counseling Job Description
While responsibilities can vary from one position to the next, some common duties include:
Performing patient evaluations. One of the most significant responsibilities of counselors is to evaluate their patients' wellness while assessing the frequency and impact of their negative or destructive behaviors.
Creating and implementing treatment plans. Counselors may also determine the best treatment plans to help their patients adjust to a healthy and normal life; treatments may encompass talk therapy, group counseling, or other interventions. In some cases, counselors may refer their clients to other mental health professionals (such as psychiatrists) who can diagnose mental health conditions and prescribe medications, as counselors do not have prescriptive authority themselves.
Counseling and education. A critical aspect of behavioral disorder counseling is to educate patients and their family members about what the treatment plan entails.
Connecting patients to other resources. Behavioral disorder counselors may also need to help patients locate and utilize external resources, including social services, therapists, drug and alcohol treatment specialists, and other psychology professionals.
Steps to Become a Behavioral Disorder Counselor
Those who wish to excel in this profession need to develop key competencies and skill sets. This requires the right combination of education and experience.
1. Obtain a Degree
The first step is formal education. Most counselors obtain a bachelor's degree in psychology, social work, or a related field. This provides foundational knowledge of human cognition, behavior, and social processing. Classes in abnormal psychology can be especially helpful for those who desire to work with negative behaviors.
2. Seek Licensure
To work as a behavioral disorder counselor in private practice, it is necessary to seek licensure from the state of practice. Many behavioral disorder counselors outside of private practice must also be licensed, though requirements vary by state. Licensure exams are administered at the state level and may cover basic counseling principles, ethics, and more.
3. Gain Experience
While classroom education is imperative, hands-on experience is also important for developing key skills such as empathy and community relations. Internships are a great way to get this experience.
4. Pursue More Advanced Training
Though masters-level training is not always needed for jobs in counseling, it can provide an important avenue for the development of skills and professional confidence. Crucially, a postgraduate degree can also lead to higher salary ranges and more competitive positions.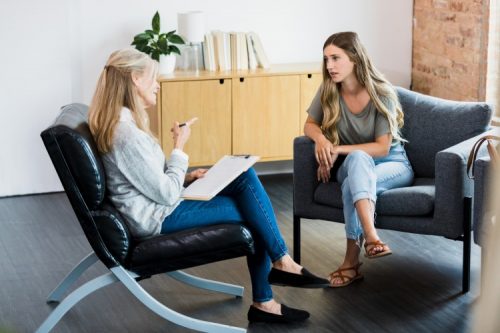 Behavioral Disorder Counselor Salary
Before pursuing this career path, it is natural to have some questions about the behavioral disorder counselor salary range.
According to information from the U.S. Bureau of Labor Statistics (BLS), the annual median salary for substance abuse, behavioral disorder, and mental health counselors was $48,520. Factors such as experience, education, and location can all affect salary range.
Employment Outlook for Behavioral Health Counselors
In addition to salary information, aspiring counselors may also wish to know more about the field's career prospects. The BLS predicts that positions for substance abuse, behavioral disorder, and mental health counselors will grow 22% between 2021 and 2031. This is a much faster pace than the average for all professions (5%).
A number of factors can explain this rapid rate of growth, including rising awareness around mental health issues and the trend for many states to sentence criminal offenders to counseling as opposed to incarceration.
Supporting People in Managing Behaviors
Qualified counseling can make a world of difference in the lives of men, women, and children who struggle with negative or destructive behaviors. Through counseling, individuals can better understand the roots of their problematic behaviors while also developing strategies to keep those behaviors in check.
One way to prepare for success in this role is to obtain formal training. Maryville University's online Bachelor of Arts in Psychology degree is designed to offer exposure to a breadth of psychological principles. Courses such as Abnormal Psychology, Multicultural Psychology, and Research Design provide a foundation for ongoing success in a number of fields. The curriculum is designed to comply with the standards set forward by the American Psychological Association, and all coursework can be completed entirely online. Find out more about this degree program as a potential pathway to success as a behavioral disorder counselor.
Recommended Readings
What Is the Impact of Social Isolation on Cognitive Health?
Forensic Psychology vs. Clinical Psychology
Multicultural Counseling: Types, Strategies, and Techniques
Sources:
Indeed, "How to Become a Substance Abuse Counselor in 7 Steps"
U.S. Bureau of Labor Statistics, Substance Abuse, Behavioral Disorder, and Mental Health Counselors
VeryWell Mind, "Mental Health Counselor Training, Skills, and Salary"
World Health Organization, Mental Disorders
ZipRecruiter, What Is a Behavioral Health Therapist and How to Become One
Be Brave
Bring us your ambition and we'll guide you along a personalized path to a quality education that's designed to change your life.