Careers with an Impact: How to Become a Political Analyst
Careers with an Impact: How to Become a Political Analyst
Careers with an Impact: How to Become a Political Analyst
Current events across the world have become more connected than ever. With the press of a button or a glance at a smartphone, it's possible to immediately know what is happening around the globe. Domestic and international politics introduce an opportunity to make an impact on the increasingly interconnected world through the improvement of systems and causes such as healthcare, immigration policy, and environmental issues.
Political analysts and similar professionals use their passion for current events and knowledge of politics to tackle the challenges and opportunities facing organizations and governments. Their expertise in public affairs and their impact on the social and economic status of populations is critical to the formation of international relations and domestic policy.
But how do you become a political analyst? And what does the day-to-day life of someone in this role look like? It varies, but common threads exist.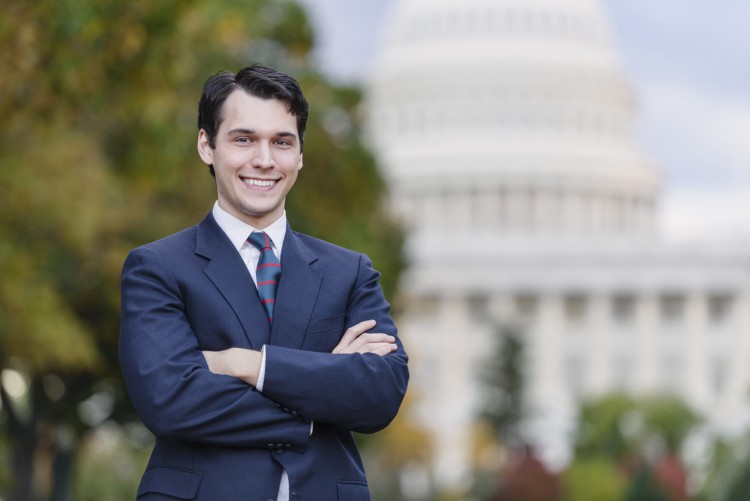 What Does a Political Analyst Do?
Political analysts (also known as political scientists) study how political systems originate, develop, and operate. They research and analyze governments, political ideas, policies, political trends, and foreign relations. Their analysis of domestic politics, foreign policy, and social issues informs and supports policymakers. Political analysts may also examine the motivations, cultures, values, history, and decision-making process behind policies and how they affect U.S. interests or national security.
To develop political theories and assessments, political analysts collect and interpret data, such as public opinion surveys or census information. They also keep up with current events, politics, and news to stay informed of relevant changes or shifts in public interest and to help forecast political, economic, and social trends. They evaluate the effectiveness of existing policies, including their impact on governments, businesses, and individuals. Political analysts leverage critical thinking and research to test the theories they develop and then build an argument for or against the implementation of a policy.
That's when what a political analyst does shifts away from behind the scenes. Political analysts communicate their research through presentations, reports, or briefs with executives, legislative leaders, and staff. They also publish their work through articles or statements. They must have strong writing and presentation skills to enlist the support of leaders or individuals who can help to advance their policies or initiatives or to protect against national security threats. They may travel both nationally and internationally, and many political analysts learn a foreign language to interpret and apply information from foreign countries.
Steps to Become a Political Analyst
To understand how to become a political analyst, it's important to consider the various facets that provide the skills needed to succeed, including education, training, and real-world experience.
Earn a Bachelor's Degree
Most political scientists have a master's degree or PhD in political science, public administration, or a related field. But getting there requires a strong foundation. To gain admission into a master's or doctoral program, applicants should have a bachelor's degree in political science, international studies, writing, statistics, or a related discipline.
Maryville University's online Bachelor of Arts in International Studies program prepares students to interpret global issues, conduct cross-cultural research, and offer effective impactful solutions. International studies coursework gives students the chance to get closer to other cultures through the study of a foreign language, study abroad opportunities, international internships, and a capstone project. A bachelor's degree in international studies allows students to build skills they can apply to a career in government, business, or communications. Developing global insights can help prepare students for what a political analyst does and even to take their careers into foreign policy.
Pursue an Advanced Education
After earning a bachelor's degree, aspiring political analysts typically complete a master's program in public administration, public policy, or public affairs, for example. Graduate students can choose to concentrate in a specific area of interest; however, the coursework for these programs often covers a combination of disciplines, such as research methods, policy formation, and statistics. Master's degrees are also available in political science, international relations, and similar fields.
Some political analysts decide to pursue a terminal degree, such as a PhD. This level of education requires several years of additional coursework, independent research, and a dissertation. PhD candidates typically specialize in one of four primary subfields: national politics, comparative politics, international relations, or political theory.
Gain Real-World Experience
Aside from analytical and political competence, political analysts must cultivate interpersonal skills essential to the role, such as communication and leadership skills. Gaining relevant experience through an internship or a job in a related field, such as a junior analyst or journalist, helps political analysts to grow and advance professionally.
Aspiring political analysts can also benefit from volunteer work with a political club or organization. This kind of experience gives them a chance to apply their education in a real-world, professional setting and helps them to develop analytical, research, critical thinking, creativity, and communication skills.
Political Analyst Salary
Several factors affect a political analyst salary, such as location, education, and experience level. The U.S. Bureau of Labor Statistics (BLS) reports the median annual wage for political scientists was $117,570 in May 2018. The top industry for political scientists is the federal government (excluding the postal service), with a median annual wage of $126,060.
Although salaries can vary based on multiple factors, global studies can lead to a wide range of careers with high earning potential, such as management analyst, which had a median annual wage of $83,610 in May 2018, and emergency management director, which had a median annual wage of $74,420.
Employment Outlook for Political Analysts
As technology connects organizations and individuals across the world, industries and businesses are adopting a global outlook. According to the BLS, the employment of political scientists will grow by about 3% from 2016 to 2026. These professionals will assess the impact and effectiveness of public and government policies and the projected effects of changing social trends and budget adjustments.
Political analysts are needed not only in government but also in political organizations, lobbying firms, and labor unions — entities that need to navigate complicated legal or regulatory policies. The research conducted by political analysts will help organizations advocate for specific policies or causes, such as immigration, climate change, and healthcare. Political analysts can help propose new or modified policies that aim to improve outcomes for businesses, governments, and individuals.
Learn More About Becoming a Political Analyst
Make an impact in the worldwide economy with Maryville University's online Bachelor of Arts in International Studies. Whether you want to work in government, business, the nonprofit sector, communications, or even tech, the coursework in Maryville's online Bachelor of Arts in International Studies can distinguish you as a leader on the international stage. Develop the skills needed to analyze global issues and offer impactful solutions to help your organization meet the challenges and opportunities of a global society. With a bachelor's in international studies, you can learn to navigate the complexities of an increasingly connected world.
Sources
American Political Science Association, Careers in Political Science
The Balance Careers, "Top 10 Jobs for Political Science Majors"
Central Intelligence Agency, Political Analyst
Maryville University, Bachelor of Arts in International Studies
Be Brave
Bring us your ambition and we'll guide you along a personalized path to a quality education that's designed to change your life.