The Study Behind the Strategy: How to Become a Market Researcher
The Study Behind the Strategy: How to Become a Market Researcher
The Study Behind the Strategy: How to Become a Market Researcher
Almost every product and service that hits the market exists as a result of research. From the earliest seed of an idea to final production, research helps companies create what their audience most needs. Market research, in particular, is invaluable for connecting products with people and companies with consumers.
Odds are you've seen market research in action in television, movies, or real life. A group of diverse individuals sit in a room inspecting a product before providing their honest feedback. There's typically a leader guiding the discussion, sometimes with an assistant taking notes, as well as a one-way mirror to allow for the product's design team or the CEO to watch the proceedings. This scenario reflects a business strategy that industries have benefited from since the early 20th century, according to global consulting agency Kelton. This powerful strategy developed around the same time newspapers, magazines, radio, and television made marketing a nationwide industry.
These days, with many markets going global, it's even more important for market researchers to command diverse skill sets so they can clearly understand what their research means in markets domestically and abroad. If you're intrigued by the idea of directly impacting the nature of the products and services that hit the market, explore how to become a market researcher.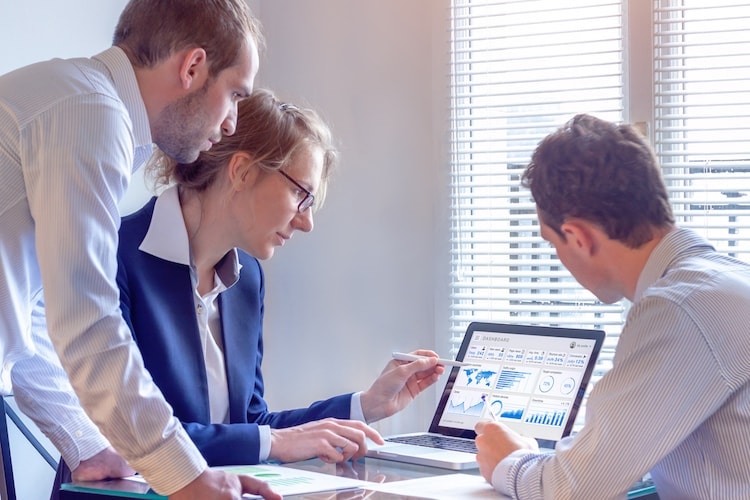 What Does a Market Researcher Do?
Market researchers do in-depth research on a product or service's target audience to determine if there's sufficient consumer interest. They help businesses forecast what buyers want in a particular product or service and potential market size, which in turn helps businesses determine whether to invest in it. For example, before launching a smartphone gaming app, market researchers may study how a test group interacts with the game — how long they spend playing it, any glitches they run into, their indicated level of enjoyment, and how much they'd spend to purchase the app.
In some instances, this research will look similar to that of the previously mentioned in-person focus group, but often this research takes shape in other ways. Phone calls, one-on-one interviews, surveys, and consumer behavior data analysis all represent different market research applications. Some market researchers spend most of their time interacting with customers, working directly with test groups and interviewing early testers. Others organize, analyze, and interpret the data that this sort of research produces. Still others create data visualizations to share with the rest of the marketing team, thus combining interpretation and interaction.
Market researchers can work in-house for corporations, becoming familiar with a product or product line and conducting research on it over a long period of time. They can also work for market research and consulting companies, which corporations hire for a specific period of time or a certain project. Freelance market researchers must first typically develop their reputations and abilities within companies. Professionals may specialize in a certain area, such as political marketing or research, or a specific industry, such as healthcare or fashion.
How to Become a Market Researcher
Market research represents a critical step for any business. It's important work that can help determine a product or service's success. As such, study and certification go a long way to help aspiring market researchers gain the necessary skills to help their companies thrive.
Earn a Bachelor's Degree
Everything that a market researcher does involves thinking analytically about data, as well as approaching research objectively and with an eye for detail. It involves strong communication skills because market researchers often find themselves not only conducting research and interacting with research subjects, but also presenting the findings to those who commissioned the study.
If you go into international market relations, a bachelor's degree in a field such as an online bachelor of arts in international studies may offer the cultural and global economic background you need, as well as help you hone your communication and research skills.
Obtain Professional Certification
Professional certifications aren't always required for market research careers; however, they can be indicators of expertise within the industry. The Insights Association — the main U.S. professional association for market researchers — offers Professional Researcher Certification (PRC), which requires aspiring market researchers to work for three years in the market research and analytics industry as assistants or interns. They then must register for the PRC and undergo 12 extra hours of industry-related education accrued within two years prior to taking the test. The PRC credential requires 20 hours of continuing education every two years.
Market Researcher Salaries
The U.S. Bureau of Labor Statistics (BLS) reports that the median annual salary for market research analysts was $63,120 in 2018. Publishing industries (excluding internet) had the highest-paying jobs, with a median annual salary of $74,360. Company or enterprise management ($73,490) and finance and insurance ($69,680) were next, followed by wholesale trade ($61,410) and management, scientific, and technical consulting services ($60,870).
Employment Outlook for Market Researchers
The BLS projects the future job market for market research analysts to be strong between 2016 and 2026, which is good news if you're interested in what a market researcher does. During the time period, the BLS projects 138,300 new market research analyst jobs, a 23% jump over the 595,400 jobs in 2016. Professional, scientific, and technical services will add 55,700 market research analyst jobs, the most of any sector.
Discover How You Can Become a Market Researcher
If you're intrigued by an engaging career conducting detail-oriented research that lets you learn from global consumers, then a career as a market researcher might be the right fit for you. Check out how Maryville University's online Bachelor of Arts in International Studies could give you the background needed to start down that rewarding path.
Sources:
American Association for Public Opinion Research, Best Practices for Survey Research
Insights Association, One-Way Mirror
Insights Association, Professional Researcher Certification
Kelton Global, "A Brief History of Market Research"
LinkedIn, "15 Essential Marketing Research Skills"
SurveyPolice, Two Major Marketing Research Associations Merge, Forming One United Voice
Be Brave
Bring us your ambition and we'll guide you along a personalized path to a quality education that's designed to change your life.