Corporate Wellness Program Manager Job Description and Salary
Corporate Wellness Program Manager Job Description and Salary
Corporate Wellness Program Manager Job Description and Salary
At the core of a corporation's efforts to maintain a healthy workforce is the corporate wellness program manager. The wellness program manager aspires to improve the physical and mental well-being of employees and their families through education on health-affirming practices. It's a significant role for crafting a company culture where fitness is both fun and rewarding, something usually accomplished through a gamified incentive program.
Those who love health and fitness and want to see businesses thrive should consider a career in wellness management.
The right education can help an individual build the necessary knowledge and skills to enhance a business's workplace culture using modern fitness techniques and technologies. A well-crafted bachelor's in exercise science program, for instance, can equip aspiring professionals with a solid foundation in exercise science.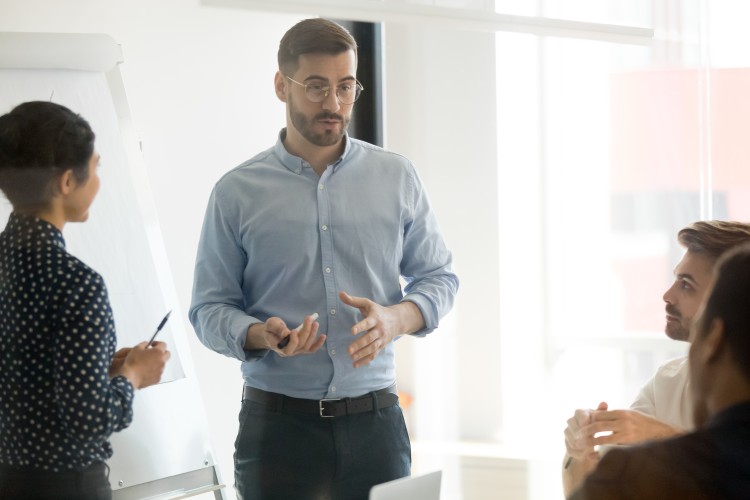 Corporate Wellness Program Manager Job Description
The corporate wellness program manager is chiefly responsible for boosting employee health, mindset, and productivity through the creation and modification of wellness programs, seminars, and workshops. Through these efforts, the wellness program manager can help improve the long-term health of employees and reduce employee healthcare costs. This is accomplished usually through preventive care activities with measurable results.
One example is the creation of a water drinking program, where the employees track how much water they consume daily. If they meet certain goal thresholds, employees may earn incentives such as extra money, more vacation days, or some other award. This same approach can be applied to other aspects of health and wellness, such as fitness, smoking, or diet. Wellness program managers may also implement mental health improvement programs, such as for stress management.
Other duties and responsibilities of wellness program managers may include:
Developing promotional materials, newsletters, and other marketing plans for their programs
Establishing and maintaining exercise or meditation rooms, healthy snack bars, or other wellness-focused office areas
Evaluating and updating wellness programs as necessary
Discussing healthcare strategies with the company's insurance representatives
Answering questions about how their treatment programs contribute to the greater health of the corporate community
The corporate wellness program manager's job description isn't limited to preventive care measures. Through crafting effective programs that target a variety of aspects of physical and mental health, they also contribute to productivity and efficiency in the workplace, both on an individual and communal level. A simple example of a healthy community measure might be the inclusion of occasional "bring your pet to work" days, which promote upbeat team interactions and a sense of belonging on one's team.
Corporate Wellness Program Manager Skills
Most successful corporate wellness program managers' skills are the same, regardless of their work setting. Many of their skills are developed over time through education and experience.
These include:
Communication skills. Wellness program managers must be able to communicate plan ideas, expectations, and needs to various parties within the company, including executives and employees.
They need to create program ideas and deliver promotional material that is easily understood by all who read it.
Planning skills. A large part of the wellness program manager's job is establishing what fitness goals employees can aim for, how to reach them, and what incentive they'll earn as a reward.
Exercise and fitness skills. They must possess knowledge relevant to exercise science, fitness, and health trends in their industry and how they may be applied to corporate wellness programs.
Technological skills. In modern fitness, many wellness programs capitalize on video streaming and fitness-related technology to keep people in shape.
Corporate Wellness Program Manager Salary
Businesses that are invested in their employees' health will reflect this in how much they pay their wellness program managers. According to PayScale, the median annual corporate wellness program manager salary is about $76,000 as of November 2021. Salaries range from $69,000 to $80,000 per year. Exact salary amounts are based on the cost of living in a particular area, years of experience, and the size of the company, among other things.
The U.S. Bureau of Labor Statistics (BLS) categorizes wellness program managers as health education specialists. It projects 12% job growth for the field between 2020 and 2030, which is faster than the average job growth projected for all professions.
Apply Exercise Science in a Corporate Setting
As business culture trends toward greater health awareness, the need for smart, capable exercise science professionals will continue to rise in corporations. If you desire to promote wellness in others and believe you'd flourish in a corporate environment, then a corporate wellness program manager job may be a good fit for you. The first step is to find a program that will take your passion and give it professional value.
Maryville University offers an online Bachelor of Science in Exercise Science program designed for those in need of flexible scheduling and a quality education. Featuring courses such as Care and Prevention of Injuries, Nutrition of Exercise Management, and Current Health Issues, this program can help prepare you for a variety of career paths in exercise management, including as a corporate wellness program manager. Explore how Maryville University can help you pursue a career that helps people and promotes workplace wellness.
Recommended Reading
Types of Coaching Styles for Athletes
College Student Wellness Guide for Remote Learners
How to Become a Community Health Educator: Career Path and Salary
Sources
Houston Chronicle, "Job Description for a Corporate Wellness Director"
PayScale, Average Corporate Wellness Manager Salary
Premise Health, Wellness Program Management
U.S. Bureau of Labor Statistics, Health Education Specialists and Community Health Workers
U.S. Bureau of Labor Statistics, "What Attributes Characterize a Successful Corporate Wellness Program?"
Wellable, "5 Ways to Improve Intellectual Well-Being and Personal Development at Work"
Wellable, "Creating a Pet-Friendly, Wellness-Boosting Workplace"
Wellable, "Employee Wellness Program"
ZipRecruiter, "What Is a Wellness Program Manager and How to Become One"
Be Brave
Bring us your ambition and we'll guide you along a personalized path to a quality education that's designed to change your life.