How to Become a Corrections Officer
How to Become a Corrections Officer
How to Become a Corrections Officer
Corrections officers are part of the criminal justice system, which generally operates under three branches: law enforcement agencies, the court system, and agencies that oversee correctional facilities.
Corrections officers work at every level of government — local, state, and federal — to oversee criminal justice processes. They are essential for maintaining order and security in facilities ranging from federal prisons and rehabilitation centers to juvenile detention centers. They supervise the activity of detainees and patients and ensure safety and adherence to the rules.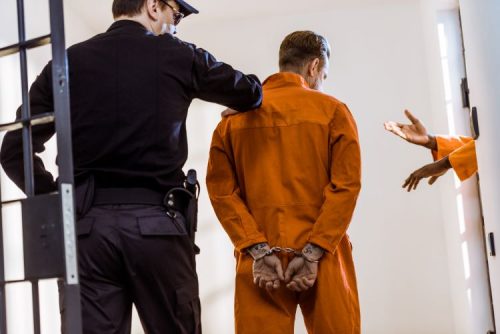 If you are interested in learning how to become a corrections officer or looking to advance your career in the corrections field, a bachelor's degree in criminal justice, while not mandatory, can bring immense value to your preparedness and marketability for this role.
What Does a Corrections Officer Do?
The answer to the question of what does a corrections officer do is not as clear cut as you might expect. True, maintaining security in prisons by supervising inmates and keeping order is often the core responsibility of corrections officers, but this can be just one of many duties they fulfill throughout their careers.
One important aspect of the corrections officer position is to have close contact with every type of detainee, whether they are serving a lengthy jail sentence, violated their probation or are being temporarily held awaiting trial.
Corrections officers are often the first point of contact for visitors, including the families of inmates, medical and legal professionals, and clergy. Some corrections officers spend more time working to rehabilitate inmates than performing security duties. These corrections officers are trained in psychology and social sciences, and often hold licenses to work as counselors. There are also corrections officers who mainly perform administrative duties, such as sending and reading emails, ordering supplies, and managing accounting ledgers to help ensure smooth facility operations.
For some corrections officers, however, conditions can be stressful. They are responsible for keeping prohibited items out of facilities and for ensuring the safety of both facility employees and inmates. Due to the high-stress nature of these responsibilities, physical preparedness and fitness, as well as emotional wellness, are beneficial.
In every scenario, corrections officers must demonstrate diplomacy and the ability to clearly and effectively communicate, not only verbally but also in writing. Writing is a skill that can be honed while taking coursework in a bachelor's degree in criminal justice program. It is rare for a corrections officer to work alone. This means that an ability to work as part of a team is another important skill for corrections officers.
A good corrections officer has high ethical standards, is open-minded, and shows respect for others. This helps to develop rapport with inmates and forge trusting relationships with fellow officers. Corrections officers must be ready for unexpected situations and potentially stressful circumstances. It is crucial that they be able to judge situations, react with professionalism, proceed decisively, and be quick to respond.
A typical work week for corrections officers exceeds 40 hours, and they're often expected to be available nights, weekends, and holidays.
Typical Steps to Become a Corrections Officer
Not all corrections officer positions require a bachelor's degree, particularly in facilities run by a local government. However, if a corrections officer aspires to work in advanced positions or for the federal government, pursuing a bachelor's degree can be of great benefit for potential career advancement.
Step 1: Meet Education Requirements
Education requirements to become a correctional officer vary depending on the position, jurisdiction, experience level, and other factors. Although exact qualifications may vary due to agency or state requirements, all agencies require a high school diploma or GED at a minimum, according to the U.S. Bureau of Labor Statistics (BLS).
According to the Federal Bureau of Prisons, correctional officers at federal facilities need to have one of the following three basic requirements to meet an entry-level federal placement (known as GS-05):
A bachelor's degree
At least three years of full-time "general experience" in areas such as counseling, social work, rehabilitation, education, management, or commissioned sales
At least one year of "specialized experience," meaning full-time work in law enforcement or a similar government position with supervisory responsibilities
For professionals wondering how to become a corrections officer at the federal level, pursuing a bachelor's degree, such as an online bachelor's degree in criminal justice, can be an excellent career move. The undergraduate criminal justice curriculum can provide students with a deeper understanding of law enforcement, revealing a more well-rounded understanding of the system in which correctional officers may work. Relevant areas of study at the bachelor's level include subjects such as criminology, criminal law and procedure, and corrections in society.
Step 2: Complete Academy Training
All correctional officers are required to attend a training academy, according to the BLS. Each state operates its own Peace Officer Standards and Training (POST) program, and specific requirements vary from state to state. Usually lasting several months, the training involves instruction in "self-defense, institutional policies, regulations, operations, and security procedures," according to the BLS. The International Association of Directors of Law Enforcement Standards and Training provides a list of training program links on its website.
Step 3: Learn on the Job
Hands-on experience is highly beneficial for corrections officers who have completed academy training. Many of the important skills that these officers need — such as attention to detail, confident decision-making, negotiation prowess, interpersonal communication skills, and emotional stability — may be learned through education but sharpened over time as officers accrue experience. Learning on the job enables correctional officers to gain valuable insight into how their profession actually works and how best they can perform their job.
There are also many opportunities for correctional officers to stay up to date in their understanding of the occupation's best practices. Organizations like the National Sheriffs' Association also hold conferences and seminars that provide training and educational resources for professionals seeking to expand their knowledge.
Corrections Officers' Salaries
The 2018 median annual wage for corrections officers is $44,400, according to the BLS. Salaries vary widely depending on geographic location as well as on factors such as education, skills, and years of experience in law enforcement roles. Corrections officers' salaries are also determined by the budget at the federal, state, or local facility where the officer is employed.
Job Outlook for Corrections Officers
The availability of corrections officer jobs is largely tied to government funding and patterns in the populations of prisons, jails, and other correctional facilities. High rates of incarceration can create a need for more officers, while funding cuts and declining populations can case hiring to slow. As such, those interested in becoming correctional officers could benefit from monitoring these trends to be aware of conditions within the incarceration system as they begin to look for jobs.
At the end of 2016, around 6.6 million people were under supervision by correctional facilities, according to a study by the U.S. Bureau of Justice Statistics (BJS). That translates to about one in 38 adults, or 2.6 percent of the adult U.S. population being under a form of supervision. While millions might sound like a massive amount, incarceration numbers were actually higher in the past, and prison populations are now at their lowest in two decades, according to a recent study by the BJS.
While low prisoner counts may keep hiring in check, the BLS predicts that "job prospects should still be good" overall, as more corrections officers will be needed to fill positions vacated by veteran officers who retire and move on to new jobs. The need for corrections officers will also vary depending on geography and the availability of state and local budgets, so some regions in the country will have a greater need for corrections officers than others.
Explore Your Future in Criminal Justice
If you're looking to make yourself more marketable for open corrections officer roles, a bachelor's degree in criminal justice may help your application stand out from the competition. Maryville University's online bachelor's in criminal justice program can help students advance on the path toward a career as a corrections officer. The curriculum combines theoretical learning with professional field-based education to provide students with a holistic academic experience. Learn more today about the opportunities that may await you in a modern criminal justice career.
Sources:
Federal Bureau of Prisons, Correctional Officer
International Association of Directors of Law Enforcement Standards and Training, POST Portal
Maryville University, Online Bachelor's in Criminal Justice
National Sheriffs' Association, Conferences
National Governors Association, "A Governor's Guide to Criminal Justice"
U.S. Bureau of Justice Statistics, "Prisoners in 2016"
U.S. Bureau of Justice Statistics, "Correctional Populations in the United States, 2016"
U.S. Bureau of Labor Statistics, Correctional Officers and Bailiffs
Be Brave
Bring us your ambition and we'll guide you along a personalized path to a quality education that's designed to change your life.