Potential Business Career Paths: Comparing Operations Management vs. Business Management Degrees
Potential Business Career Paths: Comparing Operations Management vs. Business Management Degrees
Potential Business Career Paths: Comparing Operations Management vs. Business Management Degrees
A child in Maine wants a special toy for his birthday, one manufactured by a company based in Albuquerque, New Mexico. His parents place a custom order, received by the company's logistics and manufacturing operation in Phoenix, Arizona. At the Phoenix plant, dedicated craftsmen manufacture the toy on production lines with the help of specialized tools. The production system ensures they make the toy to each order's specifications and that the toy ends up in a box with the correct packaging and the proper address. First, it's shipped to Albuquerque, where quality control tests sample orders from the batch. Another manufacturing line finishes the toy and sends it along to the child's house via a system that can include trains, airplanes, and trucks.
That elaborate process has to be not only precise but also efficient to conserve time, money, and resources. That requires professionals who understand ordering and shipping systems, workforce management, material purchasing, and more. Effectively orchestrating the whole process takes the right education and work experience. Degree programs focused on business, as well as organizational management and business efficiency, prepare students to manage such services. Many aspiring to such positions choose operations management or business management degrees to secure jobs in business, manufacturing, shipping, and related fields.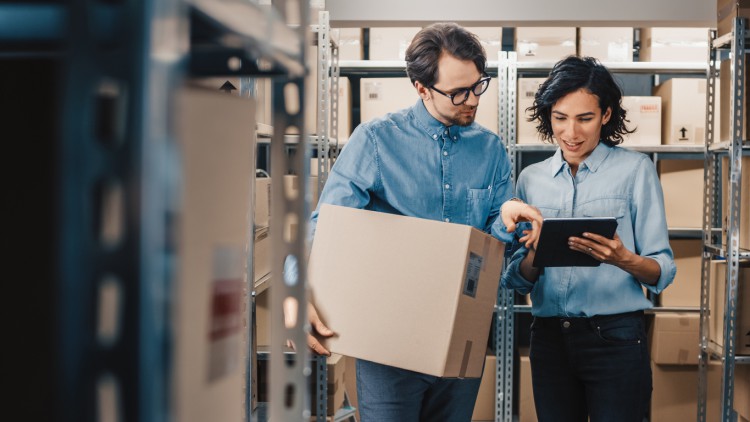 Operations Management Degree Overview
Operations management degree programs provide students with the tools to become business efficiency experts. Most programs include several introductory business courses. Students then move on to operations-specific courses, such as supply chain management, operations analysis, management technologies, product development, and organizational behavior. These courses help students develop skills they need to succeed, including communication and leadership abilities, as well as an understanding of the business world and how to handle logistics on local, regional, or even global scales.
What Do Operations Management Graduates Do?
With a degree in operations management, graduates are ready to enter careers in business, aiding in efficiency, communication, and product management. They work in multinational corporations or local industries. Their work environments might include warehouses, offices, and production facilities. No matter where they work, they must possess solid management, communication, and leadership skills. They also need to be good problem-solvers who can work around technical limitations to identify viable solutions.
Types of careers:
Purchasing manager: Purchasing managers work in retail. They are responsible for maintaining inventory, whether that's in a warehouse or in a specific outlet. Purchasing managers must be aware of sales trends and histories, anticipate demand, and identify items no longer viable for sale.
Operations manager: Operations managers oversee an entire production facility, ensuring quality and production speeds meet benchmarks. They can help identify weaknesses or inefficiencies in the process while also helping set HR standards and attracting quality job candidates.
Floor manager: Floor managers handle the day-to-day operations at a production facility. They interact directly with employees and oversee the production line or sales staff, as well as coordinate shipping and receiving.
Business Management Degree Overview
Business management and business administration degrees give students an overview of business, which includes courses in many business-related disciplines, such as business law, management, marketing, finance, economics, statistics, accounting, and communication. Some business administration programs, such as Maryville University's online Bachelor of Science in Business Administration, offer students the opportunity to delve into electives in related disciplines, such as accounting, finance, healthcare, and information systems. Students develop skills in conducting job interviews, managing others, finances, and overseeing investments.
What Do Business Management Graduates Do?
Business administration degree programs set graduates up for career flexibility. They can work for financial institutions, retail companies, and healthcare providers, to name a few possibilities. They may also work at startups or become entrepreneurs, utilizing their varied business knowledge to manage many departments of a small company, such as accounting, marketing, and human relations. Many choose to get an advanced degree, such as a Master of Business Administration (MBA), to pursue executive positions.
Types of careers:
Marketing manager: Marketing managers oversee the marketing operations of a business or corporation. They determine how to spend an advertising budget, oversee creative direction, and review analytics to see if a company is getting a return on its marketing investment.
Financial manager: Financial managers oversee the financial operations of a business or area of a business. They're responsible for providing financial reports, documenting profit and loss, and identifying opportunities to save money. They also help project long-term financial goals and plans.
Business analyst: Business analysts take deep dives into businesses to see if they are strong investment options for financial institutions. They analyze a business's history, financial statements, market share, and other aspects to estimate future earnings and profits.
Similarities Between Operations Management and Business Management Degrees
Operations management and business management degree programs both prepare students to work in the business world. They include courses in finance, marketing, management, and economics. In both programs, students learn how to manage people and processes and solve problems that can affect major business decisions. Graduates of operations management and business management programs can take their education in a number of directions, including graduate school.
Differences Between Operations Management and Business Management Degrees
While they're both focused on business, operations management and business management programs put their graduates on different professional paths. From the focus of curriculum to future career options, those weighing these two degrees should consider key differences between them.
Course Focus
Business administration degree programs generally cover many business topics, though students often choose to pursue a concentration. Courses give graduates an understanding of the many facets of business, which are applicable to a variety of industries and business structures.
Operations management degrees include different types of business courses but ultimately focus on operations. As such, the curriculum includes supply chain management, project management, logistics, and organizational development, which aren't typically part of business administration programs.
Career Flexibility
Business administration graduates can fill many roles in different fields. For example, they may work in major financial centers, warehouse operations, or small startups.
Operations management graduates are more likely to find jobs in companies that utilize shipping and manufacturing. They might put their knowledge of logistics to use as shift supervisors or workflow analysts.
Operations Management vs. Business Management Degree: Which Is Right for You?
If you see yourself helping companies manage employees, processes, and money, a business degree in operations management or business management could be perfect for you. Specifically, if you're interested in logistics and maximizing profits by achieving greater efficiency at every step, operations management may better suit you. On the other hand, if business in its many iterations interests you, you may find your niche during business management and administration study. Discover more about how Maryville University's online Bachelor of Science in Business Administration could be the right degree to help launch your business career.
Sources
Houston Chronicle, "Job Description & Responsibilities of a Business Manager"
Houston Chronicle, "The Role of an Operations Manager"
Investopedia, "Operations Management"
Maryville University, Bachelor's in Business Administration Online
Be Brave
Bring us your ambition and we'll guide you along a personalized path to a quality education that's designed to change your life.