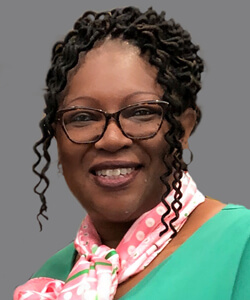 Frances D. Graham
Assistant Professor of Higher Educational Leadership
School of Education
Academic Bio
Frances D. Graham is an experienced higher education professional with a distinguished career in academic and student affairs. In addition to teaching and advising, she consults as a career coach and on issues related to matters of current concern to colleges and universities, including sexual assault, diversity and inclusion, leadership, Greek life, student outcomes, and program assessment.
During her 30 years in higher education, she has been appointed to various upper-level administrative posts in large and mid-size institutions. She has served as an associate vice chancellor for student affairs and academic affairs, interim vice chancellor for student affairs at North Carolina Central University, associate vice provost for gender affairs, and director for the women's center at North Carolina State University. At the University of Illinois at Urbana-Champaign, she served as the specialist in education in the Counseling Center. Her experience also extends to faculty positions where she taught Black feminist theory, feminist theory, African American literature, and women's history at Duke University, NCSU, UIUC, and Parkland Community College.
Originally from Champaign, Illinois, she is the first member of her family to attend college, earning both an undergraduate and a doctorate from the University of Illinois and a master's degree from Howard University. Several of her mentors have nominated and funded her participation in numerous professional development opportunities such as the Millennium Leadership Institute, the American Council on Education Fellows Program, the Alice Manicur Symposium for Women, NASPA's Mid-Manager's Institute, and BRIDGES. Currently, she advises doctoral students, teaches black feminist theory, women and gender studies, and higher educational leadership. Her research interests include Spelman College, women in leadership, and Black women in STEM.
Contact Info
Email: fgraham@maryville.edu