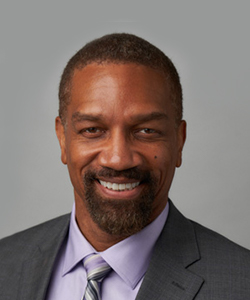 Christopher Gourdine
Assistant Dean for Business Administration and Assistant Professor of Business Administration
John E. Simon School of Business
Academic Bio
Dr. Christopher Gourdine joined Maryville University's John E. Simon School of Business as an assistant dean in 2019. His educational and career experience has helped him become a highly respected thought leader with an aptitude for business analytics, organizational management strategy, logistics coordination, conflict resolution, and adaptive leadership.
Dr. Gourdine's unique approach to strategy, management, and strategic insight can help position Maryville's business programs with a clear direction forward as we grow alongside the constantly evolving world of business. Bold new approaches and innovative thinking are among the tenets that drive modern business, and Dr. Gourdine's experience in developing strategic solutions for both a military and executive leadership capacity places him at the forefront of thought leadership in the field.
Christopher is a retired veteran of the United States Air Force, where he served for 21 years prior to a second career that took him into both the business and educational space. Following his service, Gourdine used his keen management insight to lead his team as director of strategic partnerships and business intelligence for Procurement, Accounting, and Logistics Services, Inc. In this role, he was instrumental in implementing a general needs assessment and cultivating business relationships between government agencies and the private sector. He also worked as a lead investigator and consultant with C5T Corporation, providing analytics and decision systems expertise in a collaboration between the Air Force Research Laboratory and U.S. Transportation Command, an agency overseeing global logistics operations supporting 2.5M people.
Seeking to share his knowledge and management experience with the next generation of business leaders, Dr. Gourdine made the transition into the world of higher education as an adjunct professor for Lindenwood University. His time at Lindenwood would also see him advance into the position of coordinator for the school's Campus Assessment Program, as well as chair of the Division of Business and Entrepreneurship.
He earned a Bachelor of Science in Aeronautical Engineering from the United States Air Force Academy. During his military service, he also earned multiple leadership certifications from Air University, the Squadron Officer School, the U.S. Air Force Special Operations School, and the U.S. Army Command and General Staff College. Gourdine holds two degrees from Webster University: a Master of Arts in Management and a Doctor of Management. He is currently pursuing a master's in business data analytics. He is also an ASC-certified Six Sigma Black Belt.
Professor Gourdine joins a team of talented, experienced faculty in the John E. Simon School of Business. As a Maryville online business student, you'll have the opportunity to learn business strategy as you benefit from his extensive depth of knowledge.
Additional Info
Areas of Expertise
Operations management and training
Business analytics and decision science
Strategic management
Organizational adaptation and capability improvement
Organizational culture
Crisis management and response
Strategic security issues
Lean Six Sigma
Flight operations
Classes Taught (at Maryville)
Business Policies (Strategic Management)
Operations Management
Business Statistics
Prior Classes Taught
Principles of Management
Business Analytics I and II
Management Decision Science
Strategic Management
Adaptive Leadership
Organizational Behavior
Employee Training and Development
Contact Info
Phone: 314-529-6861
Email: cgourdine@maryville.edu
Office: 2214 Anheuser-Busch