Women in Law Enforcement: History, Accomplishments, and Demand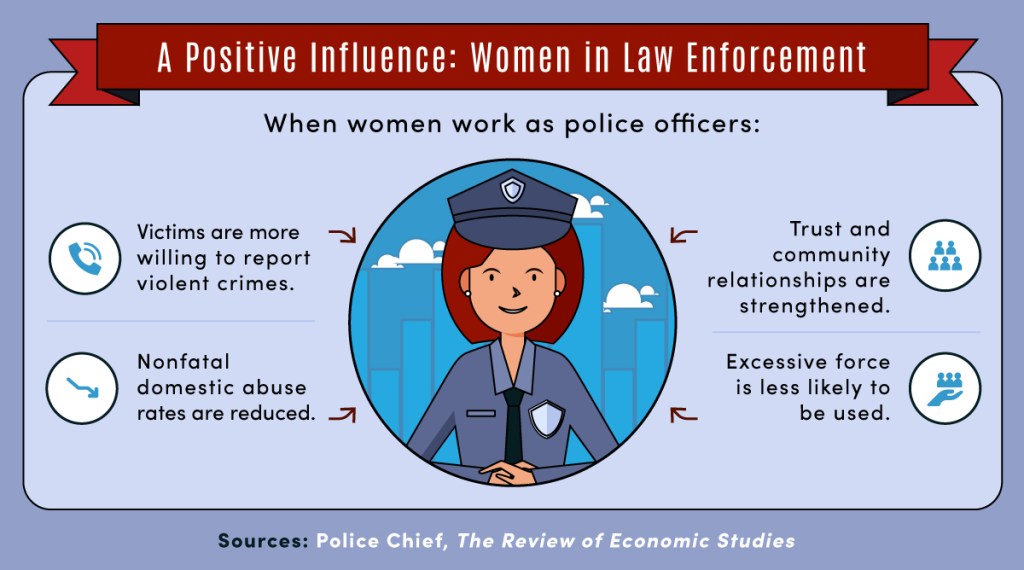 Tables of Contents
While the number of women working in law enforcement has increased significantly in recent decades, a gender gap persists — only 12% of sworn law enforcement officers at police agencies nationwide are women, according to Police1. At the leadership level, just under 3% of police chiefs at local police departments are women, according to the U.S. Bureau of Justice Statistics.
A look into the history of women in law enforcement reveals many examples of leaders breaking through the glass ceiling. History also shows momentum toward greater gender equity in law enforcement.
Demand for Women in Law Enforcement
Achieving gender equity in law enforcement roles, especially at the leadership levels, remains a pressing issue. The U.S. Bureau of Labor Statistics data projects 5% growth in police and detective employment from 2019 to 2029. Recruiting and hiring more women for law enforcement roles can help meet the growing demand.
Additionally, increasing the number of women in law enforcement can help address contemporary law enforcement concerns in areas such as community relations, use of excessive force, and crimes against women. According to Police Chief magazine, more women in policing can translate into better relationships with communities served, including improved trustworthiness and increased cooperation. Research also indicates that women are less likely to use excessive force, a primary issue in the area of police reform.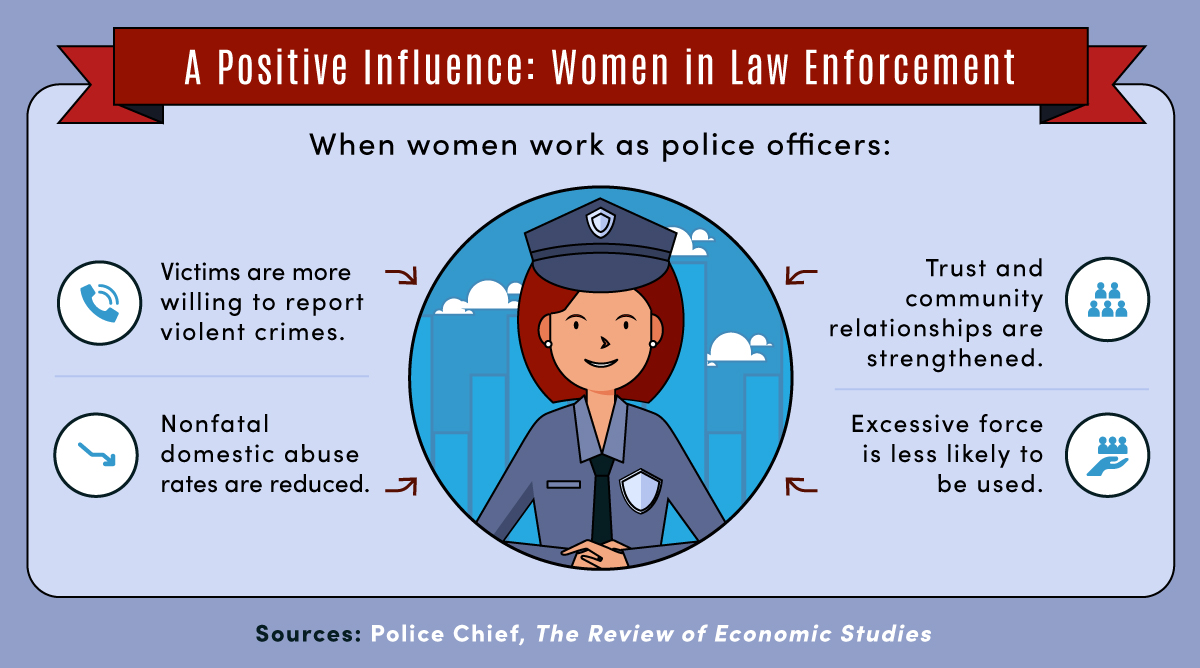 When women work as police officers, victims are more willing to report violent crimes, nonfatal domestic abuse rates are reduced, trust and community relationships are strengthened, and excessive force is less likely to be used.
Women Leaders in Law Enforcement
Police history shows that women have served in law enforcement for more than a century in the U.S. The earliest roles for women in law enforcement in the 19th century involved working with women and children and guarding female prisoners. The 20th century opened up new opportunities, and many women became uniformed officers in major cities and towns.
After passage of Title VII of the Civil Rights Act of 1964, which prohibited gender discrimination in state and local agencies, women made further gains, becoming leaders in local and state police departments as well as federal law enforcement agencies. Accomplishments of recent and current notable women leaders in law enforcement include the following:
Cathy Lanier
After nearly 27 years with the Washington, D.C., Metropolitan Police Department, including serving as the department's first female chief of police, Cathy Lanier was named senior vice president of security for the National Football League in 2016.
Congresswoman Val Demings
Before serving as a member of Congress from Florida, Congresswoman Val Demings was the city of Orlando's first female police chief. She was also "one of the first women and one of the first Black Americans to prosecute a presidential impeachment before the U.S. Senate," according to her House of Representatives profile page.
Regina Lombardo
Regina Lombardo is the first female acting director of the U.S. Bureau of Alcohol, Tobacco, Firearms, and Explosives. With an extensive career in law enforcement at ATF that began in 1992, Lombardo has risen through ATF's executive ranks, including previously serving as acting deputy director, overseeing the agency's entire operations.
Pamela A. Smith
Pamela A. Smith's storied 23-year career in the United States Park Police includes serving as a patrol officer, field training officer, instructor, and leader. Today, she is the first black woman to lead the agency, serving in the role of U.S. Park Police chief.
Women in Federal Law Enforcement
From investigating national and international crime rings, to protecting the U.S. border from drugs and illegal immigration, to guarding high-profile government executives including the president of the United States, federal law enforcement agencies offer women a wide range of rewarding roles.
According to Discover Policing, opportunities are available across 65 U.S. federal agencies and 27 offices of inspector general. Some of the most recognized roles include Federal of Bureau of Investigations (FBI) agents, U.S. Drug Enforcement Administration (DEA) investigators, U.S. Immigration and Customs Enforcement (ICE) agents, and U.S. Secret Service agents.
Salaries for federal law enforcement roles are based on the General Schedule (GS) classification and pay system established by the Office of Personnel Management. Salaries of federal employees can vary widely depending on pay grade and step (each pay grade has 10 steps) as well as geographic location. An individual's pay grade and step typically represent their performance and longevity. For example, a federal law enforcement officer working in the New York metro area at grade 15/step 10 earns around $172,000 a year, while someone at grade 8/step 2 earns around $61,000 a year.
While federal agencies have worked toward closing the gender gap in their workforces, opportunities to do more remain. For example, Government Executive reports that the overall workforce in the FBI is over 55% male and over 44% female. At the highest levels of leadership — GS pay scales 13 to 15 — women hold just 35% of supervisory roles.
Resources: Federal Law Enforcement Careers
The following links provide information about careers for women in federal law enforcement from federal agency websites and related resources.
History of Women in Law Enforcement
The earliest records of women behind the badge include those who served as New York City jail matrons in the 1800s, a role that mostly involved cleaning jail cells and occasionally supervising inmates. Not until the late 1890s did women begin working with female crime victims, contributing to cases involving sex crimes, and participating in matters involving children and babies. But they still weren't allowed to hold the title of officer.
The 1900s saw more women becoming official officers at police departments. Portland, Oregon, hired the first sworn female police officer in the U.S., Lola Baldwin, in 1908. In 1910, the Los Angeles Police Department swore in its first female police officer, Alice Stebbins Wells, and in 1912, former matron Isabella Goodwin became New York City's first female police detective.
While women began to take on law enforcement roles in the early 20th century, the passage of the Civil Rights Act of 1964 gave women opportunities to serve as law enforcement leaders. In the 21st century, many women have served proudly on the front lines and in leadership roles of law enforcement departments and agencies.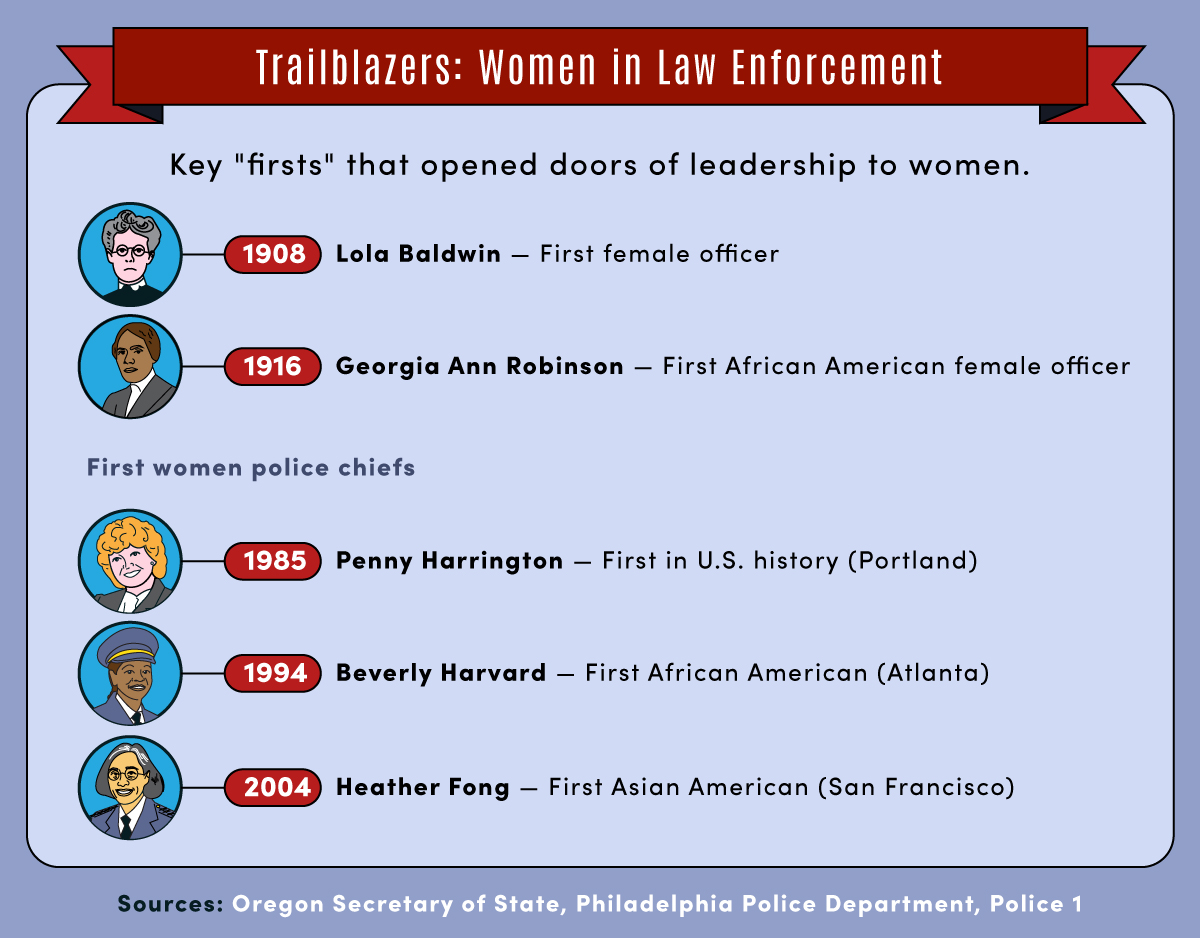 Key "firsts" that opened doors of leadership to women include Lola Baldwin becoming the first female officer in 1908; Georgia Ann Robinson becoming the first African American female officer in 1916; Penny Harrington becoming the first female police chief in U.S. history (Portland) in 1985; Beverly Harvard becoming the first African American female police chief (Atlanta) in 1994; and Heather Fong becoming the first Asian American female police chief (San Francisco) in 2004.
Key Accomplishments: History of Women in State and Local Law Enforcement
Some women became "firsts" in their fields. Others led law enforcement departments as chiefs of police. Below are some key state and local law enforcement figures with trailblazing accomplishments:
Moments in History That Expanded Opportunities for Women
The landmark Title VII of the Civil Rights Act of 1964 played a central role in helping women advance in their careers by outlawing discrimination in law enforcement. Then, in 1969, President Nixon signed Executive Order 11478, which provided "equal opportunity in federal employment for all persons, to prohibit discrimination in employment because of race, color, religion, sex, national origin, handicap, or age."
However, the examples of trailblazing women served as the true catalyst for inspiring others to pursue law enforcement roles and expanding opportunities for women. The founding of law enforcement associations focused on women in law enforcement in the 1990s, such as the National Association of Women Law Enforcement Executives and Women in Federal Law Enforcement, also helped bring attention to the barriers to women's advancement in law enforcement. Today the work continues, with more women becoming leaders in law enforcement and taking on the highest-profile law enforcement roles in local, state, and federal law enforcement agencies.
Important Dates in Women's History in Federal Law Enforcement
Key historical federal law enforcement figures include these spearheading women:
Percentage of Women in Law Enforcement
Some cities have a higher percentage of women in their police force than the national average of 12%. For example, 18% of the New York City police department's 36,000 uniformed officers are women, but widespread gender bias remains a problem, according to a New York Times report. And New York City has never had a female chief of police, unlike other major cities such as Atlanta, Philadelphia, and Washington, D.C.
The percentage of women in law enforcement employed at intelligence agencies has remained stable since 2011, increasing slightly from 38.6% to 39.3%, according to data from the U.S. Government Accountability Office. Women still remain underrepresented in key jobs; they comprised just 16% of criminal investigators, according to The Washington Post.
Inequities in the law enforcement workforce have traditionally limited leadership opportunities for women. Closing the gap requires more intense recruitment and retention of women in law enforcement roles, from beat policing to leadership positions. Women bring many benefits to the traditionally male-dominated law enforcement culture, and they are well-suited to help deliver justice reform and make communities safer.
The gender gap remains — women account for only 3% of police chiefs in the U.S., 13% of law enforcement officers in the U.S., and 39.3% of roles within federal intelligence agencies.
Resources: Women in Law Enforcement Statistics and Data
These links provide information, statistics, and data on women employed in law enforcement.
Women Play a Significant Role in Law Enforcement
Women in law enforcement occupations are now common. They patrol neighborhoods, chase criminals, solve crimes, and supervise departments. But this wasn't always the case. While women have long exhibited the skills to succeed in law enforcement, they have had to overcome obstacles from sexism to inequity in pay and opportunities.
Thankfully, changes in the law, wider acceptance of women in law enforcement, and the contributions and examples of women past and present have opened new doors. Women bring creativity, bravery, and unique skills, including different ways to resolve high-stress conflict situations, making them ideal candidates for law enforcement roles at every level.
Infographic Sources
National Institute of Justice, "Women in Policing: Breaking Barriers and Blazing a Path"
Philadelphia Police Department, "Women in Policing: MVP Game Changers In Law Enforcement Leadership"
Oregon Secretary of State, "Oregon History: Chronology – 1902 to 1950"
Police Chief, "Women in Policing"
Police1, "Police History: 5 Trailblazing Women in Law Enforcement"
Police1, "Roundtable: Leadership Development for Female Officers"
The Review of Economic Studies, "Do Female Officers Improve Law Enforcement Quality? Effects on Crime Reporting and Domestic Violence"
United States Government Accountability Office, "Intelligence Community: Additional Actions Needed to Strengthen Workforce Diversity Planning and Oversight"