The Path to Becoming a Web Developer vs. Front-End Developer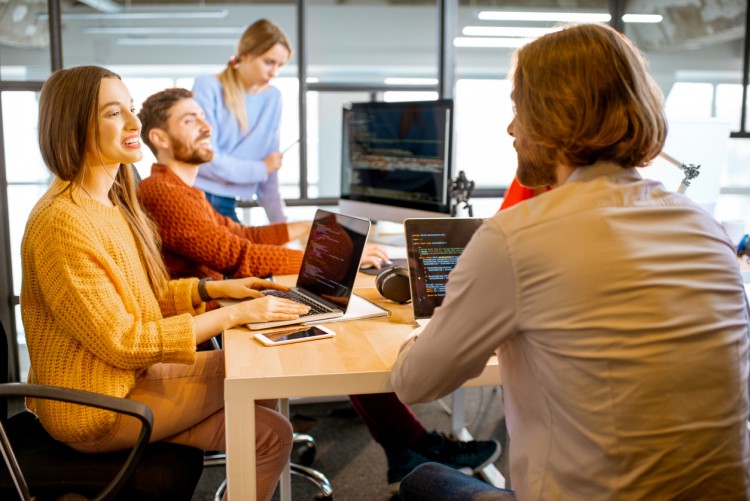 You're reading this article on a webpage that was designed to host images, video, and text. It's connected to others in a network of webpages that form a web domain, more commonly known as a website. While you may find the website easy to navigate and understand, it's built on a complex framework of coding in multiple programming languages — the result of hours upon hours of hard work by computer science professionals who know how to turn code into valuable content. These developers build websites from the ground up or on existing code, adding personal touches to increase speed, capability, and storage.
Web developers, including front-end developers, use computer languages to create websites and web-based applications that many of us use every day. These computer programmers often work in similar environments or even alongside one another, yet they serve different functions at companies that develop web-based products. Continue reading to learn more about web developers and front-end developers, what sets them apart, and how you can get a career in one of these disciplines with the right academic background.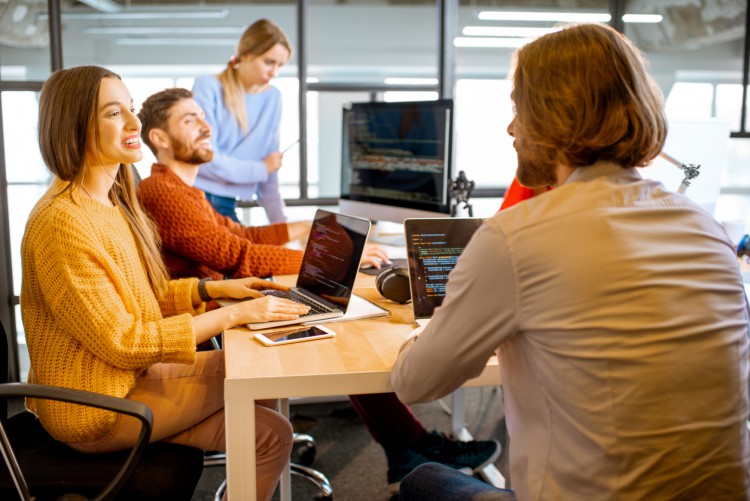 Web Developer Overview
Web developers create and build websites from the ground up. Before they get started on a design, they take the time to fully understand the requirements and expectations: how much traffic the site will generate, what users will do with it, and what kinds of technology it needs to be compatible with. They can use their knowledge of programming and open-source code to put together a website that meets those needs. They often form part of a development team, working alongside systems engineers and developers. Web development involves a lot of coding, testing, and re-coding. Developers are constantly on the hunt for code errors and issues that could slow performance or create data threats.
Web Developer Salaries and Job Outlook
The U.S. Bureau of Labor Statistics (BLS) reported that there were 160,500 web developers working in the United States as of May 2018. Of that group, 17% (27,400) worked in computer systems design, 16% (25,300) were self-employed, 5% worked in publishing industries (7,900), and another 5% worked in management, scientific, and technical consulting services (7,700).
The BLS indicated that the median annual salary for all web developers was $69,430 as of May 2018. The bottom 10% of earners brought home around $37,930, and the top 10% earned as much as $124,480. The sector with the highest median annual salary was non-internet publishing industries ($75,360), followed by computer systems design and related services ($68,670), which paid similar wages as management, scientific, and technical consulting services ($66,250) and advertising, public relations, and similar fields ($66,020).
The job outlook for web developers is strong. The BLS projects there will be 20,900 new web developer jobs between 2018 and 2028, a 13% growth in the market. That rate is nearly three times the national job growth average during the same span (5%). Over 6,700 of the web developer jobs will be created in computer systems and related design, a 24.3% jump in that industry alone. The number of self-employed workers will grow by 3,400 (13.6%).
Front-End Developer Overview
Front-end developers are web developers who focus their efforts on the outward-facing parts of a product. The parts of a website that users interact with directly, including menus, articles, photo galleries, widgets, and games, constitute the "front end." Front-end developers don't necessarily worry about factors such as data storage, website framework, server connections, or any of the other back-end aspects of web development. Instead, these tech gurus focus on making the product aesthetically pleasing and ensuring it functions well for its users. Their work might involve creating interactive tools or other widgets that make the website or application more user-friendly or enjoyable to use.
Front-End Developer Salaries and Job Outlook
BLS job data for web developers encompasses the entire field, and includes data for front-end developers. PayScale reports that the median salary for a front-end developer is around $71,000 per year.
Similarities Between Web Developers and Front-End Developers
Web developer and front-end developer jobs are similar. Individuals in both fields are programming specialists who create websites and applications that function on internet-enabled devices, such as smartphones, tablets, and laptops.
Differences Between Web Developers and Front-End Developers
Though web developers and front-end developers have a lot of similarities since they are branches of the same field, there are a few different focal points that set the two jobs apart. Their focus on the user experience and their graphic design abilities can help differentiate them.
User Experience Focus
Web designers who are building an entire website often keep the user experience in mind, but their primary goal is to create a functional website that performs the way the development team intended. They need to focus on making sure the website works and fulfills its function efficiently without any errors or bugs in the code.
Front-end developers focus primarily on user experience when they implement their designs and make changes to impact quality in that regard. They apply their talents to the parts of the website or application that users directly interact with. As such, they think about how users will utilize the site and how they should approach different aspects of design, such as drop-down menus and contact forms.
Graphic Design Focus
Most web developers do not need graphic design abilities. Their skills lie primarily in coding, and they don't often consider aspects of visual design. Their focus is on the utility of the page.
Front-end developers, on the other hand, can benefit from having graphic design skills and an understanding of digital aesthetics. This allows them to create better interactive elements, especially if they can both code and design the graphic, eliminating any discrepancies between the visions of the developer and graphic designer.
Web Developers vs. Front-End Developers: Which Is Right for You?
Becoming a web developer or front-end developer means understanding the whole picture of a website or application, from concept to execution. Whether you're interested in the functionality behind the scenes or the user experience, exploring concepts related to digital media can help you step into one of these positions. Discover how Maryville University's online Bachelor of Fine Arts in Digital Media can start you down a path toward designing the websites and other web-based applications that are such an important part of our everyday lives.
Recommended Readings
Focused on Filling Gaps in the Computer Science Work Force
Web Design for Your Online Business
Sources
The Balance Careers, "What Does a Web Developer Do?"
Frontend Masters, "What Is a Front-End Developer?"
Payscale, Front-End Developer/Engineer Salary
Techbii, "What Does a Web Developer Do?"
Tech Crunch, "The Future of Front-End Development Is Design"
UpWork, "The Role of a Front-End Web Developer: Creating User Experience and Interactivity"