Tips on Landing the Job in Higher Education Administration
The road to a career in higher education as a student fresh out of college is similar to what long-distance runners must do to complete a marathon: it takes dedication, perseverance, time and most important of all preparation.
With a Doctor of Education in Higher Education Leadership from Maryville University, you've reached the 25th mile marker. But to complete the trek and cross the finish line, one final push is necessary: landing the job.
Whether you decide to pursue a higher education career at a public or private university, education is one of the few industries that always seems to be hiring. Indeed, since the recession concluded, education is among the top job sectors that has experienced the greatest growth, CNBC reported. This is largely due to the rate in which students are attending college. Last year, for instance, almost 70 percent of high school graduates enrolled in a college or university, according to the most recent data from the Bureau of Labor Statistics.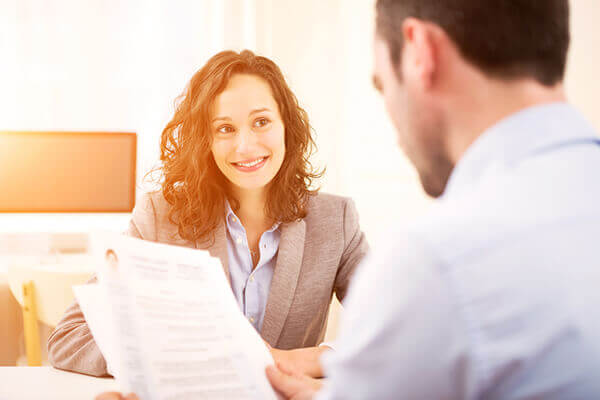 In order to join the approximately 175,100 people in the U.S. who count themselves as higher education administrators, the following are a few example questions you may be asked when interviewing for your dream job. How you answer and prepare for them can establish that you are the right person for the open position.
1. Tell us about your experience.
Work-related experience can be a catch-22. Every employer wants to hire someone with practical knowledge and understanding for the pursued position. But in order to get that experience, you have to start somewhere. By securing a Doctor of Education in Higher Education Leadership, the academic portion of the experience required is already under your belt. As for actual on-the-job work experience, employers typically seek hires who have served in an administrative role or capacity at an educational facility for at least several months, but ideally years, according to the BLS. However, there may be positions where previous work experience is not mandatory, such as admissions or student affairs.
Universities also highly value specific skills that you can bring to the table, both in the practical and social realm. For instance, universities maintain huge databases. Obtaining access necessitates that you have familiarity with various types of software. Training may be available, but ideally, you'll know how the programs work already.
Interpersonal skills are also highly sought-after. As noted by the BLS, a career in postsecondary education is one where you're constantly meeting new people and building existing relationships with all types of individuals, including administrative associates, faculty members, students and their family members. Employers will be looking for evidence you have what it takes to manage personalities and foster camaraderie. Anything you can do to establish this is highly recommended.
2. How have you demonstrated leadership?
Leadership is a highly desirable quality. Interestingly, however, it's not something that everyone wants, at least among workers. According to a 2014 poll done by CareerBuilder, just 34 percent of responding employees said leadership positions were not what they were ultimately after; with over half indicating they were just fine with the role they were currently involved in.
Leadership is a fundamental element to a career in education. In fact, if you search "Higher Education" in the search bar at Gallup's website, a polling outfit, "leader" is a commonly used word in many of the surveys reference. Were it not for leadership, demonstrated by teachers and students in the classroom and administrators in the front office, high school graduation rates would not have improved as much as they have, now topping 83 percent, according to GradNation.
Much of this is thanks to school districts investing in teacher development. According to national nonprofit organization TNTP, the country's largest 50 school districts spend approximately $8 billion on teacher development annually, or the equivalent of $18,000 per teacher. However, in a recent study, just 30 percent of teachers showed marked improvement in performance metrics.
Dan Weisberg, TNTP CEO, suggested that leadership – both from administrators and faculty – can help bridge the performance gap.
"There's enormous untapped potential within our nation's teachers, but our findings suggest that we're nowhere close to unleashing it," Weisberg explained.
Whatever you can do to demonstrate leadership will go a long way toward securing your higher education administrative aspirations.
3. How have you helped students excel?
Students are the lifeblood of every educational facility – graduate level or otherwise. Indeed, Norman C. Francis, president for a university based in Louisiana, recently noted in the Association of American Colleges & Universities (AAC&U) that institutions of higher education must "never forget our reason for being: Students are our priority. We exist to educate students."
Because of this, your prospective employer may ask for examples where you've helped students succeed.
Standardized testing scores are frequently cited as concrete examples of student performance. While these are still used for admission purposes by colleges and universities, they are given less weight today than they have in the past, largely because other performance metrics have proven just as effective in establishing comprehension. AAC&U released a report in February demonstrating this. In its "On Solid Ground" report, students are doing particularly well in written communication.
"This project represents the first attempt to develop a large-scale model for assessing student achievement across institutions that goes beyond testing," said Lynn Pasquerella, AAC&U president. "It does so by relying on assignments that students have completed throughout their classes and across disciplines. The results are encouraging."
In other words, the traditional method of establishing student excellence goes beyond the numbers. During the interview, try to reference examples in which your participation helped students access or reach their maximum potential.
Distance runners will be the first tell you that no two marathons are the same – each has its peaks and valleys, its smooth parts and rough patches. The same goes for higher education employment pursuits. But with the proper planning and preparation, you can meet the challenge head on and be well on your way to your final destination.
Recommended Reading
The Best-Educated Educators: What You Can Do as a Doctor of Education
Leading in a Time of Educational Change
Resistance to Change: Higher Education on the Cusp
Sources
CNBC – As job growth soars, these sectors are seeing the biggest gains
U.S. Bureau of Labor Statistics: Occupational Outlook Handbook – Postsecondary Education Administrators
U.S. Bureau of Labor Statistics: College Enrollment and Work Activity of High School Graduates News Release
PR Newswire – Majority of Workers Don't Aspire to Leadership Roles, Finds New CareerBuilder survey
PR Newswire – U.S. at Risk of Not Reaching 90 Percent Graduation Rate Goal by 2020
Association of American Colleges & Universities – Faculty Quality—A Forty-Year Perspective from a University President
Association of American Colleges & Universities – Not the Usual Standardized Test: VALUE Approach Shows It's Possible to Meaningfully Measure Student Learning for Outcomes that Matter in Work and Life