Smartphone Apps And Permissions: Big Data And Mobile Data
The endless stream of apps available on mobile marketplaces, whether for iPhones, Androids, or Windows phones, need user permission to access device capabilities or files. Usually, these permissions are pertinent to the app's intended purpose, such as a map app needing access to GPS data. Sometimes, though, a flashlight app will require permission to access contact lists, cameras, or microphones.
If an app is asking to access unnecessary data, it is most likely selling that data to third-party analytics companies.
Even this, however, can be completely harmless. Data governance laws require that data harvested through smartphone use be anonymized to protect user privacy. This data can, in turn, be used to improve app functioning and advertising.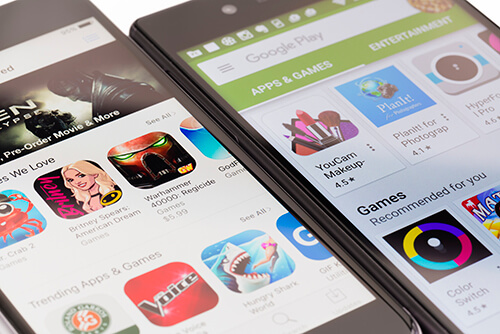 A Masters Degree in Business Data Analytics will prepare a student to use data mined from smartphones, web browsers, Internet of Things (IoT) devices, and other connected devices, in a productive, insightful way while maintaining the privacy and security of users' data.
The Benefits
More than 70 percent of the apps available on the Google Play and iPhone app stores report smartphone data to analytics companies such as Google Analytics and Facebook Graph API, which help developers track app usage, social media connections, and place advertisements tailored to each user.
Smartphone data is used to build user profiles that developers can analyze and utilize to craft better user experiences. Third-party service libraries store this data indefinitely for purposes of extracting valuable insights through analytics and deep learning algorithms.
"Successful library authors may be able to develop detailed digital profiles of users," explained the network research organization IMDEA Networks Institute in "7 In 10 Smartphone Apps Share Your Data With Third-Party Services" in Science Daily, "For example, a person might give one app permission to know their location and another app access to their contacts. These are initially separate permissions, one to each app. But if both apps use the same third-party library and shared different pieces of information, the library's developer could link the pieces together."
Collected data can also be used in conjunction with smartphone hardware permissions, including GPS data, camera feeds, and microphone access, to further personalize experiences to each user.
"By integrating geo-location technology into a mobile application, businesses can send special offers to customers who are in close proximity to stores," Off Madison Avenue managing partner Roger Hurni told journalist Jennifer Lonoff Schiff's in "7 Ways Small Businesses Can Benefit From Mobile Apps" on CIO.com, "By using this approach, small businesses can decrease spend, narrow focus, and deliver targeted ads to consumers at the right time and place."
Legitimate uses of smartphone data include targeted ads, geolocation targeting (as explained above), scheduling, payments, market research (spending habits, demographics, and mobile device usage), and even social programs and governmental research.
"Cultural perceptions, economic factors, municipal borders, demography, geography, and resources all shape the texture and character of urban life. However, it can be extremely difficult to study these intricacies," writes researcher Jason Hong in "Smartphone Data At Scale: Small Devices, Big Opportunities, Bigger Risk" in Carnegie Mellon University's Research Showcase. "There is an exciting opportunity for creating new ways to conceptualize and visualize the dynamics, structure, and character of a city by analyzing the social media data that people generate on their smartphones."
The Drawbacks
Privacy is a big deal in the data analytics universe. In most developed nations, personally identifiable information (PII) must be stripped of identifying characteristics through de-identification. In the United States, the Health Insurance Portability and Accountability Act (HIPAA), the Patriot Act, and several other regulatory controls forbid the sharing of data that could be used to identify or defraud individuals.
HIPAA's Privacy Rule contains probably the most complete description of PII, also referred to as protected health information (PHI), in the healthcare industry. The rule itself applies to health insurance companies, healthcare clearinghouses, providers, and any third-party vendors with whom they do business, according to HHS.gov's "Summary Of The HIPAA Security Rule."
The type of information that is protected by the Privacy Rule includes identifying information ranging from first and last names to social security numbers, vehicle identification info (license plates), addresses, and account numbers.
Non-healthcare related data follows similar guidelines. But outside of the United States, especially in countries like China, data governance is practically non-existent. "[Some smartphone app] information is collected by Chinese search and advertising engine giant Baidu, which collects users' GPS coordinates, names of nearby wireless networks, and a unique device number that can be used to identify a person's phone," claims legal writer Nathan Vanderklippe in his article "China Collecting Sensitive Personal Data Through Android Apps: Report" on TheGlobeAndMail.com.
Vanderklippe continues, "[Baidu also] gives Chinese authorities access to its data in accordance with local laws… Thousands of apps use the service, some distributed worldwide through the Google Play store."
Essentially, Baidu not only has the ability to create very personalized profiles about specific users with little to no restrictions (read: SSNs, account numbers, creditor information, and other embarrassing or dangerous bits of data), but it also shares personal information about U.S. citizens with the Chinese government.
Sticking with apps that share your data with analytics organizations covered by strict data governance laws will reduce the risk of exposing too much personal data to unwelcome eyes. Also, Google is developing methods of checking apps on its official marketplace for excessive data permissions.
"[Google] has developed a machine-learning algorithm that automatically creates categories and groups various apps based on not just similar functionality but also app metadata like text descriptions and user metrics, making these categories more accurate and less error-prone," describes analytics authority Brian Reigh in "Google Can Tell Which Apps Are Asking For Too Much Of Your Private Information" on AndroidAuthority.com, "The program reports the correlation between peer groups and alerts its teams on anomalies and harmful signals."
Maryville University's Master Degree In Business Data Analytics
The demand for business analytics experts lies at the heart of Maryville University's online Master's of Science in Business Data Analytics degree. Graduates of this online program can be fully prepared to enter the workforce as a statistician, data scientist, data analyst, or data governance specialist.
At Maryville University, students learn how to handle data sets, orchestrate multiple infrastructures, monetize data, and make decisions based on valuable analytics insights. Graduates will be exposed to the training they need to combine business operational data with the latest analytical tools, making them invaluable to employers.
Sources
7 In 10 Smartphone Apps Share Your Data With Third-Party Services
7 Ways Small Businesses Can Benefit From Mobile Apps
Smartphone Data At Scale: Small Devices, Big Opportunities, Bigger Risk
Summary Of The HIPAA Security Rule
China Collecting Sensitive Personal Data Through Android Apps: Report
Google Can Tell Which Apps Are Asking For Too Much Of Your Private Information