Addressing Mental Health and the Criminal Justice System
The U.S. has the highest incarceration rate and the greatest number of imprisoned people of any country in the world, according to figures compiled by Statista:
As of July 2021, approximately 1 million people were incarcerated in the U.S.
By comparison, China is estimated to have had a prison population of 1.7 million in 2021 despite having a total population more than four times that of the U.S.
Brazil ranks third with about 760,000 incarcerated individuals.
The per capita rate of incarceration in the U.S. is 639 per 100,000 as of May 2021; the second-highest rate is in El Salvador at 562 per 100,000.
Efforts to reduce the U.S. prison population often focus on the possible connection between mental illness and criminality. While such links appear to be tenuous at best, the relationship between mental health and criminal justice is an important factor in keeping people out of prison and reducing recidivism among former prisoners who have a mental illness.
More effective treatment of mental illness is seen as an important component of programs designed to prevent crime. Such programs help ensure that the mental health of defendants and other participants in criminal proceedings is properly addressed by the criminal justice system.
Mental Health and Criminal Justice
Police and other members of the criminal justice system have become the frontline responders to the growing mental health crisis. This is especially true in low-income communities and for people of color, according to The Atlantic.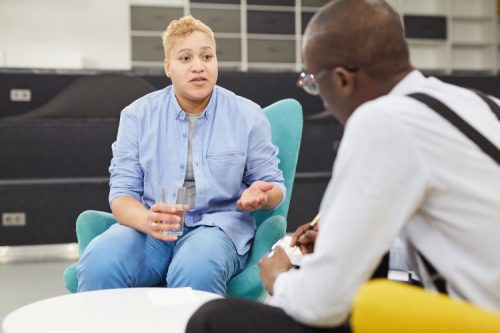 The rate of mental illness among criminal defendants has risen along with the skyrocketing rate of incarceration in the U.S. Between 1972 and 2009, the U.S. prison population increased by 700%. Since untreated mental illness is more common among people of low socioeconomic status, they are also more likely to be charged with committing a violent act, whether the crime is related to their mental illness or not.
How Mental Health Affects the Criminal Justice System
The first choice of most courts when a criminal case involves a defendant with a serious mental illness is to refer the person to a residential psychiatric care facility, where they can undergo treatment intended to restore their competence. However, placement in these facilities may not be possible, especially in light of the ongoing COVID-19 pandemic, which has reduced the space available for use by prisoners and inmates in need of mental health care.
Inmates whom the courts have ordered to be admitted for competency restoration may have to wait weeks or months to be treated.
The longer that treatment is delayed, the worse their symptoms and long-term prognosis may become.
The open-living arrangements at most long-term psychiatric care facilities have been limited by contact restrictions implemented to deter the spread of the coronavirus. This has reduced the availability of much-needed mental health care for the population in greatest need of professional assistance.
How Mental Health Impacts Criminal Defendants
The criminal justice system continues to rely on jails and prisons as the primary providers of much-needed mental health services to criminal defendants and prisoners. This feeds the cycle of released offenders becoming repeat offenders. The Prison Policy Initiative's analysis of a recent federal study on mental illness in the jail and prison population concludes that incarceration fails to address the social, economic, and health problems of people who are incarcerated.
These study findings illustrate the link between mental illness and an increased likelihood of incarceration:
Twenty-five percent of people arrested and booked two or more times in a 12-month period reported a serious or moderate mental illness. By comparison, 9% of individuals who were not arrested during that period reported a mental illness.
Fifty-two percent of people arrested and booked two or more times in a 12-month period reported having a substance use disorder. By comparison, 7% of individuals who were not arrested during the period reported a substance use disorder.
Twenty-seven percent of people arrested and booked two or more times in a 12-month period reported having no health insurance. Meanwhile, 8% of individuals who were not arrested and booked during the period had no health insurance.
How Mental Health Impairs the Fair Administration of Justice
The Task Force for Criminal Justice Collaboration on Mental Health Issues has made 137 overall recommendations and 74 implementation recommendations to identify and overcome the challenges in the criminal justice system's fair treatment of people with mental illnesses. The first of its recommendations calls for collaboration among stakeholders to ensure that mental health services are available to everyone in the community who needs them.
Among the community services the task force calls for are income maintenance programs, supportive housing, transportation, substance abuse treatment, and healthcare.
Funding for the services requires that state and local public health agencies and social service partners make the provision of consistent and sustainable mental health programs a priority.
Resources on Mental Health and Criminal Justice
Mental Health and Criminality
The misperception that people with mental illness are more prone to violence than the general population is in large part the result of researchers focusing exclusively on reports from clinicians who are treating patients in acute care settings. According to a study in World Psychiatry, civil commitment legislation emphasizes the management and treatment of violent behavior, so only those mentally ill patients who are most prone to violence receive treatment in these settings.
However, in nonacute care contexts, patients with the same mental illness diagnoses have much lower rates of aggressiveness and violence.
In most cases of violence in acute-care settings, factors such as the ward environment, a lack of clinical leadership, overcrowding, ward restrictions, and lack of activities contributed to the incident.
Movies and television shows portraying "crazed killers" and news reports of real-life violence contribute to the public's misperception of a link between violence and mental illness. This causes many people to avoid contact with individuals who have a mental illness, according to World Psychiatry.
The public's erroneous presumption of violence in mentally ill people provides justification for bullying and otherwise victimizing people with a mental illness.
The Link Between Mental Health and Criminality
The consensus of mental health researchers is that the vast majority of people with a serious mental illness, such as schizophrenia, schizoaffective disorder, and bipolar affective disorder, do not act violently. However, a small number of people with a severe mental illness are prone to assaultive behavior that is often linked to their symptoms, such as paranoid delusions.
By contrast, substance abuse disorders are tied to such acquisitive offenses as theft, burglary, and robbery.
About 40% of all violent crime is committed while the perpetrator is under the influence of alcohol, according to BJS data.
Alcohol, cocaine, and other psychoactive substances are known to increase aggression in susceptible individuals.
Most of the substances being abused cause disinhibition that weakens people's built-in resistance to antisocial behavior.
Prevalence of Mental Illness in the Incarcerated Population
People with a mental illness are three times more likely than the general population to interact with police and are more likely to be arrested, according to a report in Health & Justice. They are also likely to have a co-occurring substance abuse disorder.
Repeat arrestees are often treated in emergency rooms and are disproportionately homeless.
Almost half of the people arrested for a mental health protection hold are arrested again within 60 days, and close to 25% are rearrested within 14 days of being released from incarceration.
The National Alliance on Mental Illness (NAMI) reports that people with serious mental illness are booked into jails 2 million times each year.
Nearly 2 in 5 incarcerated people have a history of mental illness, according to NAMI.
Among incarcerated women, the percentage with mental illness is 66%.
Compared to the general prison population, mentally ill prisoners are incarcerated for longer periods, cost more to house, are more likely to commit suicide, and are more frequently placed in solitary confinement, according to information from the Treatment Advocacy Center.
Resources on Mental Health and Criminality
Alcohol Rehab Guide, "Alcohol-Related Crimes" — This article describes how robbery, sexual assault, aggravated assault, intimate partner violence, and child abuse are among the crimes associated with alcohol use.
Vera Institute of Justice, "The Impacts of Solitary Confinement" — The practice of solitary confinement is shown to cause serious and lasting psychological damage, especially for people with preexisting mental illness, as outlined in this brief.
Prison Policy Initiative, "Research Roundup: Incarceration Can Cause Lasting Damage to Mental Health" — In addition to exacerbating the mental illnesses of prisoners, incarceration is associated with negative mental health outcomes due to disconnection from family, loss of autonomy, and other causes as found in this research.
Mental Health and Criminal Proceedings
A defendant's mental health affects the course of criminal proceedings related to the person's alleged offense. Simply by entering the criminal justice system, mentally ill arrestees and defendants are put at a disadvantage.
The mental illness underlying their offense remains untreated despite costly competency assessments and hospitalization prior to standing trial.
While confined in the prison system, their mental condition is likely to become worse due to the harsh environment.
When mentally ill people are released from incarceration, they reenter the community with no discharge plan for their care.
Four Legal Standards of Criminal Insanity
Most mental illnesses do not preclude a defendant from being criminally responsible for their illegal acts. For crimes that require intent or another specific state of mind to be found guilty, a defendant may enter a plea of not guilty by reason of insanity.
All but four states (Idaho, Kansas, Montana, and Utah) allow criminal defendants to enter a plea of not guilty due to insanity. The other 46 states apply one of four legal standards for insanity, or some combination of the standards:
The M'Naghten Rule: A "disease of the mind" causes the person to be unable to distinguish right from wrong, or to fail to understand the consequences of their actions.
The Irresistible Impulse Test: A mental disorder causes the person to be unable to control their impulses, which results in them committing a crime.
The Model Penal Code Test: A mental defect results in the person being unable to act within legal constraints or failing to understand that the acts are criminal.
The Durham Rule: A mental defect caused the person to commit a crime, with or without a clinical diagnosis of a mental illness or disorder.
How Mental Illness Is Addressed in Court Proceedings
The 14th Amendment of the U.S. Constitution requires that criminal defendants understand the nature of the charges against them, and that they be competent enough to assist in their own defense.
The legal standard for showing competence to stand trial is the ability of the defendant to consult with their lawyer "with a reasonable degree of rational understanding."
Procedural competency requires that trial courts hold a competency hearing, while substantive competency requires that defendants not be tried and convicted when they are incompetent.
The insanity defense is invoked in only 1% of all felony cases, and it is successful in only a quarter of those cases, according to Mental Health America. In 70% of cases in which the defense is successful, the prosecution and defense have agreed that it is appropriate before the trial begins.
When a defendant is found to be not guilty by reason of insanity, the person still faces long-term consequences even though they have not been convicted and should not face punishment.
They are often held in confinement for longer periods than they would have been held had they been found guilty of the offense they were charged with. This occurs despite the U.S. Supreme Court's ruling that such confinement is unconstitutional.
They may receive less effective treatment for their serious mental illness in a long-term care facility than they would have received in prison.
Defendants are not always informed of all the consequences of pleading not guilty by reason of insanity.
Resources on Mental Health and Criminal Justice Court Proceedings
Crimes Linked to Mental Illness
Most interactions between the criminal justice system and people with mental illness involve nonviolent misdemeanors, such as trespassing, loitering, or creating a public disturbance. However, according to Law360, law enforcement officials may lack training in de-escalation techniques that prevent these situations from resulting in felonies that carry harsh penalties, especially resisting arrest or assaults on police officers. Mental Health America's Debbie Plotnick states that police and other first responders need to understand that a person experiencing a health crisis who calls 911 is not committing a crime.
When a person with a serious mental illness commits a violent crime, it is often related to some other condition or characteristic of the person, such as co-occurring substance abuse, adverse childhood experiences, and environmental factors. The American Psychological Association (APA) points out that violent acts are rare among people with serious mental illness, and when such an act does occur, it is likely that the person has other risk factors for violent behavior.
However, The Lancet identifies certain serious mental illnesses that are characterized by moderately increased risks of violence compared to the general population, including schizophrenia and bipolar disorder. People with "triple morbidity" — severe mental illness, substance abuse disorder, and antisocial personality disorder — are substantially more likely to act violently than people with severe mental illness alone.
Nuisance Crimes vs. Violent Crimes
Most crimes associated with mental illness are "nuisance" crimes such as disturbing the peace, sleeping on the street, or public urination rather than violent acts. In many instances, a person experiencing a behavioral health crisis encounters a police officer whose only options are to take the person to an emergency room or to jail. Preventing nuisance crimes and behavioral health crises from escalating requires ready access to the services offered by trained mental health professionals.
In 2020 the U.S. Substance Abuse and Mental Health Services Administration (SAMHSA) issued an executive order that attempts to help communities improve their ability to care for people who are mentally ill, have a substance abuse disorder, or are unhoused. The goal of the program is to reduce the dependence of communities on the criminal justice system as a safety net that in turn relies on incarceration.
SAMHSA has created a best practice toolkit that provides guidelines for behavioral health crisis care via regional crisis call centers, mobile crisis response teams, and crisis receiving and stabilization facilities.
It has implemented the 988 telephone number for reporting behavioral health crises to avoid the calls being directed to the 911 emergency service line. This number will also replace the current nine-digit National Suicide Prevention Hotline number of 800-273-TALK.
The program promotes the creation of crisis service systems designed to divert mentally ill people from jail, reduce reliance on emergency rooms, and minimize the involvement of law enforcement officials in responding to behavioral health crises
No Connection Between Mental Illness and Violence
Much of the population has the erroneous impression that people with mental illness are more likely to commit crimes, but the data analyses suggest otherwise. The aftermath of horrific crimes such as mass shootings promotes the image of "crazy" people committing violent acts. In fact, research suggests that people with serious mental illness are more likely to be the victim of a crime than to perpetrate a violent crime, according to the World Psychiatry study.
Likelihood of committing a violent act correlates with being young, male, or of lower socioeconomic status, according to World Psychiatry.
Substance abuse is a major determinant of violence, according to World Psychiatry. Substance abuse often is concurrent with mental illness.
According to a study cited by the APA, a history of prior violence or childhood physical abuse, having a father who was a criminal or substance abuser, displaying antisocial behavior, and lack of anger control were just as likely to predict violent behavior as having a mental illness.
Much depends on the context of the interactions between police and mentally ill individuals that involve violence. This has led communities to explore alternative approaches when responding to incidents of people in mental health crises threatening their own safety and the safety of others.
Resources on Crimes Linked to Mental Illness
Mental Health Treatment as a Crime Deterrent
Early identification and treatment of concurrent substance abuse disorders and mental illness would serve to deter incidents of violence that lead to encounters between people with mental illness and law enforcement.
The critical shortage of mental health services makes it more likely that police, who aren't trained mental health clinicians, are making critical medical decisions about people experiencing a mental health crisis.
Even when police attempt to secure treatment for the person in crisis, when psychiatric hospital beds aren't available, the only alternative in most cases is putting the person in jail.
The largest mental health institution in the country is the Cook County Jail in Chicago, which houses more than 2,000 inmates with mental illness.
Alternatives to Criminal Proceedings for Mentally Ill Defendants
The criminal justice system lacks the resources required to treat defendants with mental illness in a way that doesn't make their condition worse. Mental Health America points out that prisons and jails are unable to provide "humane and just treatment" to inmates who have a mental illness. The organization recommends that people with mental illness be removed from the criminal justice system whenever possible.
Beginning in the 1990s, courts began programs to divert mentally ill individuals to mental health courts to take them out of the criminal justice system as early as possible.
The Sequential Intercept Model attempts to prevent the criminalization of people with mental illness by creating a mental health treatment system that is accessible, comprehensive, and effective.
Once criminal charges have been filed, the person will be assigned to a mental health court, which tends to criminalize homelessness, loitering, and other social issues that neighborhoods and communities are attempting to address.
Mental health courts are often effective at reducing recidivism, improving mental health outcomes, and reducing inmates' length of incarceration, but they are inherently coercive because defendants agree to participate as an alternative to criminal prosecution.
Resources on Alternatives to Criminal Proceedings for Mentally Ill Defendants
Striking at One of the Root Causes of Mass Incarceration
Efforts to reduce the U.S. prison population depend on innovative programs that replace punishment by incarceration with policies that address the socioeconomic and health-related causes of crime. The high number of people with mental illness in U.S. prisons and jails is a result of our failure to provide mental health services to populations in communities at greatest risk. An approach to community mental health that emphasizes prevention and ready access to treatment will improve people's lives and make our communities stronger and more resilient.