Tips from the Dean: How to Manage School as an Adult Learner
You've made the brave decision to return to school to pursue your degree. Taking college courses will require your utmost focus and ability to study the material regularly.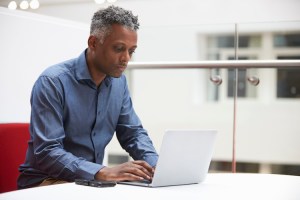 We're here to help. Our own Katherine Louthan, dean of the School of Adult & Online Education at Maryville University, is here to help you learn how to organize your commitments ahead of time.
Set goals early.
Earning your degree can put you on the path to greater professional expertise and opportunity. Don't leave anything to chance — Louthan says to set important goals or benchmarks early to stay motivated even through the busiest of times.
"We often tell students, the beautiful thing about online learning is that you can fit it into your everyday life," she said. "But the challenge is just that as well: You must also fit online learning into your everyday life with everything else you have going on."
Louthan advises that it is very important to plan ahead and have the discipline to stick to a schedule if at all possible.
"Whether it's logging in daily before the kids get up, posting on the discussion board over lunch breaks, or scheduling study sessions every Saturday morning at your favorite coffee shop ― establish a routine and stick to it."
Get familiar. Get comfortable.
Continue preparing by getting familiar with your selected school, the online platform, and the upcoming semester.
"To best prepare, you should take the time to do the orientation and experience the learning management system, so that when classes begin you can focus on the course requirements and the content," Louthan said.
But don't stop there. When available, you should review the academic calendar of your institution as well as your syllabus for each course you plan to take. Louthan considers this all part of the prep.
"Once you have access to your courses, read through them," she said. "Take note of expectations and deadlines. Be sure to communicate with your instructors and potentially even your classmates in advance of any conflicts or concerns."
Take advantage of support services.
As classes begin, Louthan says that success factors include "being proactive and communicative" and, most importantly, if you don't know the answer to something, ask for help.
"For many of our busy students, we encourage you to start slowly and pick up your pace as you are more comfortable with the workload and how you can fit it into your schedule and life," she said.
For those who anticipate needing assistance or support, Louthan says to get familiar with the student support services that are available.
Student advisor
As a Maryville online student, you will be assigned a student support advisor to guide and assist you — via convenient means like text, email, or phone — from enrollment through graduation. These advisors are here to assist you with questions, encourage you as you face challenges, and connect you to the appropriate resources when you need them.
Online tutoring
"If your institution offers in-person, virtual, or online tutoring, don't procrastinate until the night before a big exam to find help understanding a concept ― make sure you've checked out your resources or tested them in advance, so you know what to do when you need help," said Louthan.
Personal support system
You could also set up your own personal support system — which Louthan says could consist of family, coworkers, friends, or even new classmates — for positive encouragement and accountability.
Career services and professional development
Also, don't wait until later in your journey to explore career services and professional development, something Louthan suggests you should "start doing as early as possible."
Your support is our goal.
At Maryville, we are committed to helping you manage your education and professional life. We accomplish this with high-engagement, high-quality online education that can fit any busy schedule.
So let's do it ― together. Browse Maryville University's online degree programs at the bachelor's, master's, and doctoral level.
Recommended Reading:
Tips from the Dean: How to Return to College as an Adult Learner
Tips from the Dean: Get to Know Your Student Support Services