How to Become a College President
If one were to compare the variety of positions in post-secondary education with the great peaks of the Earth, college president is akin to Mount Everest: it's the highest, most prestigious of them all. Furthermore, also much like the magnificent landmass, few have ascended to the top of the post-secondary education world without a tremendous amount of effort and exertion along the way – both in the mental and the physical sense of the term.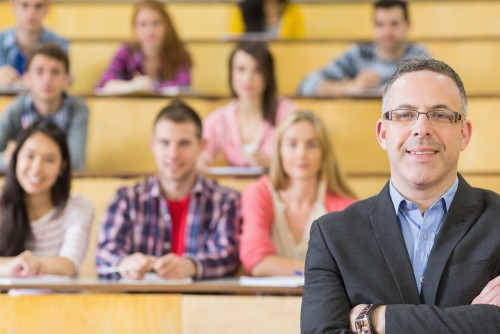 Fortunately, with a Doctor of Education in Higher Education Leadership from institutions such as Maryville University, graduates may be more prepared for this position. At the same time, though, a significant climb awaits to successfully reach the summit of the university system's administrative hierarchy. The following will detail some of what it takes to become a college or university president, along with commentary from both current and former post-secondary education leaders who know what it is like and who have experienced the challenges up close and personal.
The current state of post-secondary education leadership
To begin, it helps to get an understanding of the post-secondary education industry and where it currently stands today in terms of growth. According to the U.S. Bureau of Labor Statistics (BLS), an arm of the U.S. Department of Labor, there are roughly 175,000 post-secondary education administrators in the labor force at present. Between 2014 and 2024, an additional 15,200 jobs are expected to open, which translates to an above-average growth rate of approximately 9 percent. Among all U.S.-based occupations, the growth rate is right around 7 percent.
Part of the reason for the faster-than-normal growth derives from swelling levels of enrollment because an increasing number of industries require degrees for hires to be considered as eligible for employment. Reported by The Wall Street Journal in May, of the 3.1 million high school seniors who graduated in 2016, approximately 70 percent of them enrolled in a postsecondary institution, according to Labor Department figures. That's the highest share in more than 55 years.
Are you ready to take the next step in your career? See how Maryville's 100% online Doctorate of Education program can help you achieve your goals.
How much administrators make per year
Not only is the industry expanding, but those who enter the field stand to earn a generous income. According to BLS data, the median pay for postsecondary education administrators in 2016 was approximately $90,800 per year. However, perhaps unsurprisingly, professionals with more advanced degrees stand to earn more. For example, during the 2015-16 academic year, the median salary for executive vice presidents and vice chancellors was nearly $255,500 with a doctoral degree, according to The Chronicle of Higher Education. This compares to $191,493 median for those with their master's. There was also a difference in pay depending on whether senior college administrators were employed by a private or public institution. At private universities, salaries rose roughly 2.2 percent, slightly ahead of public school officials' pay, which rose 2 percent in the 2015-16 academic year from 12 months earlier.
As aforementioned, working as an administrator in postsecondary education is not for the faint at heart. It takes a considerable amount of study – both inside and outside of the classroom. Indeed, according to the BLS, college and university administrators almost always have doctorate-level degrees, which includes presidents, deans and provosts. Other degrees that may complement a degree in higher education leadership may include social work and marketing, among others. In a contributing piece for Forbes magazine, Richard Vedder, an adjunct scholar at the American Enterprise Institute and director at the Center for College Affordability and Productivity, found that in the last 30 years, approximately 10 percent of college presidents in the U.S. had Ph.D.s in Economics.
In short, entry-level workers need not apply.
But it takes more than book smarts to become a college or university president. To be effective, those who aspire to this career goal need various intangibles that are best gained from life experience.
"Good university presidents … need to have good interpersonal communication skills, honesty, integrity, innate intelligence, discipline and a strong work ethic," Vedder explained.
While some of these qualities are innate – you either have them or you don't – most can be acquired over time, particularly when one's background in similar disciplines necessitates some of the previously referenced leadership qualities.
University presidents need plenty of staying power
A career in post-secondary education may not be mistaken for manual labor, but many blue collar workers have what every college president needs: stamina. Brian C. Mitchell, former president of Bucknell University and current director of Edvance Foundation, pointed out college presidents are virtually always "on the clock." In other words, because they represent the face of their institution, they have to be raring to go 24 hours a day, seven days a week.
"A president can't phone it in," Mitchell wrote in The Huffington Post. "Duties on campus are extensive, especially if you value time with the students, enjoy interaction with the faculty, and commit to management."
He added it's this management element that can take the most time; especially when college presidents are newly appointed and they come into an administration that's already established.
Maintain open lines of communication with family members
What's more, the challenges of the position can also be strenuous on college presidents' family members. Writing for InsideHigherED, Juniata College President Jim Troha said that aspiring university presidents should be sure to speak with their significant other about the position and the commitment that it entails so that everyone is on the same page.
"How will you both handle the time commitment?" posited Troha. "Increased visibility and responsibility? Unexpectedly, the presidency can be a very lonely position, so your partner or spouse will be an important resource."
No job in higher education – or any other occupation, for that matter – is problem free. Some days are better than others and new challenges lurk around every corner. However, the position is rewarding, the perks are plentiful, and as Troha referenced, those who "positively embrace" the change will be forever influenced for the better.
With an online Doctor of Education in Higher Education Leadership, graduates may be well on their way to the postsecondary education industry's pinnacle.
Sources
U.S. Bureau of Labor Statistics, "Postsecondary Education Administrators"
The Wall Street Journal, "College Enrollment Among High-School Grads Nears Record High"
The Chronicle of Higher Education, "Median Salaries of Senior College Administrators, 2015-16"
Huffpost, "Why Become a College President?"