How Technology is Changing Access to the College Experience
Twenty years ago, most students installed a desktop computer in their dorm room to complete coursework. If they needed to use a computer while on campus, they went to a computer lab or the library. Cell phones were far from "smart" and didn't have apps, and texting was relatively new.
However, it was the beginning of the fast-growing synergy between technology and education, as students started to rely less on printed resources and in-person collaboration. As the trend toward digital continued, students discovered that the online learning experience can be comparable and equitable to what they might find in a brick-and-mortar institution.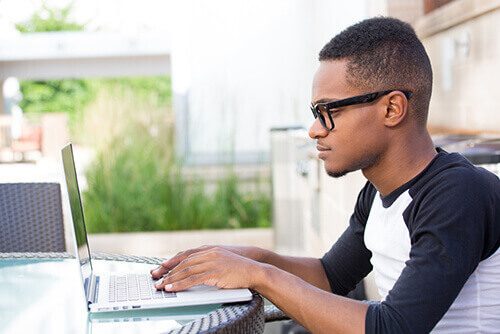 More connected students today than ever before
Today's college students are much more invested in technology than those of two decades ago. For example, according to survey data from the Pew Research Center, roughly half of all Americans own a tablet device or some form of screen reader.
Today, college students bring multiple devices with them everywhere they go, and information is at their fingertips 24/7. When it comes to online learning, that includes course materials, discussion forums, or lengthy search results for research topics.
Rather than spend hours at the library logged into a database like LexisNexis, students now use their own devices wherever they happen to be to conduct academic research, complete assignments, and interact with fellow students and instructors. As a result, education can go beyond the classroom in ways it never could before.
This improved access has changed the landscape of education, and college leadership should address it to maintain student engagement. It's common for college students to expect classes to be available wholly or partially online or for course materials to be digital, and colleges and universities should meet these expectations to foster strong learning environments.
Reconciling the effects of technology in higher education with the benefits
Online learning is increasingly an integral part of the American student experience. In the fall of 2018, more than 35% of enrolled college students took at least one online education course, according to the National Center for Education Statistics. And in 2020, online learning became an integral factor in the United States' response to the COVID-19 pandemic.
The biggest benefit to technology is improving overall access to information, thus giving more students the chance at a higher education. Yet there is a disconnect between offering online courses and accepting their value.
If, as former Goucher College president Jose Bowen says in a VOA News article, "the job of a college is to teach people how to think critically and find their place in the world around them," then it is important for college leadership and faculty alike to utilize the technology students are already accustomed to in the classroom.
Responding to COVID-19 challenges
Technological developments aren't the only keys in students' move toward online learning. For many, environmental or unavoidable circumstances make online education much more viable than the on-campus equivalent. Perhaps the biggest recent example of this is the COVID-19 pandemic that caused a seismic shift in how we approach in-person interaction, leading many colleges and universities to pivot immediately to an online learning model.
COVID-19 was instrumental in revealing the communication challenges of online learning, such as the importance of including a human element like active discussion boards or live video classes. The winning equation, regardless of course format, is most likely a combination of technology and human connections.
This includes being inventive, without fear to try new things in the classroom. So, it becomes up to college leadership to develop ways to train instructors on how to use technology in conjunction with their teaching.
Here's how higher education leadership can prepare:
Prepare for change
As technology makes information more accessible and colleges offer more options for students, such as full- and part-time enrollment or online learning, it's correct to assume college enrollments will rise.
Already, according to the National Center for Education Statistics, undergraduate enrollment is projected to increase by 2% by 2029, bringing the total number of undergraduate students to 17 million.
While this is encouraging news, it emphasizes the importance of college leadership to prepare to address this growing student population's needs with programs that take advantage of technology.
Be open to change
Historically, change has been difficult to achieve at educational institutions, so adapting to more innovative learning models that complement traditional higher education curriculum is imperative.
While diverse solutions can prove successful across institutions based on curriculum and student populations, a school's willingness to try various options can stimulate both students and faculty.
Engagement matters
To adapt most effectively to the growing need and demand for online learning options, schools must remember that technology alone is not the answer to engaging today's students. Active teaching by faculty — giving students that human connection to learning — is just as vital as giving students access to technology to enhance their learning experience.
That means exploring solutions that include a combination of traditional teaching methods and technological support. Some examples include:
Making learning materials available online to students before they come to class so that more active discussions take place during class time.
Requiring assignments be submitted online so instructors can offer longer office hours to visit with students directly.
Finding processes that work to improve student success and support a better learning experience.
Take special measures
At its center, technology improves educational access. Willing learners can obtain the content and materials they need to have a successful collegiate career with technology.
However, if they aren't taught how to properly use that technology by instructors, the system ceases to be beneficial. It's up to the college leadership of today and tomorrow to consider this aggregate approach when developing programs for future college students.
Maryville University: Uniquely equipped for online learning
When it comes to online learning, Maryville University is all in. We've established a tradition of innovation and engagement to enhance our online education for nearly a decade. It's a prioritization that has allowed us to reach new and emerging students like you to help you earn your degree any time, any place.
Current or prospective higher education leaders can further explore ideas related to educational theory in Maryville University's online Doctor of Education — Higher Education Leadership program. Contact our enrollment advisors today to learn more.
Recommended Reading
Careers You Can Pursue in Higher Education Leadership
CAOs Weigh in on Liberal Arts Education
Online Education vs. Traditional Degrees
Sources
Ed Tech Times, "Student Voice: How Should Professors Be Using Classroom Technology?"
Pew Research Center, "Mobile Fact Sheet"
VOA Learning English, "Does Technology Belong in College Classrooms?"
The National Center for Education Statistics, "The Condition of Education"
The National Center for Education Statistics, "Fast Facts"
Inside Higher Education, "Online Enrollments Grow, but Pace Slows"