Dr. Mark Lombardi discusses Maryville's approach to learning design on the Enrollment Growth University podcast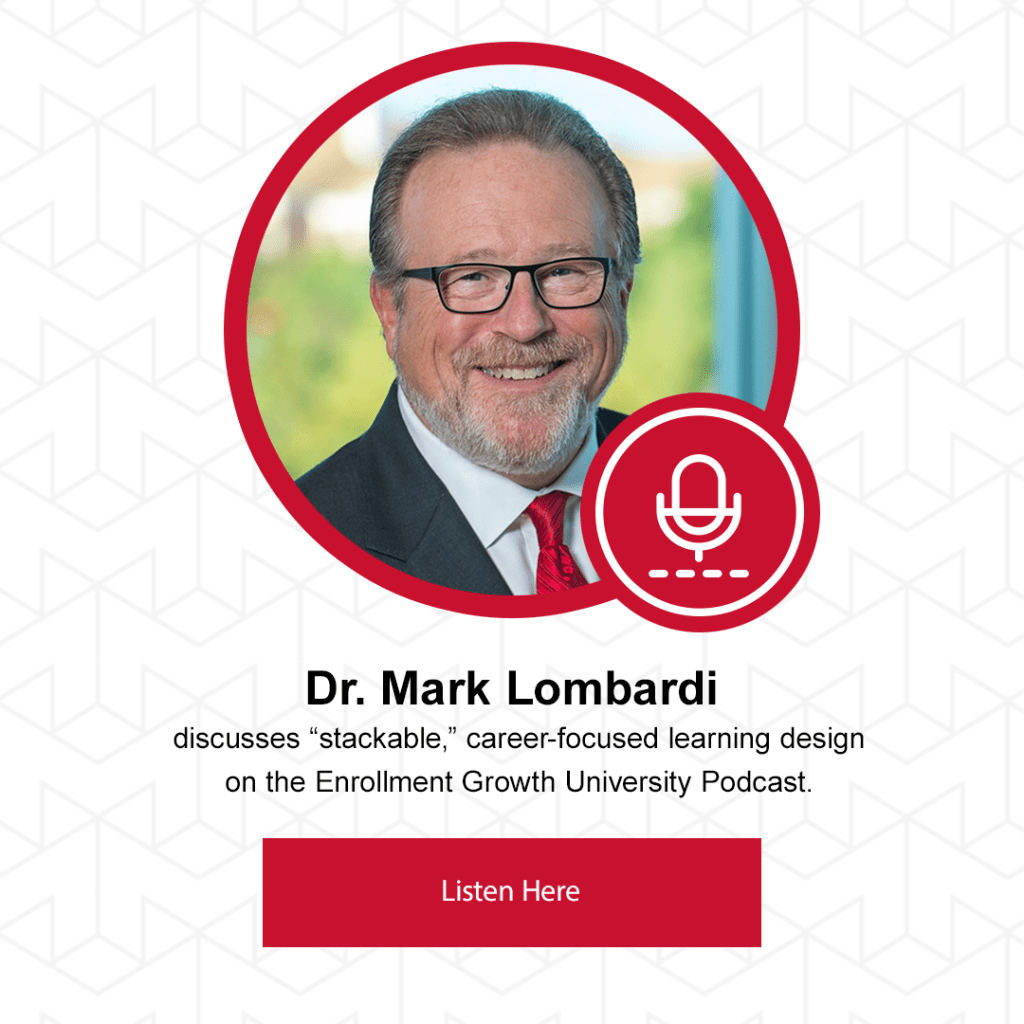 Maryville University's president spoke on a range of topics affecting today's learners, including career-focused education, "stackable" learning options, and collaboratively developed curricula.
Dr. Mark Lombardi, president of Maryville University, has always been a fierce advocate for innovative, outcomes-driven, and student-focused learning — and this vision serves as the foundation of the Maryville approach to higher education.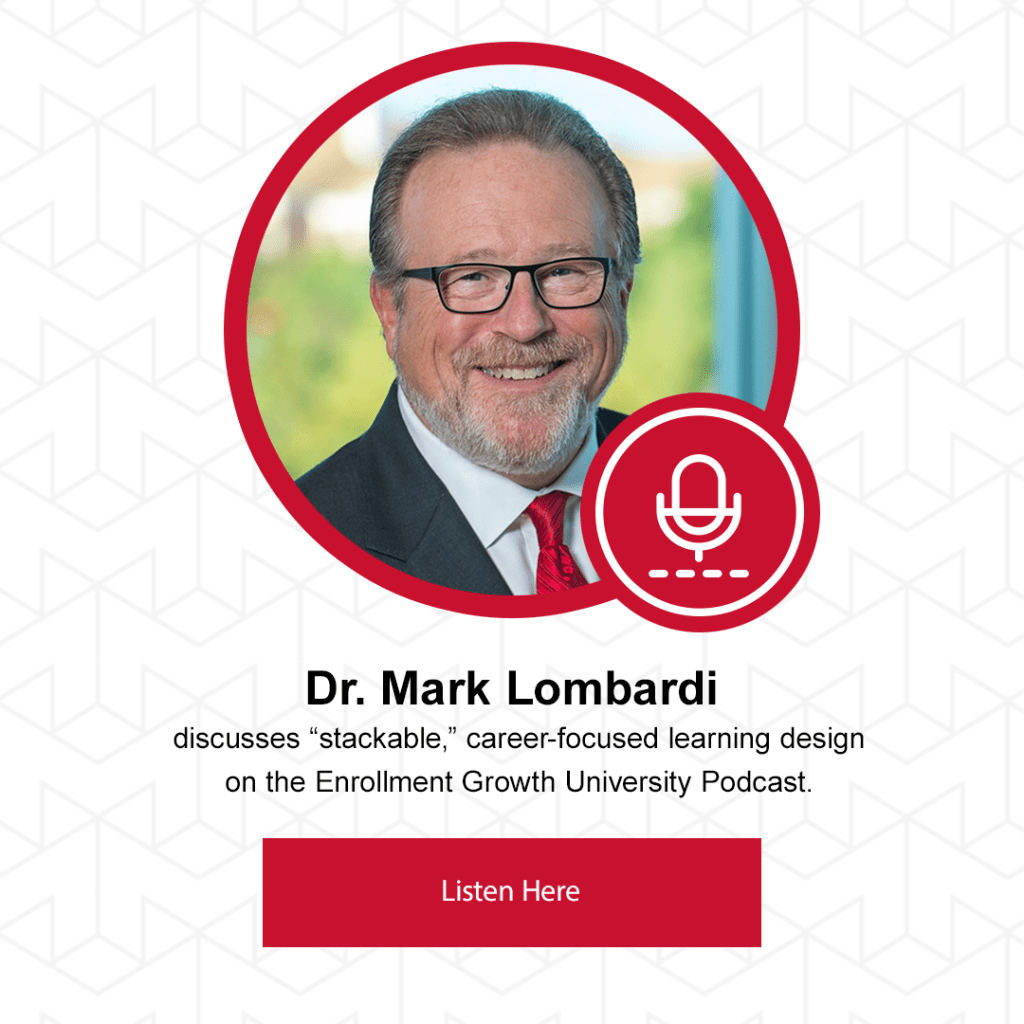 On a recent episode of the Enrollment Growth University podcast, Dr. Lombardi joined host Eric Olsen to discuss this approach and other topics, including modular credentials and co-creating programs based on employer need and input. You can listen to the podcast through the following platforms:
You can also watch a shortened animated version of the conversation on YouTube.
"Skill development is about listening to employers," Dr. Lombardi says. "It's about listening to businesses, and it's about working with them — co-developing content and curriculum and experiences that meet the needs of those businesses, and particularly the needs of our students and alums and the workforce in general."
Redefining the higher education space
The Enrollment Growth University podcast, presented by Helix Education, is geared toward educational leaders who have innovative ideas about topics such as enrollment growth and learning design in higher education.
For Dr. Lombardi, innovation is the expectation, especially when it ultimately benefits learners. He believes that student outcomes aren't just another metric by which a university should be judged, but that it's the only metric that truly matters.
That's why Maryville is among the universities leading the charge with outcomes-based and learner-focused degree and certificate programs. It's a proven learning model that has contributed to more than 96% of Maryville's online bachelor's and master's graduates achieving positive career outcomes within just six months of graduation.
"There are 46 million Americans right now with some college credit and no degree who, if they don't get upskilled in the next two, three, four years, their profession is going to pass them by," he says.
The solution, as Dr. Lombardi outlines on the podcast, is to work directly with employers to create new programs and modify existing ones so they're laser-focused on helping learners develop the most critical, in-demand skills. It's a collaborative process through which higher-quality educational offerings marry workforce needs with student outcomes.
"When we sit down with employers, we have a blank slate. We're not trying to sell them a particular prepackaged product, whether it's a degree or a graduate degree. We're saying, 'Look, blank slate here, tell us what you need,'" Dr. Lombardi says. "It's sort of like almost a 360-degree approach, where you're creating things with a business or with a set of businesses and companies that are informing your own curriculum development on campus."
Building flexibility through modular and 'stackable' opportunities
Higher education is about upskilling, and Dr. Lombardi's goal is for Maryville to offer the most effective and streamlined ways for learners to achieve that goal. One such method is a modular approach to learning design that centers around "stackable" credentials — like certificates and badges, which can be earned individually then combined or applied toward completion of a full degree.
"There's a movement in higher ed — and I'm happy to say that Maryville, I think, is at the forefront of this movement — which, for lack of a better term, is the modularization of curriculum," Dr. Lombardi explains. "You can break down any discipline and any course into a series of component parts and experiences, any one or two of which really forms the basis for upskilling and the basis for badges and certificates and other forms of credentials."
This design creates a friendlier, more accessible approach for learners of all types, particularly those who may have personal or professional obligations that could make a longer-term credential challenging. Rather than committing to a full degree, which could take two to four years or more, students can learn the skills they need in the short term, then apply any credits earned to a full degree at their pace when they're ready.
Dr. Lombardi says the approach is all about the students' "ability to stay current, to be ahead of the game, and to be relevant in their careers."
By working directly with employers and offering accessible, streamlined, and schedule-friendly academic credentials, Maryville University can help people looking to move up in their field or pivot to a new one accomplish their goals on their terms.
"It's really [about] upskilling from where they are today to where they need to be tomorrow," he says. "And that's just a question of ingenuity and creativity and common sense, really."
If you're ready to see how Maryville Online can help you prepare for your future, we're here for you. Check out our online bachelor's degrees, master's degrees, and doctorate degrees, or schedule a call with an advisor today.