Digital Technology and Schools of the Future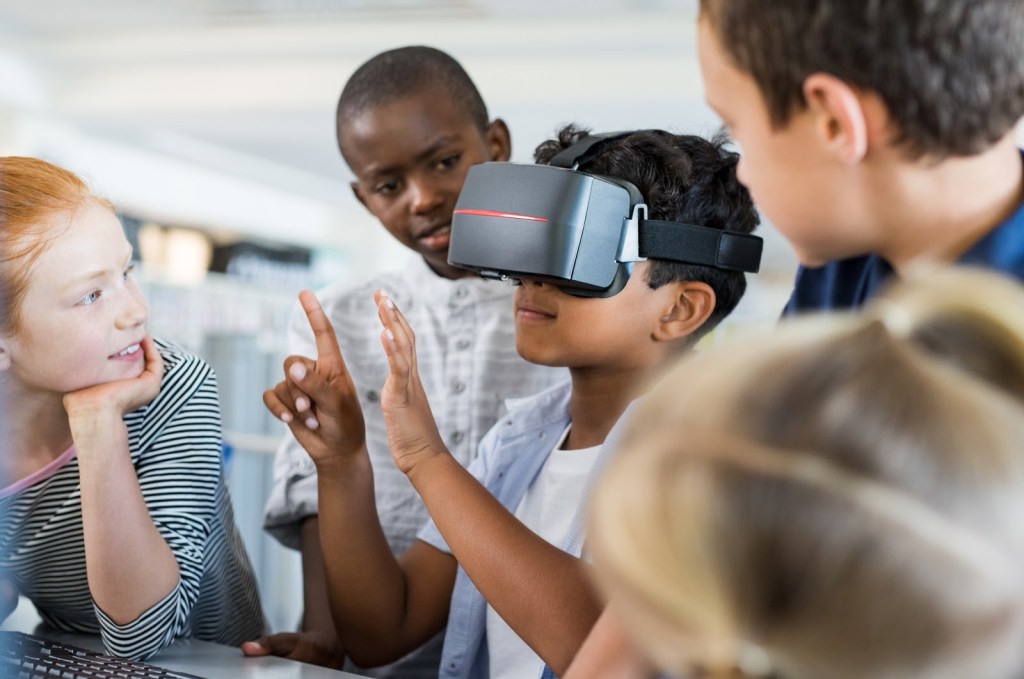 Imagine a classroom where the entire history class puts on headsets and experiences ancient Greece. With digital technologies such as virtual reality (VR) and augmented reality (AR), this is not just for schools of the future — it is closer to reality than you think. As new technologies are integrated into education, they may be positively shaping the schools and classrooms of the future. As online adjunct professor Kathy Schrock notes in eSchool News, "360 degree images enhance students' skill sets in visual literacy, technology literacy, and attention to audiences."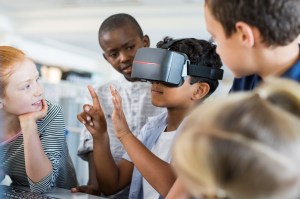 The trick to reshaping school education lies in providing teachers with the knowledge needed to connect this new technology with students. Educators need to gain the skills necessary to succeed in classrooms of the future and best connect new tech to students. For many, this is achievable through online degrees and certifications that allow them to advance their education in current tech trends.
This article will take a look at relevant digital technology trends and how they are shaping education going forward.
Digital Technology Trends
As technology progresses, it is crucial that educators stay up to date on potential trends that can be integrated into the classroom and educational systems. As technology applications are tried and tested, some may yield new ways to connect with students, improve teaching and learning efficiency, and even lessen teachers' workloads so they can dedicate more of their time to their lessons and engaging students one on one.
For each digital technology trend described, this piece will discuss the benefits for students and the skills educators will need to adapt to the classrooms and schools of the future.
Artificial Intelligence (AI)
A major technology trend impacting educational tools and what the future of education may look like is the use of artificial intelligence (AI) in the classroom. The hope of educators is that AI can help better develop student skills and improve the efficiency of testing — to "fill needs gaps in learning and teaching and allow schools and teachers to do more than ever before," as noted by Forbes.
If AI can provide solutions to improve student assessment, learning methods, and even reduce teacher workload, then teachers will have more time to focus on what's at the heart of their profession: teaching in ways that connect to students. As Forbes notes, if AI can handle improving efficiency, student assessments, and paperwork-heavy administrative tasks, then teachers will have increased "time and freedom to provide understanding and adaptability — human abilities not mimicable by machines."
Beyond impacting classroom environments, the integration of AI in educational settings is expected to rapidly increase in the coming years, according to Forbes. AI has the ability to differentiate for each student's learning needs, a possibility previously impossible for a single teacher to accomplish alone in a medium- to large-sized class.
Classrooms of the future that integrate sophisticated AI might adopt advancements such as real-time facial recognition. This could make it possible to immediately modify a lesson if a student displays an emotion such as confusion or boredom, according to Forbes. As such, teachers could work in tandem with AI to create individualized learning tailored to the needs of each student, as well as provide extended access to specialized tutoring programs.
Cloud Computing
Cloud computing has provided industries and companies around the world with a way to store their information remotely in the cloud, while minimizing the need for physical storage hardware. The cloud can be used to back up crucial information and improve productivity. Nowhere is this truer than for educational settings, where cloud computing is saving "space, money, and time for teachers, parents, students, and administrators," according to The Edvocate.
Applications housed in the cloud allow teachers to better communicate with students, parents, and other teachers while learning materials, video lessons, assignments, and student data can be stored remotely. Here are just a few instances of how cloud computing is impacting schools of the future:
Connection: Cloud-based applications also provide excellent connectivity. For example, teachers and administrative staff can access all school data in one location, instead of scanning different sources. Additionally, in a more active way, the cloud is enabling tech solutions to connect students and teachers in a safe, fast, and lifelike way even outside of classroom hours, with an intent to improve effectiveness and efficiency, as noted by Science Node.
Safe Data Storage: Historically, with school data stored on computers or even printed in files, that information could be put at risk due to manmade or natural disasters which could impact the physical location of the school's records. The cloud offers a place to keep this information safe and accessible, regardless of the physical location. According to The Edvocate, cloud storage also offers application-based redundancy, meaning that the technology "eliminates any chance of single-point failure," which often previously plagued school systems that use desktop computers or paper filing systems.
Virtual and Augmented Reality
Up and coming technologies, such as virtual reality (VR) and augmented reality (AR), are also providing new capabilities for classrooms of the future. While field trips have long afforded students opportunities for travel, now it is possible to bring the outside in. With AR and VR technologies, students can immerse themselves in the culture and locations of other countries as if they were really there. For example, the Cospaces app allows students to share what they learn and create with the world, while the Unimersiv app has allowed students to journey across ancient Greece, according to Forbes.
In addition to traversing the globe without ever having to physically leave the classroom, AR and VR technologies are enabling other immersive, collaborative, and interactive learning programs such as virtual laboratories. The Edvocate notes that virtual lab applications allow students to repeatedly perform experiments from anywhere an internet connection exists. Students gain instant access to quality materials and technologies. They also have the ability to practice more and experience instant and comprehensive feedback. Virtual labs allow "no-cost repetition" of learning procedures to the advantage of the student, instructor, and school.
Creating Classrooms of the Future
Schools of the future will likely rapidly integrate emerging technology trends of today, such as artificial intelligence, cloud computing, augmented reality, and virtual reality. The objective is to fundamentally improve the educational experience for students, teachers, and administrators alike. As these trends impact educational capabilities, teachers must stay on the cutting edge of new developments, ideas, and concepts that are driving the march of technology.
Discover more about the skills that help educators embrace future educational technologies by investigating Maryville University's online education program today.
Sources
The Edvocate, "Cloud Computing And K-12 Classrooms"
The Edvocate, "Trends In Tech: How Schools Can Access The Future, Now"
eSchool News, "15 hot edtech trends for 2017"
Forbes, "How Is AI Used In Education — Real World Example Of Today And A Peek Into The Future"
Forbes, "Top 6 Digital Transformation Trends In Education"
Science Node, "Classrooms move from chalkboard to the cloud"