Want a Curriculum Designed to Set You Up for Career Success?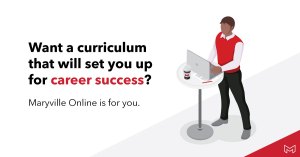 You have goals. That's why you're here, getting ready to pursue your college education.
At Maryville Online, we believe the success of our graduates isn't just the best measure of an effective college experience — it's the only one that matters. We built our degree programs, courses, and curriculums from the ground up to support your goals and your career outcomes — on your terms.
Our students-first approach is part of why our students find such consistent success after they graduate. In fact, 96% of our online bachelor's graduates report positive career outcomes within six months of graduation.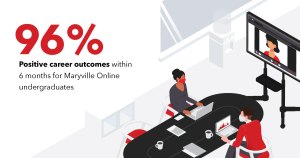 We believe your education should be all about you: your style, your pace, and your approach. So we do all we can to support you — and help you maximize your educational experience. We offer personalized support and learning options along with 100% online coursework that fits your schedule and lifestyle.
But for many students, our curriculum design is the backbone of their online learning experience. From dynamic coursework to streamlined, modular class schedules, here's a look at how Maryville Online built the best possible framework to support your success.
The Maryville Online approach to curriculum design: streamlined, modular, and flexible
When you enroll with Maryville Online, you can do so on your terms. We offer multiple start dates, so you can begin your studies when it's convenient for you. Then, you can schedule your classes part time or full time to work around your personal, professional, and social obligations.
Maryville has a unique semester structure that allows for streamlined learning. Each semester lasts 16 weeks, and most classes are designed to be completed in just 8 weeks. Part-time students typically take two classes per semester, completing them back-to-back, one at a time. Full-time students typically complete four classes per semester, two at a time.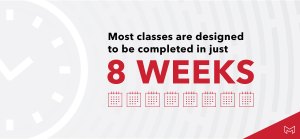 We built our degree programs to give you the flexibility to tailor your educational experience to your academic and professional goals. Most of our programs offer a variety of concentrations, specializations, optional certifications, and industry-relevant elective options to help you develop skills and enhance your knowledge in the areas most relevant to your needs.
Courses that work for you — not the other way around
Online learning at Maryville is all about your schedule and needs. We offer small class sizes, accessible coursework options to fit your learning style, and flexible class schedules. Once you begin your classes, you can access your coursework 24 hours a day, 7 days a week through Canvas, our intuitive online learning platform.

With Canvas, your classroom is anywhere you have an internet connection, and your class time is whenever you want. That means you can watch lectures, examine case studies, engage in discussions, participate in virtual labs and learning activities, and complete assignments on your schedule.
As you progress through your program, you can do so with the flexibility of online learning. Classes will typically have certain milestones you have to hit by a particular time, but it's up to you when and where you complete assignments, study for exams, and work toward those milestones.
Your career goals and success are our top priorities
When you enroll in a Maryville Online degree or certificate program, you can be sure we took the utmost care and consideration to give you a relevant and valuable learning experience.
This starts with our program design. All our academic programs were developed in collaboration with employers in the field, with coursework taught by experienced practitioners. That means classes are structured to teach you the most relevant, in-demand skills not just for your current role or next job, but for your entire career.
Maryville Online students aren't complacent. Neither are we. We're laser-focused on your future and career outcomes, so we're here to provide state-of-the-art education to prepare you for your next job — and for jobs that don't even exist yet.
Most of your Maryville professors are professionals in their field, meaning they know what it takes to succeed because they've been there before. Now, they're thrilled to pass their expertise on to you, so you can be among the next generation of industry leaders and innovators.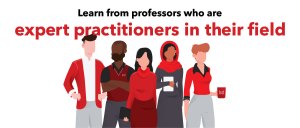 We also have partnerships with companies and brands like Rawlings, Boeing, Edward Jones, the St. Louis Blues, St. Louis Cardinals, and many more, so we know what real-world skills and talents employers are looking for. It's how we ensure our degrees and certificates provide the most up-to-date and relevant education possible, so you can maximize your career outcomes.
The best way to learn is by doing
When you're building skills for your career, there's no better experience than through practice. That's why we designed our classes to focus on practical, real-world, project-based learning. It's part of our obsession with getting you job ready and prepared for your future with the right education today.
Regardless of the degree or certificate you choose, you'll have the opportunity to complete projects, work with groups of your peers, build your portfolio, and get a hands-on understanding of the most important skills and techniques associated with your field.
Many of our programs also feature an internship, practicum, or residency component, where you can work in the field and get valuable on-the-job experience. Best of all, you can complete these components in the approved location of your choice, meaning even the fieldwork component is designed to be convenient.
Whether you're looking to upskill and advance in your current career or reskill and pursue new opportunities entirely, our curriculum can help you build the right skills for the job.
We know you're brave, and we have your back
You're driven. Your future is bright. We're here to help you turn your ambitions into reality — with personalized support, expert faculty, and an online learning platform designed to help you get the most out of your college education. For 150 years, we've been disrupting and innovating in higher education. And with a decade of web-based classes, we have a history of getting online learning right.
If you're ready to take the next brave step in your education, we're here for you. You can apply in just 15 minutes with no application fees and no entrance exams required. We're here to help you through the process every step of the way.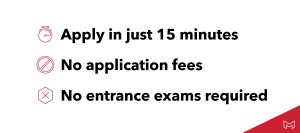 When you choose Maryville Online, you choose a university that believes in you.
We know you're brave. Let's be brave together.