4 Adventurous Careers for Travelers
With the rise in remote work placements and the end of most pandemic shutdowns and restrictions, there has never been a better time to explore the world. Numerous opportunities are now available for those who are interested in pursuing an adventurous career. Conventional careers are a great fit for many people, but they are not for everyone. Many passionate professionals thrive on the challenges of careers oriented around travel.
The best careers for travelers provide opportunities to experience new cultures, languages, and environments, and allow individuals to build a future based on their own interests and strengths. Being successful in a traveling career requires versatility, resourcefulness, and an adventurous spirit, and pursuing a higher level of education such as an online degree can be the perfect first step toward gaining the skills needed to make the most of every opportunity.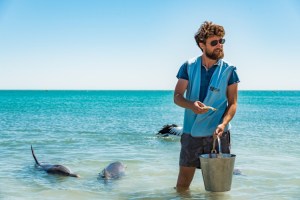 What Are Careers for Travelers?
Careers for travelers come in many different forms depending on the industry and job, and require a variety of schedules, commitments, and backgrounds. Ranging from remote work placements abroad to jobs that revolve around travel, adventurous careers are not one size fits all. Prospective travelers should consider their work-life balance needs and how essential a consistent schedule is for them.
Many industries offer employees the chance to seek adventure, either by working remotely in a far-flung location or with a contract abroad. Some adventurers relish the opportunity to visit as many locations as possible, making careers like those in aviation, in travel nursing, or with cruise lines attractive options.
By contrast, many individuals choose a profession that can take them abroad for an extended period, such as ESL teacher, marine biologist, or content writer, allowing them to plan their lives around a consistent and regular work schedule while experiencing a new culture in depth.
The Pros and Cons of Traveling for Work
From the outset, pursuing an adventurous career can seem like an exciting prospect, and for many passionate people it is. However, careers for travelers present advantages as well as disadvantages.
Pros of an Adventurous Career
Traveling can be one of the most enriching and memorable ways we can spend our time. Choosing a career that not only allows travel but incorporates it can provide an individual with a valuable opportunity to explore areas of the world with different cultural traditions.
Career travelers have the chance not only to immerse themselves in other cultures but to study other languages and traditions as well. They can become locals and learn firsthand about the cuisine, natural environment, art, music, and cultural values of a new place, and gain an entirely new perspective on the world.
Additionally, an adventurous job can be a great option for people who haven't settled on a career path, allowing them to gain valuable experience while exploring different industries. It also can provide individuals with the freedom to embark on a journey of self-discovery while continuing to earn an income.
Cons of an Adventurous Career
The ever-changing nature of adventurous careers can be a fantastic fit for many professionals; however, they are not for everyone and can make it difficult for some individuals to find a good work-life balance.
For some, the reliability of a consistent schedule is not only comforting but essential to their ability to make plans and juggle responsibilities. Some careers for travelers may not provide enough stability for candidates who prefer to have a steady routine or those who do not want to spend extended amounts of time away from family.
Furthermore, while some opportunities feature a consistent work schedule, living away from family and adapting to a new community can be difficult. Combined with the costs of relocating, the challenges of retraining in new roles, and the uncertainties inherent in moving from one project to the next, the hardships of these jobs can mean they are best for people who are able to approach their adventurous lifestyle with an open mind.
Which Travel Career Is Right for You?
Technological advancements and the rise of remote work opportunities are paving the way for adventurous people to explore more industries than ever before. While some fields require job-specific training, many industries are seeking out graduates with a higher-level education, such as a bachelor's degree, who can meet challenges from a foundation in critical thinking and problem-solving.
1. Airline Pilot
Commercial airline pilots spend their lives jetting from one destination to the next. As adventurers who truly love to travel and want to see as many places as possible, pilots are constantly on the move and have the opportunity to see the world over the course of their careers.
Often beginning with shorter domestic flights before building the flight hours and experience needed to tackle long-haul travel, senior-level pilots who have worked their way up through the ranks of an organization often can fly to their preferred destinations and on a relatively flexible schedule. Benefiting from perks such as discounted travel rates and scheduled layovers, commercial airline pilots are able to experience cultures around the world.
Many organizations prefer to hire airline pilots who hold a bachelor's degree (in aviation or a different field) as well as their full pilot's license, which demonstrates that they have the critical thinking and management skills for the job.
2. Travel Nurse
Nurses are in high demand across the country. When an organization finds itself with a nursing shortage, they often turn to travel nurses to bridge the gap. Travel nurses are registered nurses who take on temporary contracts in different facilities around the country, performing many of the same tasks as full-time nurses but for a specified period of time.
A great opportunity for those who are passionate about the medical field and want to build valuable experience while controlling their own schedule, travel nursing can open a multitude of doors. Whether they are interested in exploring the United States through placements or want to consolidate their work contracts and manage their time off, adventurous travel nurses have the opportunity to build a lifestyle that achieves their preferred personal balance of work, play, and travel.
Those who are interested in a career in travel nursing must still earn a traditional nursing degree, such as a Bachelor of Science in Nursing, Master of Science in Nursing, or Doctor of Nursing Practice, as well as obtain any necessary licensure and certifications.
3. ESL Instructor
One of the most popular and well-known entry-level careers for travelers is English as a second language (ESL) instructor. With English considered an essential language in the world of business, many non-English-speaking countries have built well-established programs and schools to provide their citizens with accessible foreign language education. ESL schools and programs are available in just about any country a curious person could hope to visit.
ESL instructors get the opportunity to explore other cultures while building teaching experience. People who choose to become ESL instructors often benefit from a consistent Monday through Friday schedule that allows them to explore their new surroundings on weekends. By pursuing a degree such as a bachelor's in English, communication, or international studies, individuals can prepare themselves with the skills they need to take on teaching roles abroad.
4. Marine Biologist
Marine biologists research our planet's marine life and ecosystems. With a background in science or environmentalism and sustainability, marine biologists study the health of our oceans, exploring the impact humans have on marine life and the ways in which we can protect the future of our planet.
As nature-loving scientists, marine biologists have the opportunity to pursue research projects around the world. Often outdoors or under the ocean's surface, marine biologists work toward making new discoveries and endeavoring to better understand our environment. With the vast majority of our planet covered in water and yet to be explored, adventurous marine biologists have the chance to dedicate their lives to revealing the unknown through scientific research.
Broaden Your Horizons with an Adventurous Travel Career
Careers for travelers open doors to a wide variety of opportunities, experiences, and industries for individuals who are enthusiastic about expanding their view of the world and contributing to its well-being.
Pursuing a higher level of education can be a great first step toward an adventurous career. By earning a degree through one of the online programs offered by Maryville University, students can gain a valuable foundation that prepares them for a career in a multitude of industries, building a versatile skill set and meeting the prerequisites for many far-flung work opportunities. Discover how you can broaden your horizons with an adventurous career and start exploring your future with a degree from Maryville University.
Recommended Reading
Remote Jobs for Military Spouses: Choosing a Degree Path
Self-Improvement Month: How College Can Help with Personal Growth
Sources
Business News Daily, "25 Great Jobs for People Who Love to Travel"
Indeed, "20 High-Paying Travel Jobs"
Indeed, "40 Best Degrees to Consider for Travel Careers"
Indeed, "45 of the Best Travel Jobs (Plus How Much Money You Can Make)"