Marketing vs. Communication: Which Degree Is Right for You?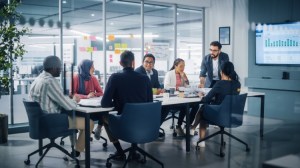 Organizations rely on effectively communicating their goals to the end consumers and keeping their messaging consistent. Brand consistency can increase revenue by between 10% and 20%, according to 2021 data from Marq. Companies need strong communicators to articulate their messages and reach target audiences as they evolve. Still, those interested in brand communication as a career may need clarification about which degree to pursue to build the foundation in this area: marketing or communication.
Marketing and communication degree programs are both focused on information sharing, but they vary in their end goals. Both provide good training for establishing relationships while providing knowledge to the intended recipient. However, whereas marketing is more concerned with customer behavior and how to best influence a customer's perception of a product or service, communication is more concerned with critical thinking, persuasion, and problem-solving to get necessary information across.
When comparing marketing versus communication to determine which degree is best, prospective students need to first know what each degree offers, as well as their specific career goals. Then they should consider pursuing a degree that will prepare them for the world of communication or marketing.
Marketing Degree Overview
Marketing refers to the efforts that an organization makes to sell a product or service. It also refers to the tools, procedures, and tactics used to reach consumers and achieve objectives. Marketing encompasses more than mere advertising and can be a science in crafting the ideal relationship between customers and a brand.
A marketing degree focuses on courses that teach students how to understand market trends and advertising shifts, such as economics, public relations, finance, and managerial communication. Students also learn how to convey strategy and research findings to the rest of their teams to put those findings into practice.
What Do Marketing Graduates Do?
Those with marketing careers aim to optimize demand for a product or service while attracting and retaining customers. Part of their purpose is to determine consumers' wants and needs so that their business can offer products or services in a way that's most appealing to the public. Because businesses in nearly every industry rely on marketing, graduates can find work in various fields and positions within a company, depending on their career goals.
Here are examples of potential careers for those in marketing:
Market research analyst. Market research analysts examine customer attitudes toward the organization's products and services. They collect data; organize it; and then use it to derive appropriate conclusions about consumer input, which is then used to improve future customer experiences. They're also responsible for reporting their findings to other teams and company executives.
Brand manager. Brand managers manage a product's or service's marketing process. They frequently contact different business divisions and external contractors to undertake research, planning, and advertising related to the brand. They're often responsible for developing and executing a brand's public image through special promotional events, and targeting communication toward consumers to inform and remind them of the brand.
Social media manager. Social media managers supervise an organization's social media strategy to increase brand awareness and consumer interaction. Their goals often include building and monitoring the company's online presence, assessing outcomes, executing different social media marketing initiatives, and creating a brand voice that resonates with the target audience.
Communication Degree Overview
Communication professionals are responsible for how firms communicate with and deliver messages to their audiences, both external (consumers, the media, regulatory agencies) and internal (employees). They often create targeted media lists and send messages out via carefully crafted bulletins, articles, and emails.
Because communication focuses on relaying information, degree programs place an emphasis on courses in writing and reporting to prepare students for features of a communication career such as issuing press releases, writing long-form articles, and creating technical documents for internal or external use. Some programs allow students to specialize in strategic communication for businesses or emerging social media strategies.
What Do Communication Graduates Do?
Organizations that need internal or external messages communicated effectively can benefit from hiring communication graduates. Communication degrees prepare graduates for media, public relations, and marketing professions. Graduates may also work in industries that need excellent communication abilities, such as advertising, politics, technology, and healthcare. For example, a company in the technology industry may hire a communication graduate to create technical documentation for new software.
Here are examples of potential careers for those in communication:
Copywriters write for companies in a manner that appeals to their target demographic and marketing objectives. They craft the language used in a company's blogs, social media posts, or marketing and promotional materials. While many copywriters specialize in one form of writing, depending on the size of the company, they may create written content for various uses while maintaining the same company or brand voice.
Public relations specialist. Public relations specialists establish public-facing communication strategies that shape a brand's identity. They may issue press releases, cultivate relationships with prominent publications and newspapers, and maintain control if their brand image gets damaged.
Journalists report on the news or issues of interest depending on their audience. Journalists who work for a publication are either assigned topics by an editor or may suggest stories to report on their own. Some journalists may work freelance or support their own publications as well.
Marketing vs. Communication: Similarities
At their core, marketing and communication are both about expressing the right message to a specific audience to get a specific meaning across. Careers in both categories often require research into determining the best voice to achieve that meaning, as well as keeping the voice consistent across content to keep the brand messaging strong. Often these careers feature public speaking and require a strong grasp of writing.
Marketing vs. Communication: Differences
Both marketing and communication aim to deliver an intended message, but the distinction is in what that message conveys. Marketing entails creating material for a product, a service, or an organization that's designed to educate consumers on the subject and leave a specific impression of it on their minds.
Communication focuses on crafting a specific voice to convey information to the intended audience. Communication careers are focused on tailoring a message to relay the intended information to the audience, whether it's a journalistic report or promotional copy.
Marketing Degree Salary
The median annual salary for those with a bachelor's degree in marketing was approximately $67,000 as of December 2022, according to Payscale. Salaries can vary widely based on occupation, as well as factors such as experience and location. For example, Payscale lists the median annual salary for marketing managers as around $69,000 as of November 2022, while marketing directors earned a median of around $94,000, which suggests room for upward mobility in the field.
Communication Degree Salary
The median annual salary for those with a bachelor's degree in communication was approximately $60,000 as of December 2022, according to Payscale. Again, different positions can vary in salaries: Communication managers earned a median annual salary of about $70,000 in November 2022, while directors of communication earned a median of about $86,000 in the same period.
The BLS reports that the median annual salary for all media and communication careers is $62,340, which is higher than the equivalent of all professions: $45,760. According to the BLS, media and communication careers have a projected growth rate of 6% from 2021 to 2031, which is about average for most professions.
Marketing vs. Communication: Which Is Right for You?
Companies rely on professionals who know how to send the right messages to their audience to build a strong, cohesive brand. Maryville University's online Bachelor of Arts in Communication and Bachelor of Science in Marketing degrees help equip graduates with the skills and foundation for rewarding careers.
Discover the opportunities that a marketing or communication degree from Maryville can bring.
Recommended Readings
How Technology Has Changed Communication
6 Media Planning Strategies to Grow Your Marketing Efforts
Sources:
Haiilo, "11 Reasons Why Business Communication Is Critical to Your Company's Success"
Indeed, The Importance of Business Communication: 6 Reasons Why
Indeed, 20 Great Jobs You Can Get With a Marketing Degree
Marq, "Brand Consistency — The Competitive Advantage and How to Achieve It"
The Muse, "Which Marketing Career Is Right for You? 9 Common Jobs, From Social Media to SEO"
Payscale, Average Director of Communications Salary
Payscale, Average Communications Manager Salary
Payscale, Average Marketing Director Salary
Payscale, Average Marketing Manager Salary
Payscale, Bachelor of Arts (BA), Marketing Degree
Payscale, Bachelor's Degree, Communication Degree
Sageus Collective, What Is the Difference Between Branding, Marketing, and Communications?
U.S. Bureau of Labor Statistics, Advertising, Promotions, and Marketing Managers