Is an Online MBA Worth It?
Is an Online MBA Worth It?
Is an Online MBA Worth It?

Many of today's brightest business professionals are asking themselves one very important question: Is an online MBA worth it? Further education requires significant financial and personal investment, and many busy professionals wonder if it's worth their time and money to earn a Master of Business Administration (MBA) degree.
Modern organizations rely on their knowledgeable leadership to propel them into the future amid fierce competition. The curriculum covered in an MBA degree is designed to prepare students for these more advanced roles and teach them to become the next generation of leaders.
MBA Program Goals
An MBA program has a curated curriculum that takes students deeper into the inner workings of business. A course in business ethics teaches future leaders to understand and apply generally accepted values and principles in a wide range of situations, while a course in strategic marketing provides guidance and best practices for competing with other companies in the most challenging markets. The curriculum also covers business policies, corporate financial policies, business economics, and more.
The length of an MBA varies depending on the program or concentration, but in general, students can expect to spend two to three years completing their online degree. Some accelerated programs, such as Maryville University's online MBA, can be completed in as few as 12 to 14 months. MBA concentration options focus on different aspects of business administration. Accounting, information technology, marketing, and project management are just a few of the available MBA concentrations that can provide students with in-depth knowledge of these specific business elements.
Is an MBA Worth It? Benefits of Earning an MBA
Many students who consider returning to school to earn an MBA are already working full time in their fields. Some are concerned about the ability to balance their careers and their education, while others worry that the additional financial obligation may be in vain. However, the economic and developmental benefits of an MBA can't be overstated.
Economic Benefits
Countless economic benefits are associated with earning an MBA. With a master's degree, students can work for nonprofit organizations or government agencies, and they can take on prestigious roles in technology and healthcare. Students who are interested in transitioning into a new career path due to higher salary opportunities may find that an MBA opens the door to managerial and leadership positions.
One of the primary drivers behind earning an MBA is the increased earning potential. According to the 2022 Corporate Recruiters Survey from the Graduate Management Admission Council (GMAC), new MBA graduates earned about 22% to 40% more than graduates with a bachelor's degree alone. MBA graduates earned a median annual salary of about $95,000, while Bachelor of Business Administration (BBA) graduates earned a median annual salary of $72,000, according to April 2023 data from Payscale.
Developmental Benefits
An MBA degree also offers several crucial developmental benefits that can impact candidates' careers for a lifetime. Any MBA concentration develops students' expertise in a specific area of business, and these niche roles are often the highest paying. Between mock businesses and case studies, MBA students can add countless experiences to their portfolios, thereby improving their credibility in their fields.
Is an online MBA worth it? Dr. Christopher Gourdine, the assistant dean for business administration and assistant professor of business administration at Maryville University's John E. Simon School of Business, believes so. According to Dr. Gourdine, "In the corporate business environment, the completion of an MBA signals to decision-makers the ability to engage in higher-level thinking and the ability to grow — both characteristics expected of those seeking upper-level management and executive positions."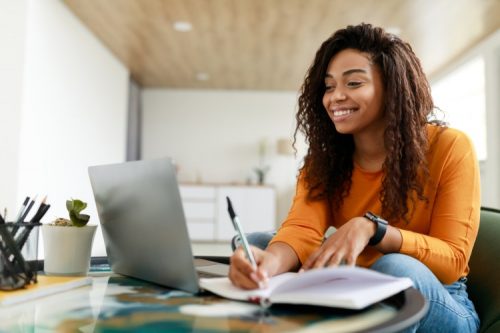 A Maryville Student's Journey
Marcy Bursac finished her undergraduate degree before discovering her true calling. Her life-changing experience took place on a church-led mission to the former Soviet Republic of Moldova, where children had been left in an orphanage because their families couldn't care for their basic needs. At that very moment, she knew that her calling in life was to find a way to help impoverished children and prevent these same issues from repeating themselves.
Today, Bursac has adopted two children, serves as a philanthropist, and is a congressionally honored foster care adoption advocate. She's written two books, and she founded The Forgotten Adoption Option, an organization that helps foster children find their forever homes.
While Bursac works full time as a technical analyst and product owner at a cybersecurity firm, she's currently earning her MBA at Maryville. Upon graduation, she'll have the skills she needs to further her professional career and the ability to touch even more children's lives.
Bursac feels that Maryville's MBA program has been a powerful mechanism for catapulting her career. "I know that I'm going to be able to continue to make a significant impact in my own country and around the globe — simply because I said 'yes' to a program that taught me well beyond the online classroom, things that apply to my life," she says.
Professional Outcomes for an MBA
Many BBA graduates go on to earn MBAs to secure leadership positions in their concentrations. Others complete online MBA programs with a specific career in mind. Financial manager, market research analyst, product manager, and training and development manager are just a few of the possible career outcomes.
Financial Manager
Financial managers can work in a broad range of industries. They're responsible for overseeing financial reports and forecasts, monitoring spending and revenue, and supervising groups of employees. Financial managers rely on advanced analytical skills to excel in this field, and many employers look for candidates with MBAs for this reason.
The U.S. Bureau of Labor Statistics (BLS) reports that financial managers earned a median annual salary of about $131,710 as of May 2021. Furthermore, employment in this role is expected to skyrocket by 17% between 2021 and 2031 due to factors like economic growth and the demand for risk management expertise.
Market Research Analyst
Market research analysts spend much of their time studying the behaviors and preferences of consumers to gauge the profitability of a specific product or service. They process vast amounts of consumer data to find trends and correlations, and then present this information in an easy-to-understand format. This can help their companies make better business decisions in various areas, from product development to marketing campaigns.
The BLS reports that market research analysts across all fields and industries earned a median annual salary of about $63,920 as of May 2021. Those working in the management of companies and enterprises earned a median of $79,640 a year. Employment in this role is expected to increase by 19% between 2021 and 2031 due to the increasing use of market research and big data in virtually every industry.
Product Manager
Product managers develop and ensure the success of products or services. They often start with a vision or an idea for a product, and then see it through to completion. These individuals may also be responsible for identifying the best products to purchase from vendors based on current data trends, and they may also look for ways to make current product offerings more profitable.
Product managers earned a median annual salary of about $92,500 according to March 2023 data from Payscale, with some positions offering bonuses, profit-sharing, and commissions. According to the BLS, employment of management occupations such as product manager is expected to grow by about 8% between 2021 and 2031.
Training and Development Manager
Training and development managers plan and coordinate knowledge enhancement for organizational staff members. Large organizations may employ them directly, or they may work for third-party companies that provide services to multiple organizations. They determine what kind of training employees need, and then source or develop and implement that training.
Training and development managers earned a median annual salary of $120,130 as of May 2021, with those who worked in professional, scientific, or technical industries earning $132,020, according to the BLS. Employment in the field is expected to climb by 7% between 2021 and 2031 due to the increased need for ongoing training and rapid technological innovations.
Prepare for a Bright Future with an MBA Degree
Is an MBA degree worth it? A graduate degree requires strong commitment, but the benefits are well worth it. Students can earn significantly higher salaries and gain skills that will serve them well throughout their careers.
An online MBA degree from Maryville offers great flexibility as it prepares students for a bright future in an increasingly complex and technologically advanced world. Discover how you can take your career to a new level.
Recommended Readings
MSF vs. MBA: Differences in Degrees
MHA vs. MBA: Which Is Right for You?
Halfway to the Top: Career Advancement for Mid-Level Employees
Sources:
Graduate Management Admission Council, Corporate Recruiters Survey
Indeed, "A Culture of Leadership: Why Every Manager Should Become a Leader"
Indeed, "How to Become a Financial Manager (With Education and Steps)"
Indeed, "Why Get an MBA Degree? 11 Career Benefits to Know About"
Investopedia, "What Is a Master of Business Administration (MBA)?"
Payscale, Average Product Manager, (Unspecified Type) Salary
Payscale, Bachelor of Business Administration (BBA) Degree
Payscale, Master of Business Administration (MBA) Degree
Society for Human Resource Management, Market Research Analyst
U.S. Bureau of Labor Statistics, Financial Managers
U.S. Bureau of Labor Statistics, Training and Development Managers
U.S. Bureau of Labor Statistics, Management Occupations
Be Brave
Bring us your ambition and we'll guide you along a personalized path to a quality education that's designed to change your life.