Marketing Job Growth: Advancing Your Career Path
Marketing Job Growth: Advancing Your Career Path
Marketing Job Growth: Advancing Your Career Path
With various career tracks, a bright job outlook, and opportunities for advancement, the field of marketing can be a good option for individuals interested in careers with growth potential.
Marketing offers numerous career choices in areas such as advertising, product development, digital marketing, and research and analysis. The job market also looks promising: The U.S. Bureau of Labor Statistics (BLS) projects job opportunities for marketing managers to grow by 7% from 2019 to 2029 (compared with the projected 4% for all occupations), and U.S. News & World Report ranked marketing manager No. 31 out of the 100 best jobs in 2021.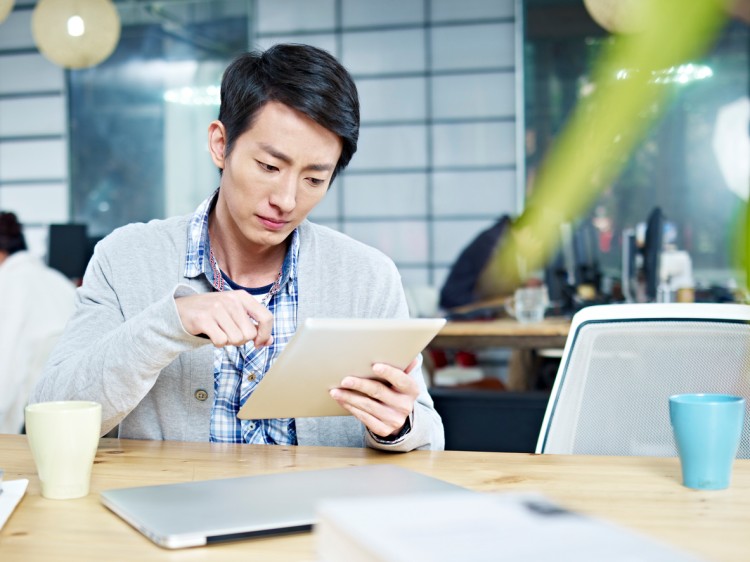 As individuals climb the career ladder, their marketing jobs grow and transform, requiring greater levels of expertise and bringing greater levels of responsibility and compensation. Pursuing an online bachelor's degree in marketing is the first step on a path that could lead to rewarding opportunities for career advancement.
Start with a Bachelor's Degree and Build Toward Marketing Job Growth
Marketing is a wide-ranging field that enables individuals to work in areas that best suit their interests. Each element of marketing — for example, sales, brand management, or product development — has a career path with unique features, but most of them usually begin with a bachelor's degree in marketing.
While specific career paths can vary, being knowledgeable about a traditional marketing career path is helpful. The following roles exemplify some of the most common positions on the marketing career ladder. The salaries can vary depending on work experience, education level, geographic region, and other factors. In addition to a bachelor's degree in marketing, some of the roles may also require a graduate degree.
Marketing Coordinator
Individuals usually serve as marketing coordinators at or near the beginning of their careers and perform responsibilities such as:
Researching and analyzing customer behavior
Identifying competitors
Analyzing sales data
Arranging special events
According to PayScale, the average annual salary for a marketing coordinator is about $45,000.
Marketing Associate
As individuals progress in their marketing careers, they can begin working as marketing associates with responsibilities such as:
Developing and implementing marketing strategies
Analyzing consumer behavior
Compiling forecasting reports
Assisting with search engine optimization (SEO) campaigns
Becoming a marketing associate usually requires about two years of previous marketing experience. According to PayScale, the average annual salary for a marketing associate is about $48,000.
Marketing Manager
As they continue to move up the career ladder, individuals can attain positions as marketing managers who oversee a large portion of the marketing function and have responsibilities such as:
Hiring staff and building marketing teams
Strategic planning
Hiring marketing and advertising companies
Managing marketing budgets
Becoming a marketing manager can require five to 10 years of marketing experience; some employers may also prefer an advanced degree in marketing or a related field. According to the BLS, the median annual salary for marketing managers was $136,850 in 2019, with professionals in the lowest 10% earnings range bringing in less than $71,010 per year.
Chief Marketing Officer
Extensive experience in marketing can culminate in a C-suite position as chief marketing officer (CMO). Overseeing an organization's entire marketing function, CMOs have responsibilities such as:
Driving overall business growth of customers and revenue
Improving the overall customer experience
Expanding marketing capabilities to new platforms
Promoting innovation
In addition to extensive marketing experience, employers frequently require candidates for CMO positions to have a graduate degree in marketing or a related field. According to PayScale, the average annual salary for a CMO is about $175,000.
How to Advance Your Career in Marketing
Avenues for achieving marketing job growth can take many forms. To advance in their marketing careers, individuals can:
Find a mentor. Receiving assistance and advice from a mentor expands individuals' knowledge of marketing techniques and exposure to different marketing positions.
Seek new responsibilities. Finding ways to add value to an organization can open up new responsibilities, side projects, and other opportunities to build a resume for career advancement.
Learn more about an organization's customers. Learning about customer behavior and interests can spur new ideas for innovation that can lead to career growth.
Expand networking efforts. Getting to know other professionals enhances knowledge of various marketing roles and helps prepare individuals for designing an overall marketing strategy.
Obtain specialized marketing certifications. Working toward a certification expands an individual's expertise and can trigger career growth. The American Marketing Association, for example, offers certifications in areas such as digital marketing, content marketing, and sales management.
Earn an advanced degree. Earning a master's degree in a field such as marketing, business administration, or data analytics helps individuals boost their educational credentials and qualify for high-level marketing positions.
Benefits of Marketing Career Advancement
The benefits that accompany marketing job growth are important motivators for moving up the career ladder. Advancing in their marketing careers enables individuals to:
Become more specialized in an area of interest. Finding a passion for and excelling in a particular area of marketing — for example, digital marketing or public relations — can lead to rewarding career progression within that niche.
Learn about new marketing technologies. As technology begins to drive more aspects of marketing, individuals who progress in their marketing careers have the opportunity to learn about technology in areas such as customer relations, social media, and data analysis that can lead to new marketing strategies.
Move into leadership roles. As the importance of marketing as a revenue generator grows, CMOs have the potential to move into leadership roles such as CEO, president, or general manager.
Earn higher salaries. As individuals move up the career ladder in marketing, their increasing levels of responsibility come with higher compensation. Marketing executives at higher levels can also receive stock options, signing bonuses, and other bonuses based on performance benchmarks.
Marketing Job Growth Starts with a Solid Educational Foundation
Marketing offers the opportunity for a challenging career with the potential for increasingly greater responsibility and reward. Exploring Maryville University's online Bachelor of Science in Marketing program is a good first step to take on the marketing career path.
For those interested in advanced degrees, Maryville's online master's in business administration program and its online Master of Arts in Strategic Communication and Leadership can also lead to advancement on a marketing career path. Discover whether a marketing career with the potential for growth aligns with your professional goals today.
Recommended Reading
Marketing vs. Communications Degrees
Social Media Marketing vs. Traditional Marketing
Traditional Marketing vs. Digital Marketing
Sources
AdAge, "9 Tips Any Professional New to the Marketing Industry Should Hear"
American Marketing Association, "Marketing Job Titles"
American Marketing Association, Professional Certifications
American Marketing Association New York, "5 Tips for Growth from AMA New York's Virtual Networking Event"
American Marketing Association Washington, DC, Marketing Mentors Network
Deloitte, "The 5 Roles of the CMO"
Entrepreneur, "3 Powerful Marketing Leadership Strategies"
Houston Chronicle, "List Three Benefits of a Marketing Career"
Marketing Week, "Three Ways to Take Charge of Your Career Development"
PayScale, Average Chief Marketing Officer (CMO) Salary
PayScale, Average Marketing Associate Salary
PayScale, Average Marketing Coordinator Salary
Russell Reynolds Associates, The 80-20 Rule of CMO Promotions
U.S. Bureau of Labor Statistics, Advertising, Promotions, and Marketing Managers
Be Brave
Bring us your ambition and we'll guide you along a personalized path to a quality education that's designed to change your life.