Communications Degree Salary Guide
Communications Degree Salary Guide
Communications Degree Salary Guide
In competitive markets where multiple companies offer similar products or services, what sets them apart? More often than not, it's their story. From company branding and press releases to interoffice communication, an organization distinguishes itself by creating a unique voice. But compelling, well-crafted stories don't materialize from thin air; they come from communication specialists.
Communication professionals don't simply spin words to fill space — they design narratives and impressions meant to build relationships. Communication professionals' main goal is to develop effective, data-driven communication strategies centered on narratives that engage their audience and accomplish their organization's goals.
Nearly every organization across all industries requires effective communication and the professionals to facilitate it, making a Bachelor of Arts in Communication a highly versatile degree. If you're interested in pursuing a bachelor's degree in communication, start by learning about the possible job outlooks, communication degree salaries in various positions, and top skills required.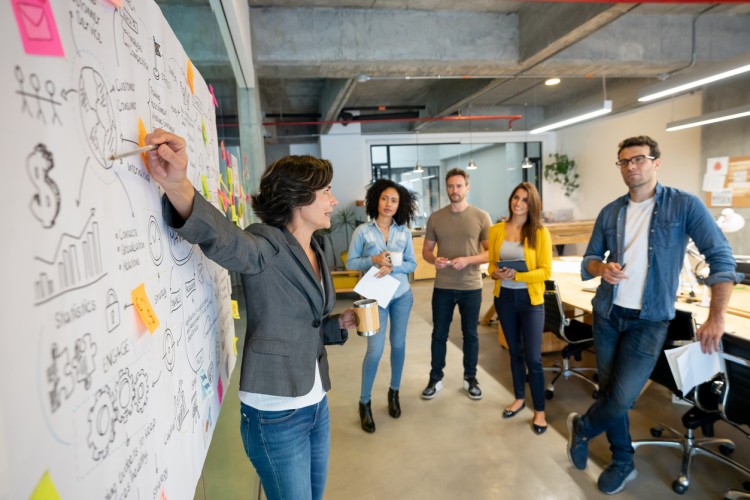 Communication Degree Salary Outlook
Of the many reasons to major in communication, among them is getting paid to create stories. Salaries for communication positions vary significantly and depend on industry, experience, and location. The median annual wage across all industries for communication professionals as of May 2021 was $62,340, and the projected job growth for the profession is 14% between 2020 and 2030, according to the U.S. Bureau of Labor Statistics (BLS).
Communication Salary by Position
A career in communication typically starts in a role as a specialist but can lead to more senior positions with titles like director and manager. Thus, communications salaries depend on experience as much as they do on industry.
Marketing Specialist
A marketing specialist performs a variety of duties that revolve around communicating with customers or potential customers about an organization's goods or services. To draft persuasive content, marketing specialists conduct research on their company's target audience to discover the best ways of reaching and influencing their decisions. Marketing specialists work closely with sales teams on finding ways to increase the number of potential customers and developing digital communication strategies that focus on nurturing current customers' relationships with the organization.
Marketing specialists are skilled data analysts who often work with social media, blogs, and email marketing platforms to communicate with their audience. As organizations are consistently looking to improve revenue, this position lends itself to more research and data analytics than other professions in communication. The median salary for market research analysts and marketing specialists was about $63,920 as of May 2021, according to the BLS.
Public Relations Specialist
Public relations specialists are arguably the most public-facing communication professionals. Whenever you read, watch, or listen to a press release from an organization, you are interacting with the work of a public relations specialist.
These professionals work closely with their organization's leaders to help develop narratives to explain the organization's actions. They are responsible for responding to criticism and crises, but they also play a role in crafting speeches and public notices that inform their audience of their organization's positions. The median annual wage for public relations specialists in 2021 was $62,800, and the position has an expected job growth rate of 11% between 2020 and 2030, the BLS reports.
Social Media Manager
With nearly 59% of the global population using social media, organizations have spent the past decade doing all they can to increase their brands' presence and messaging on social media platforms. This includes hiring social media managers and content specialists to maintain a consistent presence for the organization on different platforms. Working in social media also affords communication specialists the opportunity to work with digital media such as photography, video, and podcasts.
Although similar to marketing specialists, social media managers specialize in the social media landscape and do less work with other digital platforms. As of June 2022, social media managers had a median salary of roughly $53,000, according to data from PayScale.
Top Skills Needed for Communication Positions
What kind of skills are required for these roles? The ability to communicate is the most obvious, but analytical skills are just as crucial. While there are many reasons to major in communication, among them is to gain skills through hands-on experience. Though this list is not exhaustive, successful communication professionals exhibit the following skills:
Communication — the ability to understand and deliver clear, memorable, and appealing messages to an array of audiences
Reasoning and logic — the skill of analyzing content and processes to determine their effectiveness and then using that data to build better communication strategies
Interpersonal skills — the ability to understand and empathize with people's intentions, challenges, and situations to be able to work well with team members and other professionals
Project management — the talent of managing several projects simultaneously while adapting to changes in real time
Embark on a Rewarding Career with a Bachelor of Arts in Communication
While communications salaries and roles vary, organizations rely on all communication specialists to distinguish their story from the rest. Those interested in working in the diverse field of communication should consider degree programs that will give them unique training and certifications that are attractive to hiring managers. Students in Maryville's online Bachelor of Arts in Communication program, for example, can earn certifications from Amazon, Google, Hubspot, and Salesforce that can be launching points into their communication careers.
Career opportunities in communication have grown in the past few decades, and they are projected to continue to grow in the future. If you are interested in these roles, take the next step and learn how a Bachelor of Arts in Communication from Maryville University can lead to an exciting and rewarding career.
Recommended Reading
Choosing a Career Path: Communication vs. Business Degree
How Technology Has Changed Communication
Public Affairs vs. Public Relations: Discussing the Differences
Sources
Illinois WorkNet Center. Communications Specialists
Payscale. Average Marketing Specialist Salary
Payscale, Average Social Media Manager Salary
Statista. "Social Media — Statistics and Facts"
U.S. Bureau of Labor Statistics. Market Research Analysts and Marketing Specialists
U.S. Bureau of Labor Statistics, Media and Communication Occupations
U.S. Bureau of Labor Statistics, Public Relations Specialist
Be Brave
Bring us your ambition and we'll guide you along a personalized path to a quality education that's designed to change your life.