Going Back to School for Computer Science
It's a computerized, digital world—and you want a part of it. As more and more of our lives are lived online, on our phones, and connected to computers in some way, you understand that there's a need for experts who can create the apps and programs we love, protect our electronic data, and fix problems when they arise.
Pursuing a computer science-related degree can lay the foundation for an exciting career in a constantly changing industry. The purpose of this guide is to help you understand some of the degree options available to people like you who are interested in the various fields within computer science.
Discover the following sections of this guide:
Going to College for Computer Science
Computer Science Degrees
Scholarships and Grants for Computer Science Majors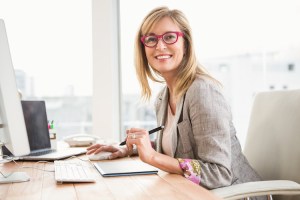 Why Return to School for a Computer Science Degree?
Should you go back to college for computer science? Ask yourself the next few questions.
Do you like computers? Are you an analytical thinker? Do you like staying up to date on the latest trends and challenges in the technology industry? Are you thrilled by the thought of defending a network against hackers?
If your response to any of those questions was "yes," then you should consider enrolling in a degree program related to computer science, such as cyber security (bachelor's or master's), information systems management, data analytics, or software development.
Regardless of the field you choose to study, here are a few important skills and attributes you'll need when going back to school for computer science:
Analytical skills. Working with computers often requires working with immense amounts of data. You'll be sifting and sorting that data in order to locate patterns, identify potential threats, or solve problems.
Creativity. It's not all numbers and algorithms in computer science—a fair amount of creativity is required in this field, too! If you want to work as an information security analyst, for example, you'll need to think creatively about how hackers may try to penetrate your network or system and then devise ways to prevent those attacks.
Communication. While you may understand what you're working on, that doesn't mean everyone else in your company or organization will. As a computer science expert, you'll be responsible for communicating your findings or analysis to your team members, senior leaders, or external parties.
Problem-solving. From basic IT questions to writing complex algorithms and code, you'll benefit from strong problem-solving skills and determination.
Willingness to keep learning long after your degree. The digital world is changing and evolving at a mind-bending pace. Working in this field means you're always curious and willing to stay ahead of the curve on the latest tech trends and developments.
If you choose to go back to school for computer science, you're setting yourself up for future success in a growing field. The U.S. Bureau of Labor Statistics (BLS) projects great job growth in information systems careers, especially for computer systems analysts (21 percent), information security analysts (18 percent), software developers (17 percent), and information systems managers (15 percent). Jobs in technology can also offer median salaries that exceed $100,000, according to the BLS.
Types of Computer Science Degrees
Your decision to earn a computer science degree is just the first step. What do you want to study?
A bachelor's in cyber security program will cover the basics of this thrilling field. You'll learn about network, wireless, mobile, and cloud security; digital forensics; malware; and incident response. You may also choose to specialize in an offensive track, where you'll delve into proactive approaches to cyber security, or a defensive track that focuses on eliminating vulnerabilities and keeping network defenses strong.
From securing networks to analyzing systems, a management information systems bachelor's degree can help you learn the skills needed to begin pursuing a range of IT positions. Students will have an opportunity to explore an array of unique fields such as database administration, systems analytics, software development, and information security. This degree program will teach you how to apply technology in support of organizational goals, with courses focused on information security, project management, and business data.
If you already possess a robust technical skill set within the field of computer science, you may choose to specialize later in your education with a master's in cyber security. This kind of graduate program will provide you with advanced skills and help you build much-needed expertise. You'll study drones, cryptography, mobile hacking, and pen testing while also learning about the legal aspect of the industry, including privacy and compliance legislation.
More than ever, businesses and organizations have an astonishing amount of data at their fingertips. A master's in data analytics will prepare you to analyze that data to draw insights that can help drive growth, improve customer experience, and predict potential opportunities. With this degree, you'll learn about databases and warehousing, as well as data mining and visualization. A master's program in data analytics will also arm you with the general business acumen needed to succeed in the workplace.
You're a tech-savvy computer lover who wants to learn how to build and run the programs and applications we use every day. Enrolling in a master's in software development program will provide you with the foundation to pursue a career in areas such as data science, DevOps, network security engineering, or video game development. This degree program will cover coding, development, and design, as well as examine exciting emerging technologies, such as mobile app development, machine learning, and augmented reality.
Careers You Can Pursue With a Degree in Computer Science
After earning a computer science degree, you may be qualified to work in some of the following positions. While some of them may require further education or certification, your computer science degree puts you on the right path for career success.
Information Security Analyst.
In this role, you'll be responsible for monitoring organizations' networks, investigating security breaches, and protecting sensitive information through the installation and use of security software. Information security analysts also assist in developing disaster recovery plans for their organizations. This is a rapidly growing field, with demand projected to grow 28 percent between 2016 and 2026.
Median salary: $92,600/year
Computer Forensics Expert.
Computer forensics investigators work with law enforcement agencies to retrieve information from computers to assist in the solving of crimes. You will need a strong working knowledge of computers, as often the equipment you're working with will be damaged in some way. In addition to working with law enforcement, you can also work privately, testing the security of a company's information technology systems.
Average salary: $68,967/year
Computing, Networking, or IT Consultant.
As a consultant, you will work with large organizations, such as hospitals and educational institutions, to evaluate and improve their information security capabilities. You will assess vulnerabilities, perform penetration tests, prepare emergency plans, and provide incident response and investigation. Ultimately, these professionals protect organizations and institutions against any theft of data, both internal and external.
Median salary: $84,097/year
Software Consultant.
Software consultants are senior developers. In this role, you'll create the architecture that software engineers follow, and you'll take a higher-level, more holistic approach to a project than a developer or engineer would. In addition to development, you provide expert advice and often work in a client-facing role, collaborating with the client to determine how to create the required software.
Average salary: $73,000/year
Video Game Developer.
Video game developers often work together on the development team to create a game. This field requires both creativity and technical skills. If you're employed in this field, you may work on programming, testing, 3D modeling, and game design.
Average salary: $85,877/year
Scholarships and Grants for Students Working Toward Computer Science Degrees
Regardless of what type of computer science degree you opt to pursue, you may be able to take advantage of the many scholarship and grant opportunities available to students going back to school for computer science.
Dare to Take That First Step Towards a Computer Science Degree
It's time to take a step ahead of the curve—to put your curiosity to good use and work toward a rewarding career in an industry that will constantly keep you on your toes. By choosing to enroll in a computer science degree, you're laying the foundation for an exhilarating future.
Ready to take the next step? If you want to learn more about how you can can start the process of going back to school for a bachelor's, master's, or doctoral degree, then contact an enrollment advisor today.
Here are some other resources to consider when taking the next step toward going back to school:
Going Back to School Guide
Going Back to School for Working Adults
Additional Resources for Adult College Students
Maryville Online