Why Should You Major in Marketing?
Why Should You Major in Marketing?
Why Should You Major in Marketing?
If you want to work in a field that allows you to help businesses grow their brands, you may want to consider a career in marketing. One of the recommended first steps in pursuing a marketing career is to attain a relevant education, such as an online marketing degree from Maryville University. Maryville's dynamic distance learning program has been designed to help you develop the skills and acumen you'll need to pursue careers in advertising, marketing management, and promotions, among other disciplines.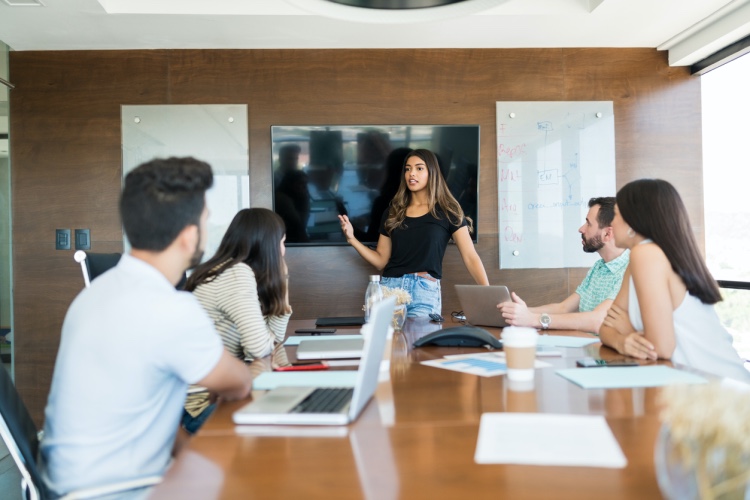 In a marketing degree program, business-minded students can expand their holistic understanding of marketing and its many subdisciplines, including market research, content generation, and brand management. As a marketing major, you can acquire a relevant knowledge base that can help you become a valuable candidate to employers.
What Does a Marketing Major Do?
A primary reason to consider a major in marketing is the diverse array of subdisciplines in the field. While marketers in the past relied mostly on reaching consumers directly through print, television, and radio advertising, the digital age has brought a range of new internet-based outlets for marketing.
Students who complete a marketing degree find that there are many possible directions for a marketing career, such as search engine optimization (SEO), social media marketing, email marketing, influencer marketing, and content marketing. Graduates who have a deep understanding of these disciplines and their unique business functions find that they're well positioned to explore promising career prospects.
Search Engine Optimization
Today, search engines drive a massive portion of internet activity. For example, Google received more than 63,000 searches per second each day in 2018. This translates into 3.8 million searches each minute and 2 trillion searches annually.
Businesses that optimize their website and help it appear on the first Google search page improve their chances of increased visibility to customers and stakeholders. The reason for this is twofold. First, SEO helps them increase both the quality and quantity of organic web traffic that's driven to them. Second, business owners who have websites that receive a lot of traffic tend to enjoy more clients, sales, and revenue.
This is how it works:
Search engines like Google Search deploy "crawlers," or programs that automatically find and scan websites by following links between pages.
That information is compiled in Google's index.
A complex algorithm then matches user search queries to the information stored in Google's index, generating a list of sites that correspond to the search keyword.
Google's algorithm has undergone many changes since the search engine was launched, and SEO best practices have changed drastically. For example, in the early 2000s, websites that over-incorporated keywords into their content often appeared on the front page of a Google search. Today, that same practice (now referred to as keyword stuffing) harms a website's ranking. Consequently, businesses across industries have come to rely on SEO specialists to learn when algorithm updates take place, what in the algorithm has changed, and how these changes can impact their web ranking.
Marketing degree programs, such as Maryville's online bachelor's in marketing, teach their students the value of adapting SEO strategy on the fly.
Social Media Marketing
Social media marketing is a methodology that involves using social media platforms, such as Facebook, Instagram, Twitter, LinkedIn, and YouTube, to market brands to potential customers. Social media marketers must know which platforms are best to reach their target audiences.
For example, LinkedIn may be the best option for businesses selling products to other businesses, while a family-oriented consumer brand may target users on Facebook. Through relevant coursework, marketing students are exposed to the unique advantages and disadvantages of different social media platforms, as well as to the difference between paid advertisements and organic marketing campaigns.
Email Marketing
By compiling lists of email addresses or purchasing lists from third-party companies, marketers can send messages to large segments of the population or defined niche segments, depending on their goals. Email marketers strategize the best ways to engage users with their content and cultivate the right audiences for their email campaigns. They can also use software to optimize their email marketing strategies, as well as track users' engagement with their messages. Savvy email marketers understand how to use this data to determine which messages are performing best and to improve future campaigns.
Influencer Marketing
An influencer is someone who has built an audience that companies may be interested in leveraging to promote their brands or products. Celebrities are the most well-known influencers, but ordinary people with smaller online followings are also able to effectively promote products on social media platforms. The objective of influencer marketing is to target influential people who can promote a company's image or products in their posts and content.
Content Marketing
Content marketing involves creating and distributing relevant content to target audiences. This content can range from blog articles to viral videos. The key to content marketing is creating materials that aren't overtly promotional, but instead are meant to spark interest in a brand among potential consumers. For instance, rather than making a video directly promoting a line of lawn care tools, a landscaping company may produce content that explains how to perform lawn maintenance using its products. This would engage consumers who are interested in learning lawn care techniques. This audience would then presumably be more likely to purchase the company's lawn care products in the future.
Marketing Major Jobs
If you're weighing your future career options and wondering "why major in marketing?," here are a few occupations in the industry that might help you decide.
Marketing Manager
Marketing managers oversee corporate marketing efforts, including campaigns, strategies, and analytics. They work closely with art directors, sales teams, and finance professionals to coordinate their efforts. The typical requirements for becoming a marketing manager include a bachelor's degree in marketing or a related subject. The job usually entails managing a multidisciplinary team, so previous experience in advertising, marketing, or promotion can make it easier to qualify for this position.
Data from the U.S. Bureau of Labor Statistics (BLS) indicates that the average annual salary for marketing managers was $142,170 in 2020, although earners in the top 10% reported annual salaries over $208,000. BLS data further suggests that overall employment in this field is projected to grow by 7% between 2019 and 2029, which is faster than its growth projection for the average occupation.
Market Research Analyst
Market research analysts use market studies to discover how well a company's products or services may sell. In this multifaceted occupation, analysts work with detailed data about consumers, industry competitors, and various market conditions. This information is then presented to marketing managers or other decision-makers in the company. While market research analysts are considered more entry level than marketing managers, the position still requires a minimum of a bachelor's degree.
According to the BLS, the median annual salary for market research analysts was $65,810 in 2020; however, earners in the highest 10% reported salaries over $127,410. The BLS reports that employment in this field is projected to grow by 18% between 2019 and 2029, which is much faster than its growth projection for the average occupation.
Social Media Specialist
Social media specialists spread awareness of their company's brands or products by creating content for social media platforms, as well as engaging users and following online conversations. They generally strategize to determine the best ways to reach their target audiences and use tools to measure the effectiveness of their efforts.
According to the BLS, a bachelor's degree is required for most advertising, promotions, and marketing management positions. Social media specialists are categorized as public relations (PR) specialists, according to the BLS. Their data shows that the average annual salary for PR specialists was $62,810 in 2019, although earners in the top 10% took home more than $118,210. The BLS further projects that PR specialist careers will grow by 7% between 2019 and 2029, which is faster than the average growth projection for all occupations.
Marketing Major Courses: Maryville's Online Bachelor's in Marketing Program
If you're asking yourself, "Why should I major in marketing?," you should take a closer look at the curriculum of a marketing degree program. If you choose to pursue a degree in marketing at Maryville University, you will learn how to help businesses reach broader audiences and increase profits and revenues. You'll also be taught how to connect the right products with the right customers, in addition to which types of messaging are likely to resonate with different demographics.
As a student in Maryville's online Bachelor's in Marketing program, you can explore diverse topics, such as business policies, consumer behavior, interactive and digital marketing, managerial accounting, and statistics. The program can also help you develop a foundational understanding of how to create, manage, and analyze marketing plans.
Here are a few Maryville University courses that may be of interest to you:
Consumer Market Behavior
Consumer Market Behavior teaches students how to understand the factors that influence consumer behaviors. By evaluating the psychological processes, personal differences, and environmental factors that impact consumer purchasing decisions, markets can develop strategies that perform well even in competitive environments.
Marketing and Digital Media
To implement the digital marketing skills mentioned in previous sections of this article, marketers must gain experience in creating data-driven digital media strategies. Marketing and Digital Media provides students the opportunity to develop a marketing plan from beginning to end, using various key marketing tools.
Business Communications
Marketers must often communicate with company management and clients to ensure that marketing strategies are carried out properly. Business Communications is designed to teach students how to communicate effectively, efficiently, and persuasively in a professional setting, whether in person or in a written format.
Why Major in Marketing? Explore Your Future in This Exciting Field
Marketing is a complex field that incorporates general business techniques with various research and sales concepts. While it may be possible for you to learn some concepts independently or on the job, pursuing a marketing degree can help you build valuable skills and expertise and make you a more appealing candidate for marketing jobs. If you're interested in a marketing career, find out more about Maryville's online bachelor's in marketing. It blends deep-dive marketing courses, traditional business principles, marketing strategy, and advanced technology — providing a well-rounded foundation for students to further their career ambitions.
Sources
Forbes, "Marketing Matters Now More Than Ever"
Investopedia, "A Career Guide for Marketing Majors"
Marketo, What Is Digital Marketing?
Maryville University, Online Marketing Degree
Search Engine Land, "Google Now Handles at Least 2 Trillion Searches per Year"
U.S. Bureau of Labor Statistics, Advertising, Promotions, and Marketing Managers
U.S. Bureau of Labor Statistics, Market Research Analysts
Be Brave
Bring us your ambition and we'll guide you along a personalized path to a quality education that's designed to change your life.