Business Analytics Job Growth Opportunities
Business Analytics Job Growth Opportunities
Business Analytics Job Growth Opportunities
Vast amounts of consumer data drive profitability for businesses around the world. In fact, 85% of organizations consider data one of their most important assets, according to a 2020 Experian study. The innovative processes of business analytics — the practice of interpreting data and applying insights to business decisions — can give organizations valuable information that helps them target customers, evaluate investments, and more.
The evolution of business analytics represents an enormous opportunity for today's companies, but to take advantage of "big data," businesses need professionals who understand it. Those interested in business analytics job growth can prepare for exciting career opportunities in a burgeoning field.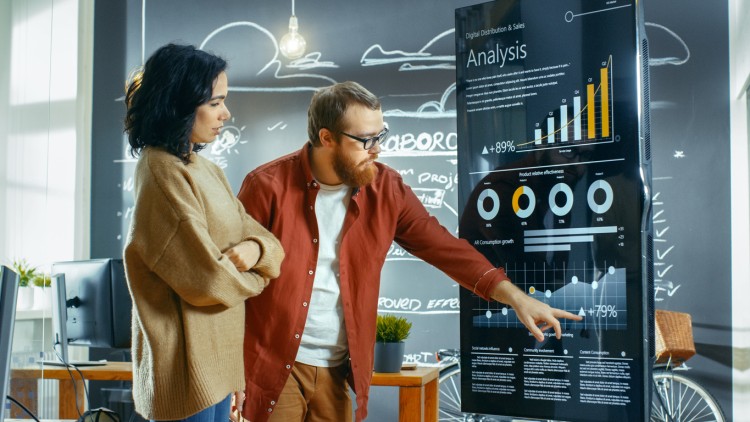 How to Grow Your Business Analytics Career
The path to a business analytics career begins with the following steps:
Undergraduate degree. Earning a bachelor's degree in business administration, data science, or a related field can lay the groundwork for a business analytics career.
Entry-level job experience. With a bachelor's degree in hand, graduates can seek an entry-level job in a position such as junior data analyst. Gaining a few years of experience mastering the job can qualify data analysts for higher-level, potentially more specialized roles.
To boost their career prospects and future salaries, individuals can earn certifications granted by such organizations as the International Institute of Business Analysis (IIBA), International Qualifications Board for Business Analysts (IQBBA), International Requirements Engineering Board (IREB), and Project Management Institute (PMI).
Master's degree. To qualify for higher-level roles, bachelor's degree holders may wish to earn their master's in data analytics or business administration at an accredited university.
Skills Needed to Advance in the Business Analytics Field
Business analytics requires math, statistics, database technology skills, and other frequently updated technical competencies. Those who want to work in business analytics should develop both hard and soft skills. Hard skills include:
Data aggregation and interpretation. Business analysts collect information from databases, applications, devices, and other sources. They use this information to evaluate past business decisions and predict future trends.
Data preparation and visualization. Analysts convert raw information into organized formats that laypeople can readily access. Data preparation is an intermediate step before data visualization, part of making data digestible to company or public stakeholders.
SQL and/or spreadsheet programs. Many business data analysts work with SQL (Structured Query Language), a type of programming language used to interact with databases. Some companies may want their employees to be competent in spreadsheet programs like Excel too.
Statistical programming languages. In addition to SQL, business analysts may need to learn programming languages like R or Python to manage libraries, as well as statistical software like SAS.
Business analysts need to be able to evaluate existing processes and communicate solutions to organizations. This requires certain soft skills, such as:
Problem-solving. Business analysts need to use critical thinking to arrive at rational decisions based on their data.
In dealing with other members of their companies or with clients, business analysts should be able to articulate their project goals, findings, and reasoning.
People skills. Business analysts should be able to relate well with the many people they interact with, including clients, company leaders, and team members.
Business analysts should have strong negotiation skills to find solutions with company stakeholders or clients.
Business Analytics Job Opportunities
People interested in business analytics job growth have a range of opportunities to pursue once they've gained qualifications and experience. These in-demand roles can come with high salaries and excellent benefits, thanks to the increasing demand for business analysts.
Data Analyst
Data analysts work in nearly all industries today, including some of the most dynamic and rewarding: the Big Tech companies, finance, insurance, media, healthcare, and more. Because their job is to collect, store, and interpret data that will aid company leaders in making decisions, their technical, critical-thinking, and communication skills must all be strong.
Data analyst skills:
Statistics and probability
Database technology
Data preparation
Data visualization
Data storage
Critical thinking
Communication
Median Data Analyst Salary
The median annual salary for a data analyst was about $63,000 in July 2022, according to PayScale.
Data Scientist
Like data analysts, data scientists use information to improve business decision-making. Data scientists differ from data analysts in that they work with unstructured as well as structured data, develop machine learning algorithms, and predict trends. They combine business know-how with technical expertise.
Data scientist skills:
Calculus, linear algebra, statistics, and probability
Database technology
Data visualization
Cloud computing
Machine learning
Communication
Decision-making
Median Data Scientist Salary
The median annual salary for the data scientist role, which the U.S. Bureau of Labor Statistics (BLS) includes in the computer and information research scientist category, was about $131,490 in May 2021.
Statistician
Statisticians help organizations by determining which data is useful and designing ways to obtain information. They design surveys and experiments and use statistical models to analyze the results of their studies.
Statistician skills:
Calculus, linear algebra, statistics, and probability
Computer programming languages
Statistical software like R
Communication
Median Statistician Salary
The median annual salary for a statistician in 2021 was $95,570, according to the BLS.
Quantitative Analyst
Quantitative analysts use quantitative methods to help private equity firms, insurance companies, and other financial organizations value their assets and decide how to manage risk and allocate investments. Quantitative analysts create algorithms for high-frequency trading on stock exchanges.
Quantitative analyst skills:
Calculus, linear algebra, statistics, and probability
Programming languages like Python, Java, C++, and Perl
Number crunching
Financial research
Machine learning
Fast critical thinking
Median Quantitative Analyst Salary
The median annual salary for a quantitative analyst in finance was about $86,000 in August 2022, according to PayScale.
Build a Bright and Satisfying Future
Business analytics is a dynamic field with rapidly multiplying job opportunities. Earning a bachelor's degree in business administration can lay the foundation for a fulfilling career in business analytics. Explore Maryville University's online Bachelor of Science in Business Administration, an innovative program that can help you break into the field.
Recommended Reading
Entering the Financial World: Comparing Economics vs. Business Degrees
How the Future of Fintech Is Shaping Financial Services
How Technology Is Changing Business Administration
Sources
CIO, "10 Business Analyst Certifications to Advance Your Analytics Career"
Corporate Finance Institute, "How to Become a Quant"
Experian, "The Cost of Data Debt Rises as Businesses Face the Challenge of Low Data Literacy"
G2, "What Is Business Analytics and Why You Need It for Success"
HubSpot, "What's the Real Value of Big Data for Business?"
Indeed, "18 Key Skills for Data Analysts"
Indeed, "Business Analysts Skills: Definition and Examples
Indeed, "Business Analyst vs. Data Analyst: What's the Difference?"
Indeed, 'What Does a Data Scientist Do?'
Indeed, 'What Does a Statistician Do?'
Investopedia, "Data Analyst: Career Path and Qualifications"
Investopedia, "Quantitative Analyst: Job Description and Average Salary"
Payscale, Average Data Analyst Salary
Payscale, Average Quantitative Analyst Salary
U.S. Bureau of Labor Statistics, Computer and Information Research Scientists
U.S. Bureau of Labor Statistics, Mathematicians and Statisticians
U.S. Bureau of Labor Statistics, Operations Research Analysts
Be Brave
Bring us your ambition and we'll guide you along a personalized path to a quality education that's designed to change your life.