Bootcamp vs Certificate: Which Is Best for You?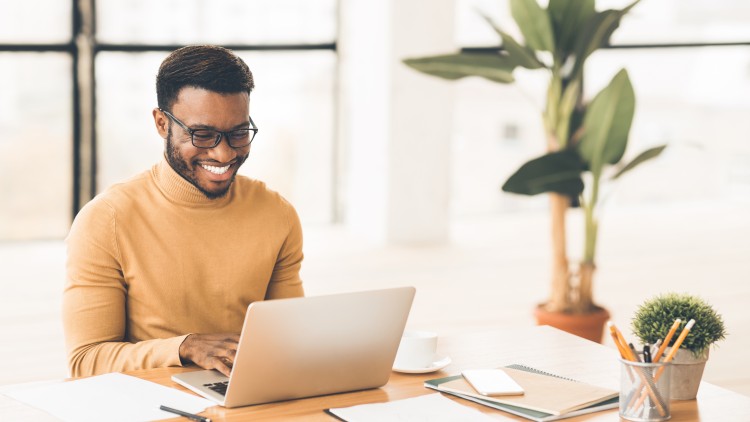 In the fast-paced world of STEM careers, software developers, data scientists, and other professionals know they need to update their skills constantly. The solution: micro-credentialing with bootcamps or certificates. There are benefits to both. For individuals considering bootcamps vs. certificates, exploring certificate programs can be a key step in determining which is the right choice for them.
What Is a College Certificate?
College certificate programs are designed for students already in the workforce. Professionals enroll in certificate programs, at the bachelor's or master's level, to upskill in their current fields or reskill for a new career. Bachelor's level certificates can also be a practical option for individuals looking for a quick path toward professional credentials after high school, since certificate credits can later be applied toward a degree.
College certificates cover a wide range of topics, including the following:
Cybersecurity: Demand for cybersecurity expertise has grown along with the threat of cyberattacks. Cybersecurity certificates cover a wide range of subjects including cyber law, ethical hacking, and incident response.
Data science: Data science certificates cover topics such as programming languages, data analysis, and machine learning. Competency in these areas applies to jobs such as business analyst, data engineer, and AI specialist.
Nursing: The healthcare industry is experiencing strong demand for highly experienced nurses. Some universities offer post master's NP programs looking to move up in the ranks to become nurse practitioners or nurse leaders.
The advantages of college certificate programs include:
Accreditation
Certificate programs fall under a university's accreditation. That means faculty and coursework adhere to certain standards. Accredited programs provide students with a measure of confidence in the quality of course material. Attending a university certificate program may also afford students benefits such as financial aid opportunities and student support resources.
Efficiency
Certificates are designed for employees who need or want to gain new skills while they work full time. These programs take less time to complete than getting a bachelor's degree or master's degree, which is why they're ideal for people in the workforce. Students can earn a certificate in as few as six courses, or 18 credit hours, which is enough to provide a foundation in a new skill.
Career-Focused Training
Certificate programs offer technical knowledge and skills that are relevant to a career field. For example, a computer science certificate program offers courses in cybersecurity, software development, user experience, and data science. Adding a certificate to an employee's existing skill set and work experience can make them more valuable in the job market.
Flexibility
Online certificate programs allow students to learn and study on their own time. This flexibility benefits working students, especially those with full-time jobs. Since certificate programs focus on skill-building, students can select the coursework they need to advance their careers without having to take electives or other courses in a traditional degree program.
Stackability
Working students who enroll in certificate programs can upskill and work toward a degree at the same time. Students who stack their programs feel a sense of accomplishment as they achieve each new certificate in less time than it takes to earn a degree. Stackable certificates appeal to students who have work and family commitments. Many colleges offer certificates as an alternative pathway to a traditional degree.
What Is a Bootcamp?
Alongside certificates, bootcamps have become a popular way for aspiring professionals to gain the skills they need to enter or upskill in the tech field. Coding bootcamps are numerous, reflecting the fast-moving nature of software development: Software engineers and coders need to stay abreast of new software languages and tools to advance in their current jobs or take advantage of higher-paying opportunities.
Besides coding, bootcamps may cover fintech (financial technology) subjects such as blockchain or cryptocurrency; cybersecurity fields such as security auditing or incident response; and data science fields such as data analysis or data visualization.
Bootcamps offer many advantages and disadvantages. Students exploring these options should weigh the pros and cons carefully.
Lack of Accreditation
The private companies that run bootcamps are not accredited the same way that colleges and universities are. Therefore, the quality of the teaching staff and the curriculum varies. Even bootcamps taught at community colleges are administered by private companies. Therefore, they don't come under the college's accreditation, either. Students should look carefully at the curriculum and the student employment track record before choosing a bootcamp.
Efficiency
Bootcamps are designed to be a fast, immersive way to gain new skills. They may range from six weeks to 12 weeks; some may go as long as six months. Depending on the subject and structure, they can require six hours a day of exercises, coding, and other work. Online bootcamps may require students to be self-starters, taking on the responsibility of completing work on their own time and with little oversight. While this speedy skill ramp-up is attractive, it may be difficult to get a broad base of education in such a short period of time.
Career-Focused Training
As with certificates, bootcamps offer career-focused training. However, instead of providing a background in programming topics and techniques, many bootcamps focus on a specific programming languages such as JavaScript, Python, or C++. Others may focus on one aspect of fintech, such as blockchain, rather than covering all financial technology subjects. Students should identify the specific industry-relevant skills they'd like to build before choosing a bootcamp program.
Payment Plans
Many bootcamps offer a payment plan and an income-sharing agreement. Under this agreement, students can defer paying tuition until they get a job, at which point the bootcamp takes a percentage of the student's salary until they've repaid their tuition plus interest. Some of these agreements have come under fire, and at least one bootcamp has been sued.
Job Placement Record
The whole point of bootcamps is to upskill quickly and get a job. Students should research the job placement track records of any bootcamps they're interested in. Many bootcamps point to their career services and employer networking opportunities that students can use to get a job after they complete their courses.
Bootcamp vs. Certificate: How to Choose?
Professionals who want to take the next step in their careers have several options: go back to school for a degree; opt for a certificate that can be stacked with others to build up to a degree; or enroll in a bootcamp. Both bootcamps and certificates have advantages and disadvantages to consider:
Bootcamps offer a quick, efficient dive into a specific technical skill but are unaccredited and may lack instructor support.
Certificates are flexible and stackable and can lead to a degree; however, they require a greater time investment.
Coding Bootcamp vs. College Certificate
Looking at coding bootcamps vs. college certificates reveals important differences. A coding bootcamp will focus on a specific programming language, usually one that is in high demand. For example, companies are looking for software developers who code in Python due to the growth in data analysis and data visualization across all industries. This narrow focus means students can ramp up quickly in a new skill, repeating the process for each new programming language.
Certificates provide a broader educational base than a bootcamp. For example, a software development certificate may cover Python, JavaScript, and C++. It may cover web development in general, as well as database management. Certificate courses are the same as degree courses, so students can be assured they're getting the same quality of education as students in the degree program. With a certificate program, students get a background in the larger technical field of software development and computer science, rather than just in one programming language.
Invest in Your Career
For professionals who are interested in upskilling or switching career paths, a variety of factors can inform the bootcamp vs. certificate decision. Whether you're looking at software development, data science, or a completely new field, explore Maryville University's online certificate programs for your next step.
Recommended Reading
Certificate vs. Degree: Which Path Is Best for You?
Comparing Careers in Tech: Coding vs. Programming
The Benefits of Continuing Education in an Uncertain Job Market
Sources
Brookings Institution, "Stackable Credentials Can Open Doors to New Career Opportunities"
CNET, "Online Coding Bootcamps: 4 Things No One Tells You"
Ken Jee, "Data Science Certificate vs. Bootcamp vs. Master's Degree"
Linkedin, "Are Data Science Bootcamps Worth It to Get a Data Science Job?"
NerdWallet, "How Much Is Coding Bootcamp?"
Security Made Simple, "Are Cybersecurity Bootcamps Worth It?"
TechCrunch, "Three Students Sue Coding Bootcamp Lambda School Alleging False Advertising and Financial Shenanigans"
Wired, "More Students Are 'Stacking' Credentials en Route to a Degree"