The Benefits of Continuing Education in an Uncertain Job Market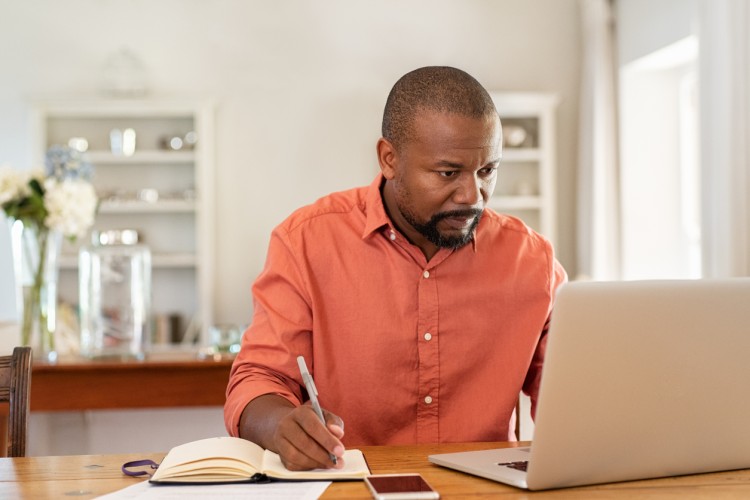 Continuing education can come in many forms — ranging from college courses and book clubs to certifications and seminars — and typically applies to working professionals and older adults. Pursuing new education opportunities can be a smart choice for individuals looking to take the next step in their careers, regardless of economic conditions. Today's uncertain job market, which has seen unemployment jump and professional responsibilities shift, adds value to this already worthwhile pursuit.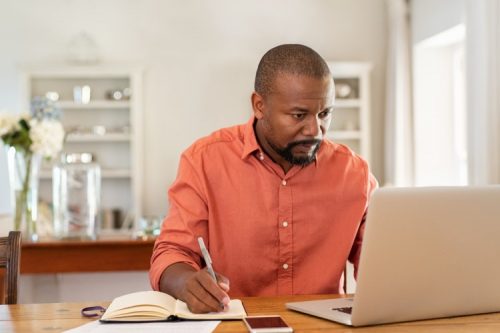 Career transition, career advancement, a promotion or salary increase, and personal and professional development top the list of the benefits of continuing education. Whether you want to stay abreast of industry and technology advancements or engage in lifelong learning, pursuing additional education and training can provide you with stability during unpredictable times (including the COVID-19 economy).
Higher education institutions, such as Maryville University, offer bachelor's, master's, doctorate degrees, and certificate programs that can help you future-proof your skill set.
Benefits of Continuing Education for Career Transition
Career transition can involve anything from changing roles within a similar field to branching out into a different career. This process of finding and moving into a new career role often occurs following job loss, a situation more prevalent during today's tightening job market. But career transition also can be the result of a variety of other circumstances, such as the following:
Seeking a change in roles
Moving to part-time work or retiring
Taking parental leave
Traveling, or taking a gap year or sabbatical
Caring for a relative
If you're considering a career transition, you may also be looking for a field that provides more stability. The U.S. Chamber of Commerce offers a list of industries that are thriving despite pandemic concerns and economic uncertainty. The following industries are among those to consider for greater stability:
Delivery services — increased demand for delivered meals and groceries
E-commerce — rapid growth in online sales of merchandise
Entertainment — high demand for products such as board games, video games, and drive-in theaters
Healthcare — strong growth in digital health, behavioral health, and home health services
Housewares and personal product manufacturing — demand for products such as home office furniture, exercise equipment, masks, and soap
Digital communication — strong demand for services such as online learning and videoconferencing
Importance of Education and Training in Career Transition
Whether planned or unanticipated, a career transition often calls for additional education or training. And engaging in lifelong learning is valuable even if you haven't selected your new career path or still are looking for ideas. It can help you discover which field is a good fit for you — and then prepare you for that new role.
Questions to Consider in Making a Career Transition
Some key questions can help you determine if a career transition makes sense and, if so, what path to follow. In working with a career adviser or conducting your own evaluation, some questions to consider are as follows.
Why Is Your Career Transition a Good Idea?
Think about why you want to transition careers. Factors to evaluate include:
Reasons to make a change
Ways a career transition might improve your life
Potential downsides to a change
What Type of Career Is Interesting?
In undertaking a career transition, it's key to ascertain the best career to choose. The following methods can help you discover careers that are a good fit:
Ideas gleaned from previous educational courses
Self-assessments focusing on key values and job attributes that are important to you
Interviews and job shadowing with those already in the field
What Additional Education Is Necessary?
Researching a new profession, including how competitive it is, can help determine whether additional education will be beneficial. If a new degree or credential would assist in the transition, it is important to determine what certificate, degree, or license the career requires.
What Steps Will Lead to a New Career?
Developing an action plan can help keep the transition on track. Map out a path to accomplish the change, noting daily and weekly tasks for education, networking, and transitioning out of your current job.
Benefits of Continuing Education for Career Advancement
Whether you're looking to move up in your current field or explore new interests, going back to school can assist with career advancement. Picking up an additional certification or degree can help you develop in-demand hard and soft skills, attributes that improve marketability when seeking new roles.
In fact, the World Economic Forum notes the ability to learn is the most important skill for any professional, thanks to what it calls a "global reskilling emergency." By 2022, the organization estimates, major economies will offer 133 million new jobs globally to address changing needs in the workforce. It predicts that 42% of the core skills within career roles will change by 2022. The willingness to reskill will be critical to adapt to these changes.
Continuing Education and Soft Skills
Soft skills are those that are beneficial for employees to possess regardless of role or career. These skills are important for success in the workplace — and pursuing additional education can help in developing them. Employment website Indeed lists the most in-demand soft skills, including the following:
Interpersonal skills
Learning and adaptability
Self-management
Organizational skills
Problem-solving
Strong work ethic
The World Economic Forum includes soft skills such as creativity and collaboration among the needs for jobs of the future. Earning new credentials offers the opportunity to sharpen these competencies, from those that enhance adaptability to those — such as organizational skills and work ethic — that you can strengthen while working toward completing education and training.
Continuing Education and Hard Skills
Also important to employers are hard skills, or those that can be clearly quantified or linked to a specific profession. College courses on these key skills can aid in career advancement. Career education website The Balance Careers includes the following in its list of the top sought-after hard skills among employers:
Data analysis
Computer coding and programming
Project management
Social media and digital marketing expertise
Understanding of computer applications and software such as Word or Excel
Familiarity with data entry tools
An understanding of evolving technology and its use in specific industries also is important in career advancement. Automation is creating what the World Economic Forum calls the Fourth Industrial Revolution — an unfolding evolution of the job market due to technological advances. Artificial intelligence (AI), for example, provides machines with a capability similar to human thinking, reducing the need for humans to conduct certain tasks but increasing the need for professionals with knowledge of AI programming.
Machine learning, a type of AI, calls for machines to use algorithms to assist individuals in making decisions. Deep learning takes machine learning a step further, making decisions without human input. A broad range of industries, including those that perform the following tasks, are among the fields that use this technology:
Customer service
Treating health conditions
Advertising
Image recognition
Earthquake predictions
Market forecasting
Technical skills represent only a part of the needs employees must meet to prevent a reskilling emergency, according to the World Health Organization. Skills related to the following areas also will be important:
Specialized sales
Human resources
Caring for populations such as children, the elderly, and people with disabilities
Education
Learning which hard skills are important in a chosen career field can help guide decisions about what type of upskilling to pursue.
Continuing Education and Career Growth
Whether seeking to move up in a career field or engage in lifelong learning, earning or finishing a degree or certification can be a key driver in career growth. The following are some reasons this education is important in career development.
Standing Out in the Job Search
Hiring managers rank education among the main factors they consider when evaluating job candidates. Engaging in lifelong learning shows a willingness to grow and develop, and it is an important element in setting job candidates apart from the competition.
Advancing in a Career Field
Continuing education also is beneficial if you're looking to move up in your current field, even for those in roles where some additional training may be a requirement for maintaining licensure. Education can help prepare you for a management position, or a position similar to your current role that has greater educational requirements.
Seeking New Interests and Career Ideas
If you're seeking new interests and career ideas, you can benefit from learning opportunities. Degree or certificate program classes, industry conferences, and training events are among the ways to learn throughout your professional life.
Making Professional Connections
Earning or completing a college degree provides professional benefits that go beyond learning. The following education activities are some of those that provide opportunities to network and hone collaboration skills:
Class time
Study sessions
Online student forums
Project groups
Alumni networks
Benefits of Continuing Education for a Promotion or Salary Increase
Employees seeking a promotion or salary increase also can realize benefits from continuing education.
New knowledge may help you perform better in your current tasks, increasing your value as an employee. In fact, remaining stagnant in learning can stymie opportunities for promotions.
Experts recommend that employees not only stay up to date on learning about their own responsibilities, but also any skills that can expand their opportunities, anticipating what the next jobs they seek will require.
Education and Training for a Job Promotion
A job promotion can be a move to the next level in a current position, such as manager to senior manager, based on outstanding performance or additional responsibilities. A job promotion also can be a change to a different, higher-ranking job that opened as a result of someone else's promotion, resignation, or retirement — or the creation of a new position.
Lifelong education and learning can serve to place employees at the front of the pack for promotions. Obtaining additional education is one of the top strategies for moving up the organizational ladder. Upskilling can involve any of a variety of certificate and degree programs, many of which feature the flexibility of online education.
Reasons to Seek a Promotion
In determining whether to pursue a promotion — and the degree or certificate that can help you achieve it — consider factors such as the potential for career growth and the opportunity for more responsibility and income. The following are common reasons to seek a promotion:
Career growth — Presenting an opportunity for performing more meaningful work while advancing toward career goals
More responsibility — Offering new challenges and leadership opportunities
Salary increase — Providing more pay to reflect a higher rank and increased responsibility
Education Level and Salary
The U.S. Bureau of Labor Statistics (BLS) notes that more education typically means higher earnings and lower unemployment, and those with graduate degrees and above have the highest earnings. A master's degree, for example, can be especially helpful in fields such as the following:
Science, technology, engineering, and math (STEM)
Business
Education
Healthcare
Fitness
Public relations
The BLS lists the 2019 median weekly earnings for those of various education levels, revealing the increase in salary that typically accompanies additional education. The median weekly earnings, by degree, are as follows:
Doctoral — $1,883
Professional — $1,861
Master's — $1,497
Bachelor's — $1,248
Associate — $887
Some college, no degree — $833
High school — $746
But degrees are not always a requirement for salary increases. Taking advantage of additional learning opportunities, such as training or certification programs offered through employers and industry associations, also can lead to increased income. Advancing through any relevant education and training can add marketable skills and show an employee's ability to follow through on tasks.
Benefits of Continuing Education for Personal and Professional Development
Continuing education pays dividends in the workplace and beyond, with lifelong learning playing a critical role in both personal and professional development. Opportunities for lifelong learning abound — from pursuing degrees or certificates to engaging with industry leaders.
Personal and Professional Benefits of Continuing Education
From increased confidence to greater community involvement, taking advantage of educational opportunities provides a host of personal and professional benefits. The following are some reasons why pursuing additional courses or degrees can assist in personal and professional development.
Education and a Stronger Sense of Purpose
Having a goal toward which to work can provide you with a clearer path for personal development. Achieving that goal often translates to greater confidence and knowledge, enhancing your value as an employee and colleague.
Education and Greater Curiosity
Lifelong learners, who take advantage of education opportunities at any stage of their careers or in retirement, regularly discover new skills to explore. Being open to new knowledge can enhance happiness, personal growth, and well-being.
Education and Leadership Opportunities
The decision-making and problem-solving aptitudes that are applied when learning translate well to leadership roles. Continuing education can put you on a path toward leadership in the workplace and community.
Education and Improved Health
Continued learning can provide physical and health benefits. Additional knowledge and skills can assist in decision-making, easing stress. Relationships developed in class-related activities also are an important contributor to good health. Brain stimulation, such as that provided by pursuing additional education, can help stave off mental conditions including dementia and Alzheimer's disease.
Education and a Well-Rounded Life
From career advancement to relationship development, pursuing education often contributes to a more fulfilled life. And the benefits of continuing education go beyond individuals. Learning Resources Network (LERN), a lifelong learning organization, indicates that those who take advantage of continued learning opportunities are 20% more inclined to support community organizations.
Opportunities for Lifelong Learning
Pursuing additional education is one good way to engage in lifelong learning that holds many personal and professional benefits. The following list includes other opportunities for this type of learning.
Enrolling in Degree or Certificate Programs
Higher education programs offer many options for learning new skills or staying abreast of industry developments. Many universities offer online options that allow for flexibility to accommodate professional obligations.
Participating in Workplace Training
With many employers offering workplace training, you can take advantage of skill development opportunities on the job. You also can learn through collaboration with others on your team and in other departments.
Asking Questions
Stay curious and ask questions regularly – whether that be with your peers, supervisors, or customers. By searching for understanding on further ways to connect concepts, processes, responsibilities and performance, you can help keep your mind active and always learning.
Earning Industry Certifications
Many industry associations offer certifications that show employers a worker has certain skills, and some college courses are designed to help students earn these certifications. Industry certifications can be especially helpful in fields like cybersecurity and communication.
Reading Regularly
From news reports to books, frequent reading is a good way to learn about a variety of topics. Seek out reading recommendations from friends and colleagues.
Talking with Industry Leaders
Industry leaders and respected colleagues can provide a wealth of information as well as ideas for new topics to pursue. Reach out in person or virtually through methods such as social media.
Teaching Others
A good way to test your knowledge of a subject is to teach it to others. The interaction from this teaching can yield new ideas as well.
Joining Study Groups
Study groups focused on a particular topic of interest offer another option for learning. Online searches can assist in finding nearby groups.
Experimenting with New Learning Methods
Trying a variety of ways to learn helps determine what works best according to individual preferences. The following are some different learning methods:
Drawing diagrams
Watching documentaries
Listening to podcasts
Pursue Continuing Education and Navigate Job Market Uncertainty
If you are ready to take a brave step toward navigating an uncertain job market and bolstering your personal growth, Maryville University provides myriad opportunities. The university makes it easy to pursue a bachelor's, master's, or doctorate degree or a professional certificate. You will also benefit from the flexibility of online learning, the support of advisors, and other opportunities for guidance.
Discover how Maryville University can help you become a lifelong learner — and achieve your professional goals.
Recommended Reading
Frequently Asked Questions by Adults Continuing Their Education
Never Too Late For a Degree: 11 Benefits of a College Education for Professional Advancement
Sources
BBN Times, "The Difference Between Machine Learning and Deep Learning"
Business Insider, "7 Reasons It's Time to Change Jobs During the Coronavirus Pandemic"
CNN Business, "Nearly 4 Million US Jobs Have Vanished Forever"
Credit Union Australia, "5 Tips to Help You Survive Job Market Uncertainty"
Developer Gang, "Top Reasons for Continuing Your Education"
Digital Marketing Institute, "6 Real-Life Benefits of Continuous Professional Development"
Education Corner, "Benefits of Continuing Education"
Forbes, "How to Make a Culture of Lifelong Learning Stick in Your Business"
HRD Connect, "What Does 'Career Transition' Mean Today?"
IBM Cloud Learn Hub, "What is Artificial Intelligence (AI)?"
Indeed Career Guide, "Top 11 Skills Employers Look for in the Workplace"
KnowledgeCity, "The Health Benefits of Continued Learning"
Learning Resources Network, "Benefits of Lifelong Learning"
Livecareer.com, "How to Get Promoted: Strategies for Moving Up the Corporate Ladder"
National Healthcareer Association, "4 Unexpected Ways Continuing Education Can Help Your Career"
Reuters, "U.S. Labor Market Losing Speed as COVID-19 Spirals Out of Control"
SharpSpring, "7 Benefits of Continuing Education Throughout Your Career"
TeachThought, "10 Simple Ways to Engage in Lifelong Learning"
The Balance Careers, "Exploring Careers Through Job Shadowing"
The Balance Careers, "How to Make a Successful Career Change"
The Balance Careers, "Important Technical Skills with Examples"
The Balance Careers, "Top Skills and Attributes Employers Look For"
The Job Network, "Advancing Your Career with Online Continuing Education"
The Muse, "8 Steps to an Utterly Successful Career Change"
The Muse, "47 Habits of Highly Successful Employees"
ThriveYard, "25 Practical Tips on How to Get Promoted at Work"
U.S. Bureau of Labor Statistics, Career Outlook, "Learn More, Earn More, Education Leads to Higher Wages, Lower Unemployment"
U.S. Bureau of Labor Statistics, National Longitudinal Surveys Frequently Asked Questions
U.S. Chamber of Commerce, "20 Small Businesses Thriving During Coronavirus"
World Economic Forum, "We Need a Global Reskilling Revolution — Here's Why"
World Economic Forum, "Why 'Intentional Learning' Is the Most Important Skill to Learn Right Now"