Information Systems vs. Cybersecurity
Information Systems vs. Cybersecurity
Information Systems vs. Cybersecurity
Technology is a huge part of how business is done, so managing corporate and customer data is a top priority for many companies. As this trend continues, the need for data scrutiny is only going to become more crucial. That means that potential career opportunities for students who are interested in computer science are increasing.
Management information systems (MIS) and cybersecurity are two prominent fields that both involve ensuring the integrity of computerized data. While the two professions share certain similarities, the differences between management information systems vs. cybersecurity are significant enough that they are considered separate professions. It is important for aspiring IT professionals who may be pursuing an online bachelor's degree in cybersecurity or an online bachelor's degree in management information systems to understand what these differences are so they can follow a career path that best fits their interests.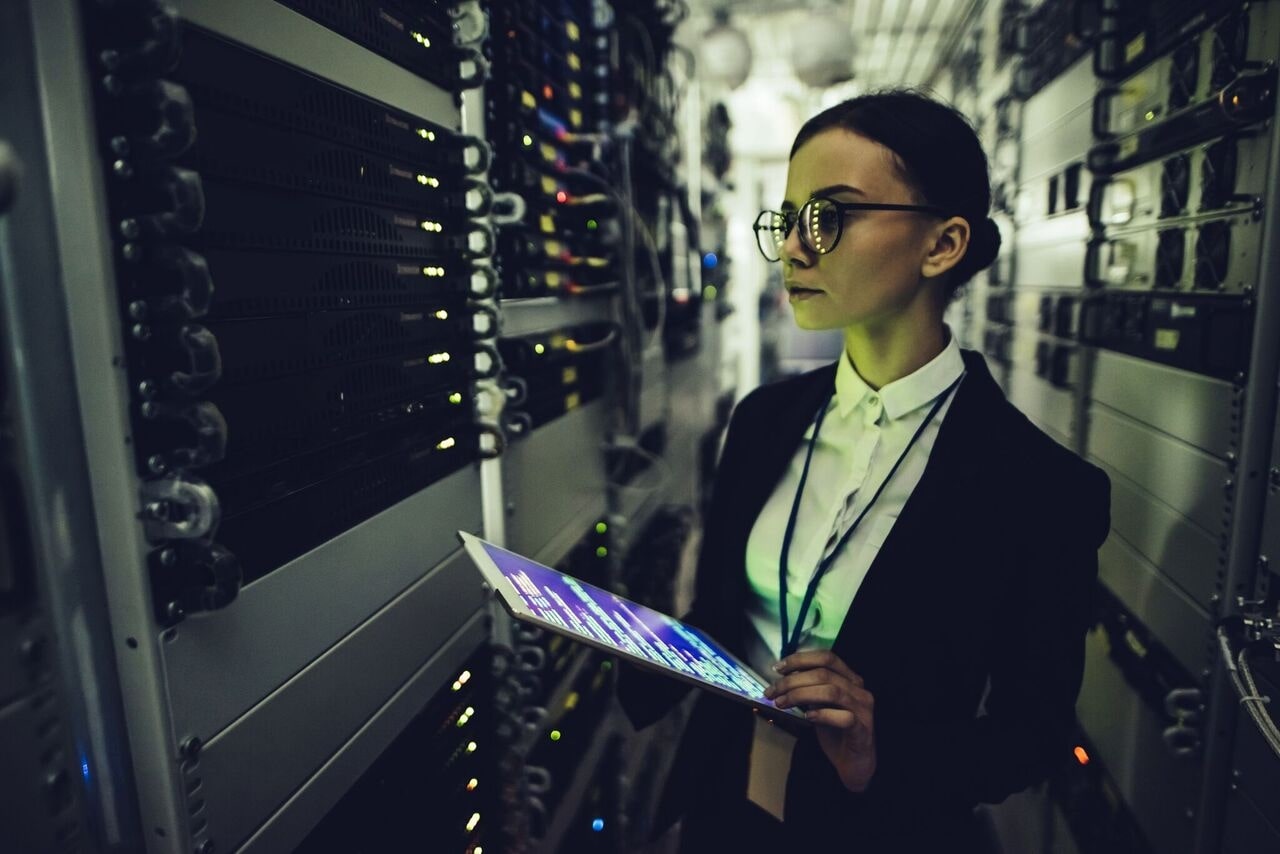 Management Information Systems Defined
Those in the management information systems field oversee a company's digital information flow and behavior. They are responsible for making sure the sharing, storage, and accessibility of corporate data are operating at optimal levels, without internal or external forces slowing down these and other processes. In the event of a systems disruption, the information systems manager must use analytical and critical thinking skills to find appropriate solutions.
What Is Cybersecurity?
Professionals in cybersecurity are primarily charged with keeping company data secure. They use their analytical abilities to spot potential weaknesses in corporate networks, computer systems, and cloud resources and develop solutions to these vulnerabilities — ideally before they are discovered outside the organizations. In some cases, cybersecurity agents use ethical hacking tactics to break into their own networks from the outside and fix security holes before a malicious attack can occur.
Information Systems and Cybersecurity: Similarities and Differences
When comparing management information systems vs. cybersecurity, it is easy to find some crossover in skills and responsibilities. For instance, both types of professionals must ensure that IT systems are functioning properly and have up-to-date information on network status. Both positions also require strong analytical competencies to spot system deficiencies. Critical thinking and problem-solving skills are imperative in both roles to prevent security weaknesses from causing greater issues.
Those in MIS and cybersecurity also need ongoing study and education to maintain their technical knowledge and proficiency in the latest system technologies. Professionals in either field may be in charge of leading a team to oversee a company's network. Because of their versatile skill sets, both information systems managers and cybersecurity professionals may work in a wide range of industries, such as healthcare, finance, manufacturing, and retail.
The primary difference between the two professions largely comes down to how they apply their respective competencies in a business setting. An information systems manager focuses on a company's network efficiency, making sure that computerized systems and online resources are functioning properly. A cybersecurity specialist, on the other hand, primarily seeks out weaknesses and vulnerabilities within a network's security system.
Management Information Systems Careers
Students can pursue careers with many types of companies after earning a management information systems or a cybersecurity degree.
Computer Systems Analyst
Some graduates may pursue careers as systems analysts. These IT professionals use comparative analytical skills to determine the efficiency of a company's computer network and suggest changes to implement improved systematic processes. According to the U.S. Bureau of Labor Statistics (BLS), the median annual salary for a systems analyst with professional work experience was $90,920 in 2019.
Computer Network Architect
A degree in management information systems may also lead to a career as a computer network architect. This profession involves designing, creating, and building a company's data communication networks, which may include wide area networks (WANs), local area networks (LANs), and intranets. The BLS indicates the median annual pay for computer network architects was $112,690 in 2019.
Software Developer
Some graduates of MIS programs seek careers as software developers. This position typically oversees an interdisciplinary team of IT professionals who collaborate to design and create software products. The median annual pay for this position was $105,590 in 2019, according to the BLS.
Database Administrator
Additionally, some management information systems degree-holders pursue careers as database administrators. Professionals in this role typically use software to organize and store critical corporate data, including financial records and customer service metrics. The BLS states that the median annual pay for this position was $93,750 in 2019.
Skills Required
It should be noted that the above salaries for each career are not a guarantee of what can be expected. Several elements factor into an actual salary offer, such as experience level and the region where the work is conducted. Additionally, salaries listed are not typical for entry-level positions.
To excel in a information systems or a cybersecurity career, individuals should be able to demonstrate the following skills:
Critical thinking: Working with computers and IT necessitates problem-solving skills.
Business acumen: Professionals working in information systems careers should have an understanding of business as they work with different companies and organizations.
Communication: Displaying excellent verbal and written communication is important as individuals often do not fully understand elements of information systems.
Leadership: Information systems managers are often responsible for IT departments and should be able to effectively manage their employees.
Organization and decision-making: As they may oversee and make decisions for several different IT departments, businesses, or companies, it is important for information systems managers to be organized and make well-informed decisions.
Cybersecurity Careers
Students can pursue careers with many types of companies after earning a cybersecurity degree.
Information Security Analyst
Earning a degree in cybersecurity may lead to a career as an information security analyst. Professionals in this field identify vulnerabilities within corporate networks or systems. They are also charged with creating solutions to fix these weaknesses before a breach can occur. The BLS lists the 2019 median pay for this position at $99,730 per year, although this number can fluctuate based on experience and position location.
Furthermore, the BLS indicates a high demand for this field, projecting a 32% increase in the number of jobs between 2018 and 2028, a much higher growth rate compared to the average for all U.S. occupations.
Cryptographer
Cybersecurity degree-holders may also embark on careers as cryptographers. This profession combines mathematics, statistics, and computer science to create algorithms and various security systems to encrypt and encode data. Cryptographers often ply their craft in workplaces where the protection and transmission of data is extremely sensitive, such as in government agencies. According to compensation tracking website PayScale, the median salary for cryptography specialists is about $129,000 per year, as of May 2020.
Computer Forensics Experts
Those with cybersecurity degrees may also pursue careers as computer forensics experts. These individuals work in conjunction with law enforcement officials to obtain information from computers to aid in solving crimes. According to PayScale, the 2020 median salary for computer forensics experts with work experience is about $73,000 per year.
Skills Required
As with information systems management careers, the above salaries are the median annual salaries for professionals in cybersecurity careers across the U.S. and are not universal salaries. Experience, geographic location, skills, and education all contribute to what an individual can earn.
The following skills are important for professionals in cybersecurity careers:
Analytical: Professionals working in cybersecurity should be able to study and assess computer systems and networks for risks.
Ingenuity: Since technology is advancing and cyber attacks are becoming more common, cybersecurity professionals need to come up with clever and innovative ways to protect computer systems and networks.
Problem-solving and detail-oriented: Cybersecurity professionals should be able to identify small problems as well as find and mitigate potential risks in hardware or software.
Degrees and Certifications
Most cybersecurity and information management positions require a bachelor's degree in a computer science-related field, although some advanced positions may require a master's degree. In some cases, employers may also require professional certifications, which indicate highly developed skills in the field. Some of these certifications, such as the Certified Information Systems Security Professional (CISSP) certificate, cover general competencies, while others drill down into more specific aspects of the computer science field, such as systems auditing or penetration testing.
Different certifications may be necessary for information systems versus cybersecurity careers. Some certifications may have certain prerequisites in place before a certification exam can be taken. The most common prerequisite is years of experience, which can differ based on the certification. Additionally, certifications such as Certified Ethical Hacker may require ongoing education and periodic renewals due to the industry's ever-evolving nature.
Two Careers, One Goal
If you welcome the challenge of keeping corporate computer systems and key data secure and operating at peak efficiency, earning an online bachelor's in cybersecurity degree or an online bachelor's degree in management information systems could be a key step toward a career in these high-growth fields. Explore whether an information systems or a cybersecurity career is right for you by exploring the programs at Maryville University.
Recommended Reading
Projected Tech: A Look at the Future of Software Engineering
Sources
Bizfluent, "Purpose of a Management Information System"
CSO, "What Is Cybersecurity? Types, Careers, Salary and Certification"
Maryville University, Careers in Cybersecurity for Bachelor's Degree Graduates
Maryville University, Management Information Systems Careers
PayScale, Average Forensic Computer Analyst Salary
PayScale, Salary for Skill: Cryptography
U.S. Bureau of Labor Statistics, Computer and Information Systems Managers
U.S. Bureau of Labor Statistics, Computer Network Architects
U.S. Bureau of Labor Statistics, Computer Systems Analysts
U.S. Bureau of Labor Statistics, Database Administrators
U.S. Bureau of Labor Statistics, Information Security Analysts
U.S. Bureau of Labor Statistics, Mathematicians and Statisticians
Be Brave
Bring us your ambition and we'll guide you along a personalized path to a quality education that's designed to change your life.