How to Become a Medical Technologist
How to Become a Medical Technologist
How to Become a Medical Technologist
Medical technologists (MTs) play a crucial role in helping doctors and nurse practitioners diagnose, treat, and care for patients. Also referred to as clinical laboratory scientists, medical laboratory scientists, and medical laboratory technologists, individuals who assume this career are charged with analyzing tissue, cell, and body fluid (blood and urine) samples.
Individuals who are researching how to become a medical technologist should know job growth within the field is projected to be faster than that expected for the job market as a whole. This trend is tied to several factors. Among these are the increasing health issues of the aging U.S. population, and the COVID-19 pandemic. Both have led to an increase in demand for diagnostic testing.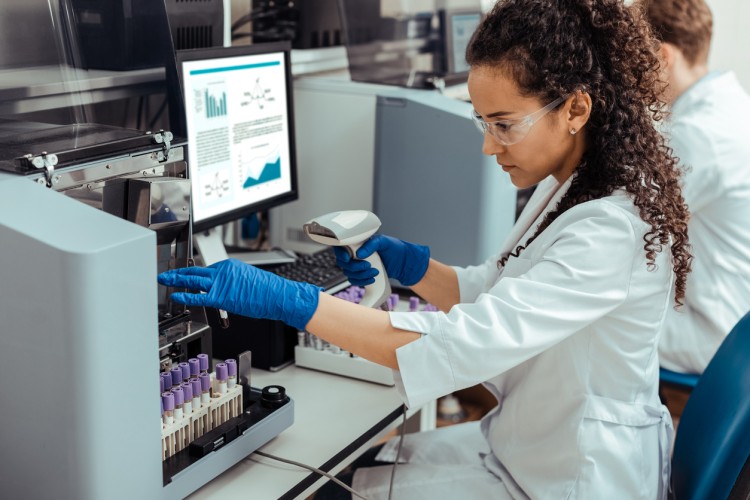 Students who are interested in pursuing this career path must start by developing the knowledge, skills, and proficiencies to be successful. Completing an education, such as an online bachelor's degree in general studies with a concentration in healthcare, can help prepare graduates for jobs in this field.
What does a medical technologist do?
Medical technologists contribute to the prevention, diagnosis, and treatment of disease by collecting samples and performing important lab tests. Tested materials may include sputum (phlegm), peritoneal fluid, blood, urine, stool samples, tissue, cells, and other substances. Sample job duties may include the following.
Performing routine and complex tests on tissue, blood, and body fluids
Searching for the presence of bacteria, microorganisms, and/or parasites within a specimen
Verifying test results match with the correct specimen
Working with patient data
Collaborating with physicians and lab supervisors
Operating and maintaining laboratory equipment, such as microscopes, cell counters, and computerized instruments
Performing quality control to ensure test results are accurate and delivered in a timely manner
Medical technologists work in a variety of environments, such as hospitals, medical and diagnostic laboratories, clinics, and doctor's offices. Most professionals work full time in facilities that operate 24 hours a day, 365 days a year. As such, some MTs work nights, weekends, or overnight hours. Professionals in the field may be called by different titles, depending on their area of specialization. Examples include blood bank technologists, clinical chemistry technologists, and cytotechnologists, among others.
Steps to become a medical technologist
Becoming a medical technologist typically requires obtaining an education in a healthcare field and may also require gaining licensure or certification.
Earn a degree
The first step in how to become a medical technologist is to earn a degree. The most important thing is to choose an undergraduate degree program that meets the career path's laboratory and coursework requirements. Required coursework often includes classes that explore the practical and theoretical aspects of statistics and laboratory sciences, such as chemistry and biology. However, students who are interested in pursuing state licensure or professional certification may need to complete additional coursework.
Although some medical technologists possess a bachelor's degree in medical laboratory technology from an accredited program or educational institution, others start on the path towards a career as an MT by completing a 4-year degree in a related field, such as an online bachelor's degree in general studies with a concentration in healthcare.
Gain licensure or certification
Depending on the state in which an applicant wishes to work, aspiring medical technologists may need to pass a licensing exam. The American Society for Clinical Pathology (ASCP) reports the following 12 states (and the territory of Puerto Rico) require MTs to be licensed.
California
Florida
Georgia
Hawaii
Louisiana
Montana
Nevada
New York
North Dakota
Rhode Island
Tennessee
West Virginia
To become licensed, applicants must pass a licensing exam. To qualify for licensure, aspiring MTs may need to have completed a bachelor's degree in biology, chemistry, medical technology, or physical science, or possess a degree that meets coursework and laboratory requirements. Some states also require certification, and many employers prefer to hire certified workers.
Individuals looking to obtain required or voluntary certification can do so through organizations such as the ASCP or the American Medical Technologists Association. Certification not only demonstrates an MT has passed a competency exam, it can improve earnings potential and increase opportunities for career advancement.
Fundamental skills for medical technologists
Aspiring MTs will be well served by developing several core skills and competencies. Examples of these fundamental skills include the following:
Analytical thinking: Medical technologists are involved in various lab-based investigations, and in many instances, they're asked to interpret their findings to colleagues and medical personnel. Individuals who possess strong analytical skills will be better positioned to provide precise, reliable data to support their findings.
Time management: MTs often need to efficiently analyze large volumes of specimens. Those with refined time management skills will be more likely to meet deadlines and deliver test results in a timely manner.
Organization and communication: Individuals in this role must be able to ensure that test results are paired with the correct specimen, and they must be able to communicate their findings with colleagues and medical staff. Organizational and communication skills can help MTs excel at these tasks.
Attention to detail: To succeed in the field, MTs must pay meticulous attention to detail. Precision in diagnostics and analysis is a key component of quality control.
Medical technologist salaries
The U.S. Bureau of Labor Statistics (BLS) classifies medical technologists under the blanket category of clinical laboratory technologists and technicians. As of May 2019, the BLS reports the median annual salary for these professionals was $53,120, ranging from $30,920 to more than $81,530 for the lowest 10% and top 10% of earners.
Salaries can vary widely based on several factors, such as an applicant's experience level, whether they've completed an advanced education, the type of facility where they're employed, and the city and state in which the position is located.
Employment outlook for medical technologists
The BLS reports the employment of clinical laboratory technologists and technicians, including MTs, is projected to grow by 7% between 2019 and 2029, faster than the average for all other occupations. This is largely driven by a variety of factors. For example, the aging of the U.S. population is expected to create a higher need to diagnose cancer, diabetes, and other conditions. In addition, the COVID-19 pandemic has created an unprecedented demand for diagnostic testing.
Your path toward becoming a medical technologist starts at Maryville University
Students who are interested in becoming medical technologists should start by developing the proper knowledge and proficiencies. Maryville University's online Bachelor of Arts in General Studies with a Concentration in Healthcare has been designed to help prepare graduates with the in-demand skills to pursue jobs in this expanding field.
Are you ready to take the first brave step toward a career as an MT? Discover how Maryville University can prepare you for the job you want.
Recommended Reading
The Future of Public Health: Skills for Helping Communities Thrive
12 Common Public Health Issues and How They Can Be Prevented
Sources
American Medical Technologist, "Medical Technologist"
American Society of Clinical Pathology, "Board of Certification"
Clinical Lab Manager, "How to Become a Medical Laboratory Scientist or Technician"
Houston Chronicle, "States that Require a License to Work in Medical Technology"
McKinsey, "Reimagining MedTech for a COVID-19 world"
The American Society for Clinical Laboratory Science, "Becoming a Clinical Laboratory Professional"
U.S. Bureau of Labor Statistics, "Occupational Outlook Handbook, Clinical Laboratory Technologists and Technicians"
U.S. Bureau of Labor Statistics, "Occupational Employment Statistics, Clinical Laboratory Technologists and Technicians"
Very Well Health, "Medical Technologist: Expertise, Specialties, and Training"
Be Brave
Bring us your ambition and we'll guide you along a personalized path to a quality education that's designed to change your life.