Healthcare Careers: How to Become a Medical Sales Representative
Healthcare Careers: How to Become a Medical Sales Representative
Healthcare Careers: How to Become a Medical Sales Representative
Healthcare plays a huge role in both individual lives and the U.S. economy as a whole, and the sector's importance doesn't appear to be diminishing anytime soon. In fact, it is likely to expand, as an aging population and increase in chronic disease boost the demand for healthcare and the tools required to provide it.
Medical sales representatives play an important role in ensuring healthcare providers have the equipment to address the growing need for health services. Sales of medical equipment or pharmaceuticals is a popular career choice, especially for those who are looking to combine an interest in sales with a passion for healthcare and biotechnology.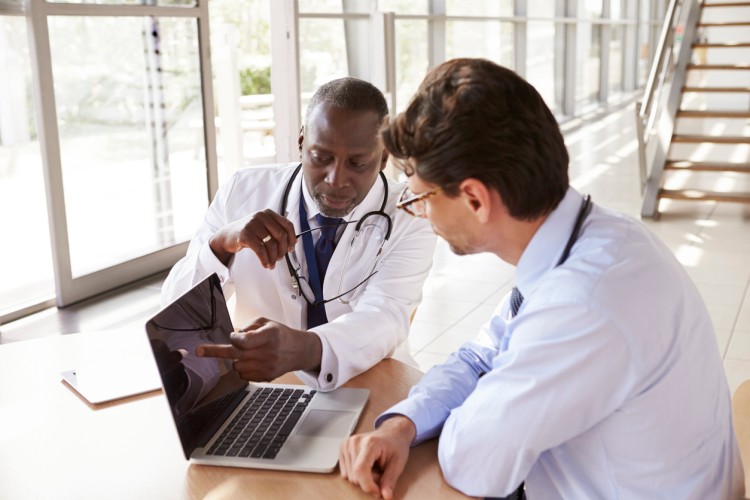 In considering how to become a medical sales rep, a good place to start is to explore a postsecondary program, such as the Maryville University online Bachelor of Arts in General Studies with a Concentration in Healthcare.
What does a medical sales rep do?
The three industries represented in medical sales — sales, healthcare, and biotechnology — are strong fields in their own right. Medical sales representatives call on skills from these areas to help support a large portion of the U.S. economy.
Medical supply chain support
The Brookings Institution, a nonprofit public policy organization, has called healthcare "the most consequential part of the United States economy." The following statistics show why:
The healthcare sector employs 11% of workers.
Healthcare costs equal 8% of consumer expenditures.
Healthcare comprises 24% of government spending.
Medical sales reps play a vital role in the healthcare industry's supply chain. They sell medical supplies, pharmaceuticals, and other products and services such as software or management services to support healthcare professionals.
Customer relationship management
Medical sales reps often work within an assigned territory, interacting with customers at physicians' offices, medical centers, hospitals, conferences, and beyond. They're responsible for the following tasks in cultivating customer relationships:
Identifying potential customers and customers' needs
Marketing healthcare products and services
Maintaining client relationships
Equipment demonstrations
Developing relationships with customers helps medical sales reps market products and services according to each customer's changing needs. Medical sales reps must learn about and stay abreast of product features, industry trends, medical technology, and healthcare regulations. They also must have the ability to explain the features of devices and pharmaceuticals, and what sets their products and services apart from the competition.
This industry and product knowledge also is helpful in working to resolve any problems the customer may have with a product.
Sales plan development
Medical sales reps create and implement sales plans, document customer interactions, and track sales outcomes. They must ensure they're promoting products and services in a way that's consistent with their company's marketing messaging and ethical commitment.
Frequent travel
Regular interaction with current and potential clients often requires frequent travel, although the COVID-19 pandemic has led to fewer in-person meetings. This change may have the potential to shift travel requirements permanently.
Though they often work from home offices, medical sales reps have myriad opportunities to be away from their desks. They usually travel from facility to facility in their territory and can be on their feet for long periods of time as they interact with clients.
Medical sales professionals have traditionally enjoyed flexibility in where and when they work. Increasingly, they're conducting that work — including client communications — through virtual meeting platforms and digital sales tools.
How to become a medical sales rep
Medical sales reps generally have college degrees and a deep understanding of healthcare-related topics. And, as with most sales jobs, they enjoy interacting with others — and have the strong communication skills to excel at doing so.
Education and training
Earning a bachelor's degree is often the first step in how to become a medical sales rep. That degree can be in a sales or healthcare-related field, such as a bachelor's degree with a concentration in healthcare. Continuing on to earn an advanced degree can be an advantage, since the profession requires high-level interaction with physicians, clinical professionals, and senior executives.
Prior sales experience can be helpful in pursuing a role as a medical sales rep. Once on the job, medical sales reps typically receive intensive training, often with an experienced mentor. In this training, new medical sales reps learn the following:
Successful sales techniques
Features and uses for the products and services they're selling
Medical and insurance regulations
Recommended skills
Successful medical sales reps must have a knack for networking and establishing relationships with potential and current clients. Those seeking to enter the field and advance in medical sales should demonstrate the following traits:
Finely tuned communication skills
Confidence
Initiative and drive to succeed
Dedication to customer service
Medical sales rep salaries
The May 2019 median annual salary for wholesale and manufacturing sales reps for technical and scientific products was $81,020, according to the U.S. Bureau of Labor Statistics (BLS). Salaries in the field vary, however. The BLS reports the lowest 10% of earners in May 2019 had annual salaries of less than $41,080, while the highest 10% earned more than $158,580.
Pay varies according to employer and job characteristics such as the following:
Experience
Products and services sold
Territory
Education
Commission and bonuses
Pay from commission usually is based on a percentage of sales, and bonuses often reflect individual or team performance. Successful medical sales reps and teams can increase their base salaries significantly by receiving commissions or bonuses. These performance-based incentives can also be a double-edged sword, however, if a sales rep's performance lags.
Employment outlook for medical sales reps
Employment of wholesale and manufacturing sales reps is projected to grow 2% from 2019 to 2029, according to the BLS, with the employment of reps selling technical and scientific products growing 4% over the period. The BLS indicates an increased total volume of sales and new products and technologies will lead to more demand for sales reps. Employment growth for sales representatives working at independent sales agencies is expected to be strong.
The BLS also provides job outlook data for pharmaceutical and medicine manufacturing sales managers, with employment in those jobs predicted to grow 5.6% between 2019 and 2029. A 2019 report from the IQVIA Institute for Human Data Science projects that global pharmaceutical spending will grow 3%-6% annually between 2018 and 2023, rising from $1.2 trillion to $1.5 trillion during that period. New product launches are expected to spur U.S. sales growth by 4%-7% annually.
Join the dynamic healthcare field as a medical sales representative
Passionate about sales and healthcare? Ready to make an impact on the quality of our nation's health? Explore how to become a medical sales representative with the Maryville University online Bachelor of Arts in General Studies with a Concentration in Healthcare degree program.
With flexible courses and supportive faculty, Maryville University can help you develop the skills to be a top candidate for medical sales rep and other non-clinical healthcare roles.
Recommended Reading
12 Common Public Health Issues and How They Can Be Prevented
The Future of Healthcare: Trends, Technology & New Skills for Success
How to Become a Community Health Representative
Sources
Brookings, "A Dozen Facts About the Economics of the U.S. Health-Care System"
Deloitte, "The Future of Aging: What Impact Might the Expansion of Health Span Have on Society?"
Fierce Pharma, "Grounded by the Pandemic, Pharma Reps Turn to Digital Tools to Reach Docs"
FlexJobs, "How to Get Into Medical Sales: Career Path, Salary, and Jobs"
IQVIA Institute, "The Global Use of Medicine in 2019 and Outlook to 2023″
PayScale.com, "Average Sales Representative, Pharmaceutical Salary"
PayScale.com, "Medical Device Sales Representative Salary"
Perforce, "5 Medical Device Trends That Will Help (or Hurt) Growth"
U.S. Bureau of Labor Statistics, "Occupational Outlook Handbook, Wholesale and Manufacturing Sales Representatives"
U.S. Bureau of Labor Statistics, "Employment Projections, National Employment Matrix Sales Managers"
Be Brave
Bring us your ambition and we'll guide you along a personalized path to a quality education that's designed to change your life.