Human Resources (HR) Metrics: How to Measure and Improve Organizations
Human resources (HR) teams oversee many of a company's administrative functions and play a vital role in the success of the business's plans and objectives. These teams recruit, train, and retain staff, measuring and evaluating them against metrics that align with the strategic goals of the organization.
Because human capital is one of an organization's largest expenses and contributors to its success, businesses also must evaluate human resources against their own set of metrics to ensure optimal effectiveness. To prepare aspiring organizational leaders for gauging the success of HR programs, Master of Business Administration (MBA) programs include a focus on human resources metrics.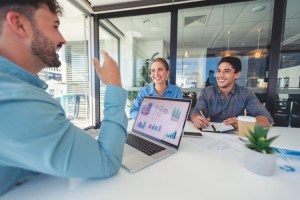 What Are HR Metrics?
HR metrics are what help a business track and evaluate human resources operations. From measuring the price of hiring employees to determining the success of diversity and inclusion efforts, these quantifiable metrics offer a clear picture of the impacts and costs of human resources work.
How to Select Human Resources Metrics
Some measurements provide more insight into the health of an organization than others, depending on the strategies and goals of the organization. Answers to the following questions can help HR teams select and gather metrics in a way that helps them improve their work and align their efforts to corporate goals:
How will HR help the business achieve its goals?
What formulas does the organization follow in tracking progress toward goals?
Which data will the metrics include, and how will HR collect that data?
How often will HR report its metrics?
In what format will HR present its metrics?
Why HR Metrics Are Important
For MBA students concentrating on human resources management, measurements of HR success are a critical consideration. There are many metrics that human resources departments can use to measure their effectiveness. These metrics can show the effectiveness of efforts in areas such as:
Payroll
Compensation
Benefits
Engagement
Retention
Training
Benefits of Measuring HR Performance
Gauging the success of HR processes and programs has some important benefits. Tracking human resources metrics can help in the following work:
Improving plans for staffing
Predicting the outcome of HR programs
Ensuring compliance with laws and regulations
Implementing programs that align with corporate goals
Human Resources Metrics Examples
Some of the most helpful and common human resources metrics can indicate whether an organization is healthy. These figures can serve as a baseline to evaluate the success of future efforts, or they can guide HR teams in developing or adjusting their current programs.
10 Metrics of HR Success
From measuring costs to tracking retention, some key human resources metrics examples can be critical to HR — and corporate — performance. These examples include the following.
1. Absence Rate
Employees' absence or absenteeism rate is a measure of their job satisfaction. This figure is the average number of days employees are absent over a certain period. To calculate this rate, divide the number of missed days by the number of workdays scheduled. To find a percentage, multiply this amount by 100.
2. Cost Per Hire
This figure reveals the average cost of hiring a new employee to help in establishing a recruiting budget. To determine this metric, add internal and external hiring costs — fees for recruitment ads, background checks, and training, for example — and divide that figure by the total number of employees the company hired in a given period.
3. Pay Equity
This measure helps ensure employee compensation does not discriminate based on factors such as gender or race. Pay equity metrics can help in comparing salaries based on variables such as education, seniority, or performance to ensure men and women, for example, are receiving comparable pay. Start by subtracting the lower wage from the higher wage, dividing this number by the higher wage, and then multiplying that total by 100.
4. Revenue Per Employee
To show the amount of money an employee earns for an organization, calculate revenue per employee. This metric equals total revenue divided by the total number of employees. A higher number is an indicator of greater productivity.
5. Satisfaction
This number can assist with employee retention efforts. Employee satisfaction reflects the number of employees who would recommend a company as a good workplace compared with those who would not.
6. Tenure
Employee tenure refers to the amount of time an employee has worked for an organization or the average amount of time that all employees have been there. Short tenure can indicate a need to assess employee satisfaction initiatives, and long tenure can signal the need to establish employee succession plans. If determining this metric for multiple employees, determine the sum of months those employees have worked divided by the number of employees.
7. Time Since Last Promotion
Another human resources metric example is how much time has passed since an employee's last promotion, or the average time between promotions for all employees. This metric helps HR leaders track employee satisfaction and design retention programs.
8. Time to Fill
The amount of time it takes to fill a position reflects an HR team's effectiveness in recruiting talent. A common method for calculating this metric is to total the number of workdays from the request to post a position until the new employee accepts that job.
9. Turnover
Employee turnover is the total number of workers who leave an organization during a certain time. It includes those who exit voluntarily and involuntarily. HR teams measure this metric to gauge employee satisfaction and inform training and retention efforts.
10. Turnover Costs
Turnover costs are those associated with replacing an employee, which help show the cost impact of attrition. These include the cost of items such as unemployment compensation, advertising for new employees, and orientation and training for new hires.
Measure the HR Metrics That Matter Most
Successful business operations require effective human resources operations. Human resources metrics help organizations stay on track with initiatives that promote a healthy work environment and advance corporate goals. If you're ready to learn about the HR metrics that can help you strengthen your business skills, explore Maryville's University's online Master of Business Administration program.
The program teaches the knowledge and skills that can help you tackle the complex issues of today's workplace, and it offers a Human Resources Management concentration.
Maryville's online Master of Business Administration provides this high-quality education with the convenience and flexibility of an online program. Discover how it can help you achieve your career goals.
Recommended Reading
How to Reenter the Workforce: Moms Going Back to Work
Brand Engagement Guide for Your Business
MSF vs. MBA: Differences in Degrees
Sources
Achievers, "24 HR Metrics to Track and Measure"
Advocates for Human Potential, "How to Determine Your Retention, Turnover, and Vacancy Rates"
BambooHR, "The Key HR Metrics You Should Be Measuring"
Fit Small Business, "13 Important HR Metrics & How to Track Them"
HCMI, "Time to Fill: What It Is, Why Use It and How to Calculate It"
Houston Chronicle, "HR Metrics and Their Impact on Business"
Mighty Recruiter, Human Resource Metrics
Oracle, "What Is Employee Turnover & Why It Matters for Your Business"
Society for Human Resource Management, "How Do I Determine Which HR Metrics to Measure and Report?"