Going Back to School for Accounting: Advance in Your Career
Accounting is an important aspect of running a business, big or small. It is often considered the language of business, providing a measure of how well a company is doing. Both for-profit companies and nonprofit organizations can benefit from accountants to help make their operations more cost-effective, manage their budgets, and provide financial reporting.
If you're thinking about going back to school for accounting, you're setting yourself up for potential success in a variety of industries. An online master's in accounting can provide you with the educational foundation to develop your career in many different directions.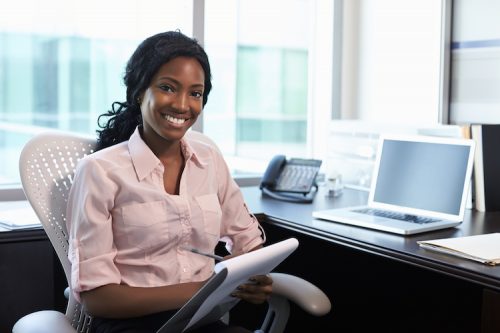 Why go back to school for accounting?
The best place to start when considering a career in accounting is to examine the reasons why others have chosen and succeeded in this profession. Professionals choose to earn a master's degree in accounting if they're looking to advance in the field, increase their salary potential, or enhance their skills. As outlined in the next section, there are several major benefits to choosing this career path. In addition, if you are considering going back to school for accounting, you should be aware of the skills required for success in this field.
What are the benefits of an accounting degree?
The global demand for accountants is growing, providing many career opportunities for accounting program graduates. Here are some of the benefits of an accounting degree.
Job Prospects
Whatever the state of the economy, there will always be a demand for accountants. Companies need accountants to analyze their financial performance and develop strategic financial plans that will help them in good times and bad. Individuals also rely on accountants for tax preparation.
Opportunities to Specialize
An accounting degree provides prospects to develop your career and specialize in many different branches of accounting, including investment, tax management, financial or public accounting, or auditing. By becoming an expert in your field of specialization, you may also be able to demand a much higher salary.
Stimulating Work
Accountants are heavily involved in the day-to-day operations of a business. Each day will bring new challenges.
Stability
Accounting can provide a stable career, with many opportunities to improve your education or explore other professional avenues.
Types of accounting degrees
If you're considering going back to school for accounting, you have a variety of degree options available to you. If you are looking to secure an entry-level position, you should consider enrolling in an associate or a bachelor's degree program. Postgraduate degrees are available for qualifying graduates who want to advance their careers. Here is a brief overview of the different accounting degrees.
Associate degree in accounting
An associate degree in accounting is equivalent to a certificate in accounting and does not carry the same weight as a bachelor's degree. It can be completed in two years and prepares you for an entry-level position as a bookkeeper or junior accountant for a small business.
A typical associate degree program includes courses in cost accounting, payroll, accounts payable/receivable, financial reporting, business administration, and business management.
Bachelor's degree in accounting
Graduates of this degree program can gain entry-level or mid-level employment as an accountant. This program takes four years of study to complete, and different types of undergraduate accounting degrees are available:
Master's degree in accounting
Graduates with a bachelor's degree in accounting are eligible for this degree program, which takes an additional year to complete. This qualification can improve your chances for promotion and career advancement to management or senior management positions. Individuals who did not major in accounting for their bachelor's degree can enroll in a master's degree bridge program, which takes about two years to complete.
Master's degree students can concentrate in a specific area of accounting, such as financial accounting, auditing, or taxation. Coursework includes accounting principles, budgeting, business economics, financial reporting, cost analysis, and financial management. Most master's in accounting programs qualify you to take exams for professional certification, including the Certified Public Accountant (CPA) and Certified Management Accountant (CMA) .
In fact, Maryville's online Master of Science in Accounting program integrates Becker CPA exam prep courses into its curriculum, one of the few online programs to do so. These courses — which include Advanced Financial Accounting and Reporting, Advanced Business Environment and Concepts, and Advanced Accounting Regulation — provide a real benefit. They can save you valuable study time and up to $600 as compared to enrollment in exam prep courses outside of the degree program.
Doctorate in accounting.
Only graduates of a master's degree program can enroll in a program for a PhD in accounting. A typical program includes courses in economics, business accounting, and accounting research. In addition to passing exams in these subjects, you are required to submit a thesis. Graduates of this program can apply for senior or executive management positions.
Careers in accounting
Working as an accountant presents many challenges and demands excellent performance. It can also be highly rewarding from a career perspective. In addition, if you're thinking of going back to school for accounting, the salary can make it worthwhile.
You will need a certain amount of training and certification, however, before you can become a licensed accountant. To become certified in your special area of accounting, you need to pass an exam as a Certified Public Accountant (CPA), Certified Internal Auditor (CIA), or Certified Management Accountant (CMA). To be eligible for these exams, you need to meet the degree requirements and have the mandatory amount of practical experience in the accounting field.
Career opportunities with an accounting degree
After graduation and certification as an accountant, you may have the option of applying for a wide range of positions. Details about median salary (May 2019) and job growth (2019-2029) for the following careers come from the U.S. Bureau of Labor Statistics (BLS), with ranking data from U.S. News & World Report. Salaries vary depending on location, industry, education, experience, and other factors.
Accountant and Auditor: Median salary: $71,550. Job growth: 4%. Best Business Jobs rank: No. 13.
Budget Analyst: Median salary: $76,540. Job growth: 3%.
Financial Analyst: Median salary: $81,590. Job growth: 5%. Best Business Jobs rank: No.18.
Financial Adviser: Median salary: $87,850. Job growth: 4%. Best Business Jobs rank: No. 4.
Chief Financial Officer: Median salary: $104,640 (top executives, including CFO). Job growth: 4%.
Financial Manager: Median salary: $129,890. Job growth: 15%. Best Business Jobs rank: No. 3.
Skills required for a career in accounting
A good head for numbers and a basic understanding of algebra and calculus are vital for accountants. There are other skills, however, that you will need to ensure success if you're going back to school for accounting:
Time Management
Accountants are constantly working to meet deadlines. On top of that, priorities change all the time, and you must be able to manage and re-prioritize them with each new day. Time management goes hand in hand with task management.
Task Management
You need strong organizational abilities to keep track of the many responsibilities you are required to handle. This is essential to ensure no task is missed and that you can meet deadlines.
Attention to Detail
Accountants are expected to be accurate in everything they do, which demands that you pay attention to detail. By developing this skill, you will be able to detect discrepancies and identify potential problems. This will enable you to be proactive and take steps to prevent a potential calamity.
Adaptability
Accounting is a dynamic profession, with things changing constantly. This requires you to be adaptable and able to manage every curveball that comes your way.
Communication
A lot of your work as an accountant involves reporting, which requires good oral and written communication skills. You may be included in management meetings, where you will be expected to communicate effectively with peers and executives.
Resilience
The accounting profession demands hard work, and you may be expected to put in long hours when necessary to meet deadlines. You need to be resilient enough to positively handle these challenges.
Honesty and Integrity
It goes without saying that openness is highly valued in the accounting profession. Accountants are expected to adhere to the highest ethical standards. Your conduct can have a huge impact on all stakeholders in a business, including shareholders, suppliers, and customers.
Leadership
You may lead an accounting team, which requires good management and leadership skills to get the job done efficiently and on time. This often involves the ability to delegate work effectively.
Business Knowledge
As an accountant, you'll require a broad understanding of economics, tax, and finance. An accounting degree program teaches you how businesses operate and about the laws governing accounting practice. It also provides you with a solid foundation to pursue a career in senior or executive management, or to branch out on your own as a financial consultant.
Scholarships and grants for accounting students
If you are looking to go back to school for accounting and require financial aid, there are many opportunities out there. You can search the internet for help, or approach someone in the financial aid office of the university or college where you intend to study.
Following is a sample list of scholarships and scholarship organizations.
Tips to Successfully Go Back to School for an Accounting Degree
It may be that you haven't been enrolled in college for several years when you decide to return to school. Here are some tips that can help you prepare for a successful transition back into the college environment and reap the full benefits of an accounting degree:
Choose a Program That Works for You
You're probably not planning on quitting your current job to pursue a master's degree. Due to a busy work schedule, family obligations, and other demands, enrolling in a full-time in-person program might not be the best fit for you. Looking into programs that offer fully online or hybrid options might be the best thing. Online and independent learning courses can help you achieve the credentials you desire at your own pace.
Brush Up on Technology Skills
Even if you're actively working in the field, you may need to brush up on your knowledge of some accounting technology. For instance, perhaps you're not familiar with some of the latest accounting programs or software. Additionally, it's important to enhance your technology skills if you choose to pursue an online degree. Most online programs will display your coursework and grades through online learning platforms, such as Blackboard or Canvas. Learning how these platforms work is essential.
Build a Network of Support
Going back to school for accounting can yield a variety of benefits. However, some days may be more difficult than others. It's important to build a network of support, leaning on your family, friends, co-workers, and fellow accounting students when you're struggling with your course load. Learning how to balance school, life, and work can be difficult. Having a support system can make it easier on you.
Accounting Industry Trends
As you're preparing to embark on your advanced accounting journey, it can be helpful to learn more about current accounting industry trends. Here are a few:
Cloud Software
Using cloud software in business has become increasingly important in recent years. Independent accountants, as well as teams of accountants, rely on accounting cloud software for storing and organizing information.
Artificial Intelligence (AI)
Technology is becoming increasingly more advanced, and AI technologies have been able to make several accounting processes easier and simpler. Some of those processes include:
Fraud detection
Document analysis
Accounts payable
Data entry
Accounts receivable
However, even with the widespread use of AI technology in business, the personal touch of a real accountant can't be duplicated. Accountants have soft skills and storytelling abilities that can help them connect with customers in a way that computers can't. While AI technology has a positive impact on accounting environments, accountants don't need to worry about robots taking over their jobs.
Remote Work
Even before COVID-19 work-from-home orders, jobs for accountants started shifting toward more remote environments. Becoming familiar with newer technology and software is important as remote workplaces are relying more on technological advancements and improvements. Also, communicating through online platforms is important for accountants who are working remotely and are unable to run ideas by coworkers in person.
Take That First Step Toward an Advanced Accounting Career
You can't go wrong by going back to school for accounting. The accounting profession can offer many benefits, including high pay and career stability, as well as a platform to launch your career in many different directions if that is your goal.
Dare to take that first step. Maryville University's online Master of Science in Accounting offers a flexible, unique program that enables both accounting and non-accounting professionals to develop the skills and expertise for success today and in the future.
Learn more about how you can start the process of going back to school for accounting for a bachelor's or master's degree — then contact an enrollment advisor today.
Recommended Reading
Student Loan and Tax Information on Going Back to School
Frequently Asked Questions by Adults Continuing Their Education
Scholarships and Grants for Adults Going Back to College
Sources
Government Finance Officers Association, 2020 Scholarship Winners
Houston Chronicle, "Traits, Skills, and Personal Characteristics for an Accountant"
The Outsourced Accountant, "Top 10 Accounting Trends in 2020"
U.S. Bureau of Labor Statistics, Accountants and Auditors
U.S. Bureau of Labor Statistics, Budget Analysts
U.S. Bureau of Labor Statistics, Financial Analysts
U.S. Bureau of Labor Statistics, Financial Managers
U.S. Bureau of Labor Statistics, Personal Financial Advisors
U.S. Bureau of Labor Statistics, Top Executives
U.S. News & World Report, Accountant Overview
U.S. News & World Report, Financial Advisor Overview
U.S. News & World Report, Financial Analyst Overview