Future Trends in Business: What Tomorrow's Leaders Should Know
Staying up to date on industry trends is a cornerstone of strong business administration. Monitoring trends enables businesses to stay competitive, as a 2022 report in Forbes noted, including being able to:
Recognize new consumer behavior
Remain apprised of what competitors are doing
Comply with changing regulatory requirements
Future trends in business will shape how technology and business intersect, influence the marketing landscape for all types of enterprises, and set the stage for the introduction of new products and services that consumers will demand. As future business leaders, individuals who are enrolled in a bachelor's in business administration program can benefit from learning about the business trends that will present opportunities and challenges that they will need to navigate.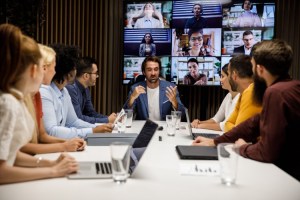 Current Trends in Business
Many of the current trends in business are directly related to the global market disruptions that occurred because of the COVID-19 pandemic. As the examples below demonstrate, businesses that remain agile and responsive to current trends could have an advantage in achieving growth and meeting the evolving needs of their customers.
The Challenge of Hiring and Retaining Employees
Nearly half of the country's business leaders reported that their top challenge in achieving growth was finding qualified candidates to hire and retaining current employees, according to a 2022 survey by professional services firm PwC. The current workforce is smaller than it was prior to the COVID-19 pandemic. A smaller workforce, coupled with low unemployment rates, has resulted in businesses struggling to fill vacant positions.
In response, businesses are offering higher salaries, expanded benefits, and more opportunities for career advancement in an attempt to attract employees. They also are providing employees with greater flexibility in terms of work schedules, as well as hybrid work arrangements that enable more employees to work remotely.
The Rebalancing of Supply Chains
It probably comes as no surprise that businesses are adapting to a rebalancing of their supply chains. The COVID-19 pandemic exposed weaknesses in traditional supply chains that businesses continue to struggle with, according to a 2021 report by the World Economic Forum. As a result, businesses are:
Focusing more of their efforts on addressing supply chain disruptions and expanding and diversifying their base of suppliers
Using data analytics to become more aware of potential disruptions at lower levels of their supply chains (levels that they formerly did not analyze closely)
Sustainability
As they continue to rebound from the pandemic, consumers are placing more emphasis on sustainability. Consumers are increasingly interested in supporting businesses that place an emphasis on protecting the environment, according to a 2022 Forbes report. Consumers are becoming more aware of businesses that pay attention to their environmental impact, not just as it relates to the goods and services they offer but throughout their supply chains.
As a result of greater consumer interest in sustainability, more businesses are monitoring their carbon footprints, introducing eco-friendly product packaging, and strengthening their efforts to reduce the effects of waste management on the environment. Businesses also are becoming more transparent about their overall efforts to achieve sustainability.
Future Trends in Business
Staying abreast of future trends in business can enable organizations to prepare for a host of potential issues and capitalize on opportunities on the horizon. As the examples below illustrate, businesses could face a range of trends in the future.
Technological Innovation
The integration of the virtual and physical worlds will enable businesses to enter new markets for virtual goods, such as digital currencies and virtual prototypes, and virtual services, for example, onboarding new employees through a virtual process, as noted in a 2022 report from the World Economic Forum on trends that will shape the future of business.
Taking advantage of artificial intelligence and robotics also will allow businesses to improve the quality of their products and reduce their production costs. As just one example in which businesses could harness the power of technology, the World Economic Forum's report cited technological advances in food production that enable businesses to grow food in controlled laboratories, rather than through traditional farming techniques.
Consolidations, Acquisitions, and Mergers
Reduced profit margins during the COVID-19 pandemic will lead to an increase in future business consolidations, acquisitions, and mergers, according to consulting firm Kearney. This will result in larger businesses that possess greater market share and have stronger control over their markets.
Industries most likely to ride the wave of consolidation include relatively strong industries, such as digital firms, grocers, and e-commerce companies, and industries that emerged from the pandemic in a relatively weaker position, such as tourism and travel.
Evolving Organizational Structures
Future businesses will need to change their organizational structures to remain competitive. Traditional hierarchical organizational structures no longer align with the current business environment, according to a 2021 report from consulting firm McKinsey & Company.
Businesses that flatten their organizational structures and forge a strong identity that meets employees' need for purpose and cohesion will be able to boost creativity and accountability. Reinventing their organizational structures also will enable businesses to develop a distinct culture that will be more attractive to new employees.
Tomorrow's Leaders and the Future of Business
The world of business is never stagnant and developing a solid understanding of the factors that will influence the future of business is critical to steering an organization toward success. Aspiring business leaders can benefit from remaining well informed about future business trends. Knowing about these trends can present organizations with new opportunities and help them gain a competitive advantage.
Individuals who have an interest in business administration should explore Maryville University's online bachelor's in business administration degree to learn how the program can help them pursue their career ambitions. Offering instruction on the latest business skills and best practices, the program can provide a firm foundation for potential success in business. Start your journey to a fulfilling career in business today.
Recommended Reading
How Technology Is Changing Business Administration
Organizational Leadership vs. Business Administration Degree: What's the Difference
Sources
Forbes, "Earth Month Preview: Six Sustainability Trends Businesses Should Keep Top of Mind"
Forbes, "How to Monitor Industry Trends to Ensure Business Success"
Kearney, "The Great Shakeout: Global Trends 2020–2025"
McKinsey & Company, "Organizing for the Future: Nine Keys to Becoming a Future-Ready Company"
PwC, "PwC Pulse Survey: Executive Views on Business in 2022"
World Economic Forum, "The Next Normal Is Upon Us: Here's What to Look Out for in 2021 and Beyond"
World Economic Forum. "These 6 Trends Are Shaping the Businesses of the Future"