How to Become an Executive
How to Become an Executive
How to Become an Executive

Organizations succeed because of the talent of their people and the executives who lead them. Effective executives are visionaries that utilize analytical skills, interpersonal competency, and a willingness to adapt to the evolution of business to not only create strategies, but also to inspire and encourage employees to execute these strategies at a high level.
Corporations, nonprofits, and government agencies across many sectors seek top talent for their executive positions. Typically, the highest-level executive role in a corporation is chief executive officer, or CEO. The highest-ranking titles in nonprofits and government agencies include executive director and vice president. Large enterprises, including Fortune 500 companies, hire executives to run individual businesses or lead important functions that span global operations, including human resources, sales, and marketing. Individuals in these roles all possess fundamental leadership qualities that can help organizations remain successful, strong, and ready to embrace innovation. Anyone researching how to become an executive will learn there are many paths to these positions, but all require education, experience, and forging solid relationships along the way.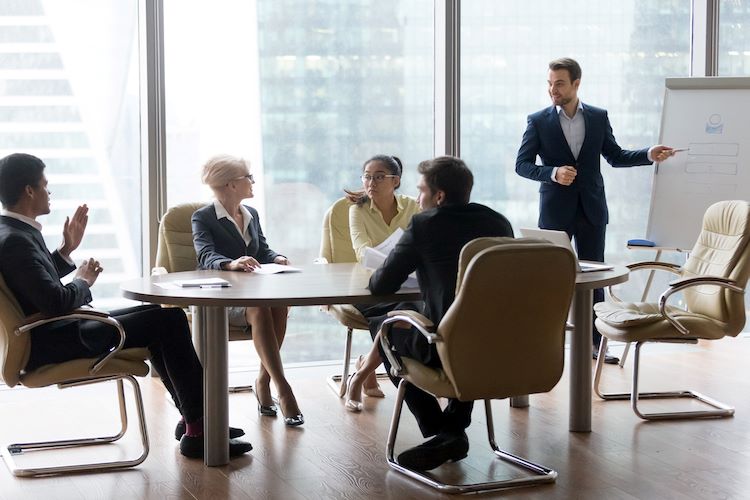 What Does an Executive Do?
What does an executive do? Ultimately, executives are responsible for the success or failure of their organizations. Their main focus is on ensuring profitability and operational performance, meaning they need to have a solid combination of experience, business acumen, and strong project management skills. They must also have exceptional leadership qualities that inspire employees to see the value of their work, which could lead to optimal performance. Executives regularly make tough decisions to bring about their vision, so the ability to communicate these choices with workers in an empathetic manner is crucial. And with so many demands for their attention, executives need to know how to delegate responsibilities to team members as well as how to identify, interview, and hire talented people.
It's also important for executives to be savvy in emerging, tech-driven tools and techniques, and how they can be successfully integrated into their strategies. In today's digital age, new technologies and forward-thinking methods to collect and analyze data can offer timely and accurate information about how organizations are run, helping executives determine how to optimize strategy efficiency. Technologies also boost organizational productivity, improving profit margins.
Technological innovation continues to change the dynamics of economies and how operations are run, which means executives must stay on top of the latest trends to keep their organizations competitive. They should also be adept at using their leadership skills to guide employees through the changes these innovations may bring.
Steps to Become an Executive
A solid educational background and relevant professional experience are necessary to qualify for senior management roles, such as an executive. This combination allows individuals to carefully develop their skills and knowledge to an advanced degree, a growth that can give them the resolve and vision to lead. Here is an overview of the key elements typically associated with this career path.
Education
Professionals who hope to reach the upper echelons of their organizations can benefit from earning an advanced management-related degree, such as an online master's in strategic communication and leadership or an online Master of Business Administration (MBA). These programs can help students sharpen fundamental competencies introduced at the undergraduate level. The programs can also prepare students to lead others in ways that inspire, encourage, and buy into strategic visions as opposed to merely managing workers.
Professional Experience
The path to becoming an executive begins with an entry-level role. Advancing from junior positions can help aspiring executives get a full perspective of a company's mechanics, learn what different departments do, and make connections with people throughout the organization. Anyone wanting to climb the corporate ladder needs to embrace a can-do attitude and get recognized for a job well done. This may mean volunteering for challenging tasks or taking the initiative to suggest opportunities for organizational improvement.
As would-be executives gain experience and seek promotions to higher-level roles, they should not shy away from opportunities to demonstrate their value, both professionally and personally. Forming mutually beneficial business relationships is crucial to achieving this, so cultivating communication and interpersonal skills is essential.
Mentorships and Networking
One way a person at the beginning of his or her career can learn how to become an executive is by reaching out to an organizational leader who may be willing to serve as a mentor. Executives are more likely to agree to mentor someone if the benefit to the organization is clear, so showing initiative and organizational commitment can be helpful. Having a mentor can help an ambitious employee learn what executives do. This process can strengthen the employee's business acumen, which could add critical depth to the leadership abilities and communication skills honed through an advanced degree.
Executive Salaries
Students pursuing an executive career can expect to travel regularly, and they often work long hours. Currently, according to the U.S. Bureau of Labor Statistics (BLS), the median executive salary is $104,700 per year. However, salaries vary based on location and experience. In many corporations, including startups and Fortune 500 companies, perks such as stock options are added to executive salaries as part of a compensation package. According to the BLS, the mean chief executive salary is $196,050.
Future Growth of Executive Jobs
Students who want to become executives will face competition, fueled by globalization and increased digitization of business operations. Many people find the benefit of high executive salaries worth the pursuit.
According to the BLS, employment for top executives is expected to grow by 8 percent from 2016 to 2026. The demand for executives is tied to the overall employment growth rate, which varies by industry and sector.
Learn More About Becoming an Executive
In a rapidly changing world, executives who can effectively lead their organizations into the future are in high demand. If you're up for the challenge, now is the time to start working toward a leadership role with significant earning potential.
Maryville University helps students get started on the path to potential leadership opportunities with programs including an online Master's in Strategic Communication and Leadership degree and an online Master of Business Administration (MBA). Coursework in each of these programs is geared toward key aspects of a career in leadership, including preparing students to manage teams, drive change, communicate meaningfully, and maintain strong professional ethics. Visit the program website today to learn more.
Sources:
Forbes, "Want to Grow as a Leader? Get a Mentor!"
The Economist, "Leadership Megatrends: Reshaping workforces with digitalisation and data"
U.S. News & World Report, "Online Organizational Leadership Degree: An Overview"
U.S. Bureau of Labor Statistics, Occupational Employment and Wages, May 2017: Chief Executives
Be Brave
Bring us your ambition and we'll guide you along a personalized path to a quality education that's designed to change your life.