How to Become a Sports Agent
How to Become a Sports Agent
How to Become a Sports Agent
Sports agents play a crucial role in the professional sports industry. In addition to marketing and promoting new talent, they negotiate contracts, handle athletes' sponsorship deals, provide financial planning guidance, and help young athletes (particularly those going pro in their late teens or early 20s) understand the legal complexities of the contracts they're about to sign.
Becoming a sports agent can be as exciting as it is lucrative, since professionals in this field often receive significant commissions based on their clients' salaries. Students interested in pursuing this career path should start by developing foundational knowledge in areas such as business law, finance, and sport business management. Completing a degree, such as a bachelor's in sport business management, can help prepare graduates with the industry-specific skills to become a sports agent.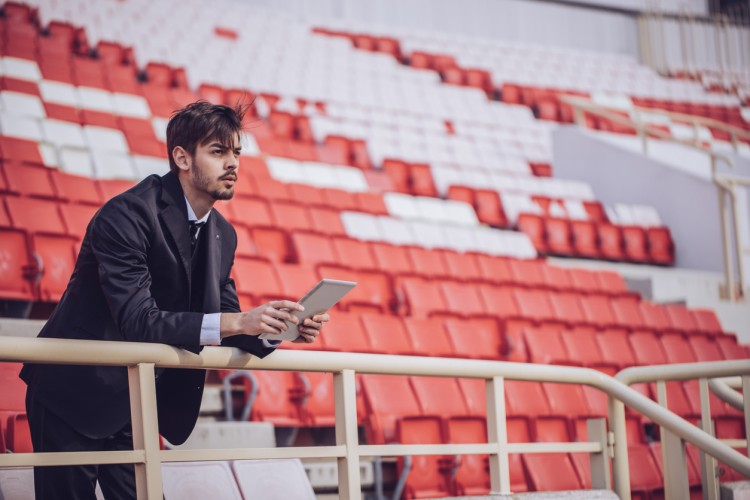 What Does a Sports Agent Do?
Sports agents recruit new talent, market and promote their clients, manage their clients' public images, and assume other key responsibilities. Although sports agents' duties can vary based on factors such as their experience level and the number of clients they have, common responsibilities include the following:
Negotiating contracts and endorsement deals
Networking with industry contacts
Analyzing athletes' statistics and performance data
Troubleshooting public relations issues
Managing public appearances
Steps to Become a Sports Agent
Competition in this industry is high, and aspiring sports agents must actively pursue clients, cultivate contacts within the industry, and develop new skills. Common steps toward becoming a sports agent include the following:
Earn a college degree: Aspiring sports agents must hold at least a bachelor's degree in a related field, such as business, finance, or sport management to pursue entry-level jobs.
Gain entry-level work experience: Although some college students choose to pursue internships with sports teams and franchises, others intern with established sports agents. Entry-level experience allows workers to establish industry contacts while developing greater knowledge of the field.
Consider earning a law degree: While a law degree is not a prerequisite to becoming a sports agent, many choose to earn one. Legal expertise can be valuable in negotiating and examining the terms of clients' contracts.
Get credentialed: Sports agents must be credentialed by the players' association that governs their clients' sport. Rules, testing fees, and testing requirements vary widely from sport to sport.
Pass a background check and purchase agent insurance: Agents often negotiate multimillion-dollar contracts and endorsement deals. Consequently, players' associations require agents to pass a background check and sign documents agreeing to abide by ethical standards. Sports agents are also required to carry agent insurance, which protects them in the event of claims of negligence, loss, or damage.
Recruit players and athletes: Sports agents' earnings largely depend on commissions. Agents typically recruit new clients (athletes) via professional, personal, and alumni connections.
Sports Agent Salary Ranges
Data from the compensation website PayScale reports that as of December 2021, the median annual salary for sports agents was approximately $52,000 per year. However, the bulk of agents' income often depends on earning commissions based on their clients' salaries and endorsement deals. This typically greatly enhances the overall compensation of agents. (A December 2020 article in Forbes reported that in that same calendar year, baseball agent Scott Boras closed more than $41 billion in contracts and netted roughly $1.9 billion in commissions.)
Agent commission structures can vary widely based on players' associations regulations for a particular sport. For example, the Fédération Internationale de Football Association (FIFA) allows sports agents to earn 10% commission, while the National Football League caps agents' commissions at 3%.
Fundamental Skills for Sports Agents
Students interested in becoming a sports agent would be well-served to develop a variety of skills and competencies. Below are just a few of the in-demand skills that aspiring sports agents should focus on:
Critical thinking: Critical thinking skills allow sports agents to assess and analyze situations. It not only helps them pick up on nonverbal cues while negotiating salary and endorsement deals but helps them understand how to solve problems.
Negotiation skills: Sports agents must feel confident in their ability to negotiate contracts, terms of endorsement deals, and public relations appearances, among others. Professionals with refined negotiation skills are likely to be the most successful.
Interpersonal relations: Professionals in this field not only work with the clients they represent but also work with public relations officials, team owners and management, and advertising and marketing professionals, among other stakeholders. Strong interpersonal skills, such as communication and collaboration skills, are must-haves for individuals looking to work in this industry.
Organizational skills: Aspiring sports agents need to be highly organized. Regardless of whether they're evaluating athletes' salaries and performance data, coordinating athlete appearances, or preparing for contract negotiations, organizational skills are crucial.
Earn a Degree and Take the First Step Toward Becoming a Sports Agent
Working as a sports agent can be rewarding and exciting, and each day can be vastly different. Students with a true passion for sports and a strong drive to succeed may be drawn to a career as a sports agent.
Are you ready to take the first brave step toward your goal of working in professional sports?
Discover how Maryville University's Rawlings Sport Business Management online bachelor's degree program can provide you with the financial, business, and marketing expertise to guide and support your future clients.
Recommended Reading
Should College Athletes Be Paid? Reasons Why or Why Not
Evolution of the Esports Industry: An Inside Look at This Booming Sports Field
Social Media in Sports: Does Tech Help or Hurt Sports Culture?
Sources
The Balance Careers, "What Does a Sports Agent Do?"
Forbes, "The World's Most Powerful Sports Agents 2020: Scott Boras Shows His Clients The Money"
Houston Chronicle, "Steps to Become a Sports Agent"
PayScale, Average Sports Agent Salary
U.S. Bureau of Labor Statistics, Agents and Business Managers of Artists, Performers, and Athletes
Be Brave
Bring us your ambition and we'll guide you along a personalized path to a quality education that's designed to change your life.