What Is a Healthcare Social Worker? Salary and Job Description
What Is a Healthcare Social Worker? Salary and Job Description
What Is a Healthcare Social Worker? Salary and Job Description
Social workers have the difficult but fulfilling job of helping people face life's challenges every day. While social work can cover a broad variety of specialties and reach every facet of life, including healthcare, employment, welfare, and private practice, all social workers have one main goal in common: helping people.
In the case of healthcare social work, professionals can specialize in different areas, including private practice, hospital-based care, and mental health. In each focus, social workers can help guide their patients to positive outcomes, handling each case with care. For those interested in becoming healthcare social workers, earning a degree such as the online Bachelor of Social Work from Maryville University could be the first step to achieving their professional goals and starting an exciting new career in healthcare.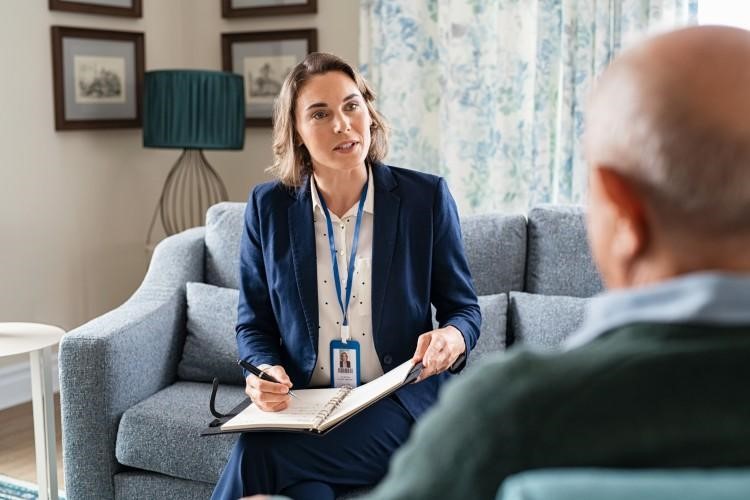 Healthcare Social Worker Job Description
Social workers in healthcare settings help their patients navigate through complex medical care processes. Working with groups of people, individuals, and families in various healthcare settings, these highly skilled professionals equip their patients with the knowledge and tools they need to cope with potentially difficult situations. By providing psychosocial skills and support, social workers help patients understand their medical conditions and necessary treatment protocols. They can also support families through processes such as end-of-life planning.
Some of their tasks include:
Hiring staff and organizing training for employees
Providing psychosocial support for staff and patients
Planning for employee retention
Organizing support and resources
Ensuring a positive workplace environment
Helping others navigate their healthcare options requires a foundational knowledge of care and strong problem-solving skills. Social workers in healthcare settings should also exercise compassion and empathy to see patients through various medical issues and plan for the future.
Healthcare Work Settings for Social Workers
From hospitals to private practice or mental health facilities, healthcare social workers may find themselves in different workplaces with varying responsibilities, depending on the area of healthcare they choose to pursue. The following are three common areas of practice.
Private Practice Social Worker
Healthcare social workers in private practice can shape their workplace and often hold the most flexibility. As they are usually not beholden to larger organizations, they can choose their own hours and the direction of care they provide. Their work environments can also vary significantly.
Depending on the type of practice they want to lead, private practice social workers must meet the requirements of their state, which often include holding a master's degree. Those who choose private practice, however, could have the opportunity to hold more job autonomy and higher salaries.
Mental Health Social Worker
In rural or underserved areas, social workers may be the only available licensed mental health providers, allowing them to provide essential services to their communities. By helping people with daily struggles in work, finance, and relationships, as well as disorders such as depression or substance misuse, mental health social workers can provide direct assistance to individuals and groups.
Mental health social workers may also choose to work in long-term care facilities or hospitals, dealing with both chronic illness and emergency services. Depending on their location or focus, they may support not only patients but also nurses or physicians coping with the effects of burnout or stress. Through empathy and compassion, they give individuals a safe space to address their mental health issues and help decrease the stigma around seeking valuable and sometimes lifesaving care.
Hospital Social Worker
Hospital social workers help patients and their families understand their diagnoses, treatment plans, and options for recovery. In the hospital setting, the hours may vary. Social workers also may have immediate access to other medical professionals to aid in patient recovery. Because hospital stays can be traumatic, the psychosocial support that social workers provide can be valuable, helping patients get through difficult times in their lives.
Healthcare Social Worker Salary and Job Outlook
According to the U.S. Bureau of Labor Statistics (BLS), the median annual healthcare social worker salary was $57,630 as of May 2020. The salary for social workers in healthcare varies by industry, such as general medical or surgical hospitals, individual and family services, or outpatient care centers. Pay may also depend on a social worker's education, location, specific role, and work experience.
The BLS projects that the overall employment of social workers will grow by 12% between 2020 and 2030, which is higher than the average for all occupations (8%). With the aging U.S. population, the need for medical professionals continues to grow. The field of social work will need to fill an estimated 78,300 positions each year due to demand and workforce exits. This could make social work a potentially lucrative field for new graduates to enter.
How to Become a Healthcare Social Worker
Becoming a healthcare social worker can take several years of training. Through a well-rounded education, starting with a bachelor's degree in social work and continuing their education with a master's degree or further certification, students can gain the skills and foundational knowledge required to give well-informed care to patients. Those looking to become social workers in healthcare settings can expect to pursue the following:
Bachelor's degree in social work
Master's degree in social work (required to become a licensed clinical social worker)
Minimum of two years of supervised clinical experience
Licensure through the Association of Social Work Boards and state licensing boards
Certification via the National Association of Social Workers (optional)
Further certifications if they choose to specialize
While social work does not require all certifications listed above and qualifications may change by state, graduates should have at least a bachelor's degree in social work. Further certification through NASW shows employers that a graduate has received the highest level of training in social work and is well qualified for the position. With additional specialized certification or licensure, candidates can set themselves apart and apply for more desired roles — ones with more responsibility, greater autonomy, and higher salaries.
Your Path to Success
Everyone goes through challenges that they may need help navigating. That is where social workers come in. With training and foundational knowledge in care, healthcare social workers can help people cope with medical diagnoses, treatments, and administration.
Through higher education programs such as Maryville University's online Bachelor of Social Work, graduates can learn the skills to help people manage healthcare issues. With its fully online program, a focus on the nine social work competencies, and experiential learning opportunities, Maryville can help prepare you to reach your professional goals. Explore the curriculum and discover how you can begin a fulfilling career in social work today.
Recommended Readings
BSW vs. MSW: Exploring Two Social Work Degrees
Improving Community Safety Through Social Work
Mental Health Counseling vs. Social Work
Sources:
Association of Social Work Boards
The Balance Careers, "Important Job Skills Social Workers Need"
Career Explorer, "How to Become a Healthcare Social Worker"
Career Explorer, "What Does a Social Worker Do?"
IFRC, Mental Health and Psychosocial Support
International Federation of Social Workers, Global Definition of Social Work
National Association of Social Workers, Clinical Social Work
National Association of Social Workers, Mental Health Specialty Practice Section
U.S. Bureau of Labor Statistics, Healthcare Social Workers
Be Brave
Bring us your ambition and we'll guide you along a personalized path to a quality education that's designed to change your life.