How to Become a PTSD Counselor
How to Become a PTSD Counselor
How to Become a PTSD Counselor
The emotional side effects of traumatic events are highly individualized. While some people don't experience a long-term impact, others develop anxiety, phobias, and other negative feelings that can impact their daily lives.
Post-traumatic stress disorder (PTSD) is the mental health condition that develops in some people who have experienced dangerous, frightening, or shocking events. Data from the National Center for PTSD notes that approximately 7% to 8% of the U.S. population will have PTSD at some point in their lives and that roughly 8 million adults struggle with PTSD in a given year.
Students interested in pursuing a career that allows them to help individuals overcome trauma-related disorders such as PTSD should consider training to become a PTSD counselor. Completing a college degree in a related field, such as a Bachelor of Arts in Psychology online, is an important first step toward working in the field.
What Does a PTSD Counselor Do?
People who have experienced natural disasters or serious incidents such as military combat, sexual assault, sexual violence, or armed robbery may develop PTSD. Individuals who experience intense, distressing feelings that last long after a traumatic event has ended may benefit from PTSD counseling.
PTSD counselors develop and recommend treatment plans for those struggling to overcome feelings of helplessness, horror, and fear that persist after trauma. In addition to helping patients and their families strengthen coping skills, PTSD counselors may also refer patients to other types of support services, such as survivor support groups. Although the exact duties of PTSD counselors can vary based on their employer, education level, and the patient populations they work with, common job duties may include the following:
Performing intake evaluations
Developing and implementing treatment plans
Providing crisis intervention
Assessing patients' progress
Providing individual and group therapy as needed
Coordinating patients' care with outside service providers such as general practitioners, veteran's affairs coordinators, or psychiatrists
Charting patients' progress
PTSD counselors work in a variety of settings, including governmental institutions such as the Department of Veterans Affairs (VA); state, local and private hospitals; and residential mental health service centers. They may also work in private practice. Most PTSD counselors work full time on weekdays, although those employed by hospitals or inpatient care facilities may need to work nights, evenings, or weekends.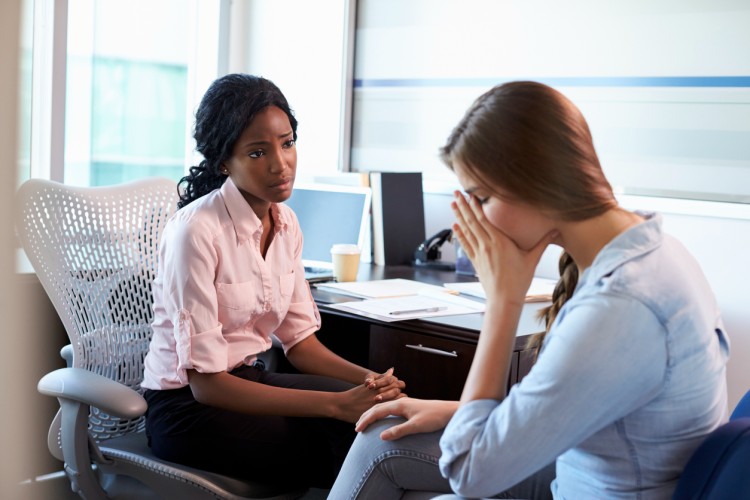 Steps to Become a PTSD Counselor
Students interested in becoming PTSD counselors must start by developing the proper knowledge and skills. Following are the most common steps toward pursuing this career.
Earn a College Degree
Most trauma counseling positions require applicants to have at least a bachelor's degree in a related field, such as psychology. However, educational requirements vary by state and employer. Some employers prefer to hire candidates who have a master's degree and professional licensure.
Develop Key Interpersonal Skills
PTSD counselors work with patients who are struggling to overcome stressful and traumatic situations. Consequently, professionals who are compassionate, patient, and have strong listening skills are likely to be most effective. Other types of interpersonal skills, such as rapport-building skills, empathy, acceptance, and multicultural competency, are also important.
Become Licensed
Professionals who have completed a master's or doctoral degree in counseling or psychology can pursue professional licensure. Licensing requirements also vary by state. To become licensed, applicants must have earned the required degree from an accredited college or university, pass a state licensing exam, and fulfill other licensing requirements, such as completion of a set number of hours of supervised work experience. For example, while Missouri requires candidates to complete a minimum of 3,000 hours of supervised counseling experience, Florida only requires 1,500 postgraduate supervised hours. To maintain licensure, professionals must also complete the number of continuing education hours set by their state before the end of each licensing term.
PTSD Counselor Job Outlook and Salary
The U.S. Bureau of Labor Statistics (BLS) classifies trauma counselors under the blanket category of substance abuse, behavioral disorder, and mental health counselors. According to the BLS, job opportunities for these counselors (including those who specialize in working with PTSD patients) are expected to grow by 25% between 2019 and 2029. This rate is much faster than what's projected for all other occupations.
Employment growth in the field will be largely driven by the rising number of people seeking mental health counseling services. Military veterans and those struggling to deal with experiences related to the COVID-19 pandemic are among the many individuals who will drive the need for professionals to assist those struggling with PTSD.
According to BLS data, as of May 2020 the median annual salary for professionals who choose this career path was $47,660, with earners in the top 10th percentile earning more than $78,700 per year. Salaries for PTSD counselors vary widely based on factors such as geographical region, the type of employer or agency, and experience level. For example, May 2020 data shows that while counselors working with governmental institutions earned a median wage of $54,070, professionals employed by residential mental health and substance abuse facilities earned $40,560.
Take a Brave Step Toward Helping Those Struggling with PTSD
Demand for qualified professionals who are equipped to help those suffering from PTSD remains strong. Students interested in pursuing this worthwhile and rewarding profession must begin by developing the knowledge, competencies, and educational background to succeed.
The online BA in psychology program at Maryville University equips students with the skills to evaluate the connections between trauma and human behavior through coursework in abnormal psychology, human cognition, and biological psychology. Graduates finish the program with a foundational understanding of the theoretical issues of modern psychology.
Are you ready to take the first brave step toward becoming a PTSD counselor? Discover how Maryville's online BA in psychology can prepare you for a meaningful career.
Recommended Reading
What Is the Impact of Social Isolation on Cognitive Health?
Going Back to School for Psychology
Sources
American Counseling Association, Licensure & Certification — State Professional Counselor Licensure Boards
American Psychiatric Association, What Is Posttraumatic Stress Disorder?
Houston Chronicle, "Top 8 Attributes of an Effective Counselor"
Mayo Clinic, Post-Traumatic Stress Disorder (PTSD)
National Board for Certified Counselors, State Licensure
National Institute of Mental Health, Post-Traumatic Stress Disorder
PTSD Alliance, Information for PTSD Professionals
U.S. Bureau of Labor Statistics, Substance Abuse, Behavioral Disorder, and Mental Health Counselors
U.S. Department of Veterans Affairs, National Center for PTSD, Common Reactions After Trauma
U.S. Department of Veterans Affairs, National Center for PTSD, How Common Is PTSD?
U.S. Department of Veterans Affairs, National Center for PTSD, Understanding PTSD and PTSD Treatment
Be Brave
Bring us your ambition and we'll guide you along a personalized path to a quality education that's designed to change your life.