What Is a Labor Relations Specialist?
What Is a Labor Relations Specialist?
What Is a Labor Relations Specialist?
Employee engagement and productivity result when organizations apply labor relations strategies. Labor relations specialists are human resources professionals who play a vital role in creating work environments where employees' rights are respected and their needs are met.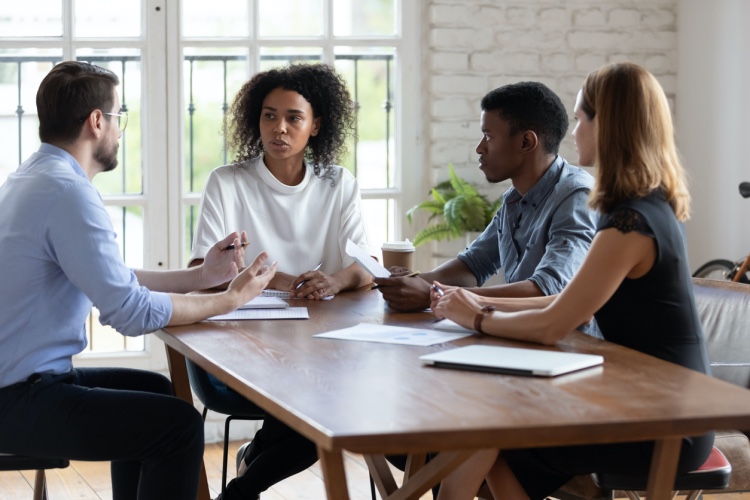 What Does a Labor Relations Specialist Do?
The labor movement, in the form of organized labor unions, influences legislation to protect worker rights. Labor relations specialists guide employers in complying with labor laws, helping to ensure that labor contracts correspond with an organization's fundamental responsibilities and business practices. They also advocate for workers who might be struggling due to shifts in the economy.
Over many decades, the U.S. labor movement has inspired landmark legislation, including the Civil Rights Act of 1964. This law forbids discrimination against employees due to their race, color, religion, sex, or national origin. As recently as June 2020, the Supreme Court made a decision on Title VII of the Civil Rights Act of 1964 making it illegal to discriminate against sexual orientation and transgender status, highlights the constant fight for civil rights and the evolution of legislation to protect citizens.
Other laws safeguarding worker rights include:
The Fair Labor Standards Act (FLSA), which covers fair compensation and standards for youth employment.
The National Labor Relations Act (NLRA), which protects works in the areas of labor and management practices and collective bargaining rights.
The takeaway is clear: The labor movement's mission upholds laws that protect all workers. Labor relations specialists are key to that mission.
Labor relations specialists are common in organizations where at least part of the workforce is unionized. Unions help protect workers' rights and provide opportunities for better pay. According to the Economic Policy Institute, union contracts enable workers to earn about 13.2% more than a non-union peer. For labor relations specialists who spend much of their day working on union-related issues, an essential responsibility is to interact with union representation and participate in collective bargaining agreement processes.
Labor relations specialists analyze, interpret, and administer various labor contracts. They use their knowledge of labor laws — including wages, pensions, and healthcare benefits — to negotiate agreements between unions, employees, and managers. For example, knowledgeable labor relations professionals stay on the pulse of market-rate pay and economic factors to ensure contracts benefit both the employer and employees. The contract negotiation process often includes sitting at the table with company management and labor union representatives to discuss employee grievances and collective bargaining.
In addition, labor relations specialists establish and improve performance management systems, measure employee satisfaction, resolve workplace issues, and set disciplinary procedures.
Labor relations specialists take responsibility for resolving employee-related problems. For example, a vital component of the labor relations specialist role is responding to crises, such as labor strikes. They often serve as the go-between, voice of compromise, and knowledgeable negotiator in these scenarios. Labor relations specialists leverage their knowledge of laws and human resources to keep operations running smoothly and, if possible, avoid strikes and work stoppages.
A proactive approach to labor relations can play a central role in optimizing employee engagement and minimizing employee grievances. For example, employee relations programs can offer employees improved avenues to communicate with managers and provide incentives for good performance. Through these types of proactive programs, labor relations specialists can promote work environments that strengthen relationships between employers and employees. These efforts often result in improved employee engagement and higher employee satisfaction.
Essential Skills of the Labor Relations Specialist
Taking a look at essential skills for the role is an important step in learning about what a labor relations specialist is. Labor specialist competencies include:
Analytical skills to understand labor laws and research, develop, interpret, and administer contracts
Negotiation and decision-making skills to settle conflicts and grievances between employers and employees
Writing skills to develop proposals and contracts, which often include complex legal information
Interpersonal and verbal communication skills to foster strong relationships with managers, union representatives, and employees, as well as present in front of groups
Understanding of employment laws, such as FLSA, NLRA, the Americans with Disabilities Act, equal employment opportunity, and affirmative action laws
Knowledge of wages, collective bargaining, union dues, benefits, healthcare, pensions, and employee management
Calm, professional demeanor to ensure mutual respect and trust with managers, union representatives, and employees
Listening skills to understand points made by employees and respond appropriately to issues
Career paths to this role include gaining experience in human resources, compensation, or benefits administration. Most positions require at least a bachelor's degree in business, human resources, or a related field. Senior-level roles may require a master's degree and several years of experience working with unions.
Maryville University's online Bachelor of Science in Human Resource Management can help students cultivate the skills needed to pursue a career in labor relations. The program emphasizes leadership skills in business and human resources, focusing on the effective management of employees. Students enrolled in the program investigate current issues and trends in human resources, including labor relations.
What Is the Salary and Job Outlook of a Labor Relations Specialist?
According to a report from The Washington Post, union membership remains quite steady at 14.6 million workers. Additionally, workplace-related settlements in the U.S. totaled about $1.34 billion in 2019, according to the 16th Annual Workplace Class Action Litigation Report. These statistics point to the continuing importance of labor relations roles in human resources organizations.
Labor relations specialists earned a median annual salary of $69,020 in May 2019, according to the BLS. However, compensation varies across regions throughout the country and can depend on factors such as education and experience in the field. For example, a labor relations specialist in Washington, D.C., earns about 42.7% above the average median salary for all professionals in this role, according to PayScale.
Prepare for a Rewarding Career in Labor Relations
Maryville University's online Bachelor of Science in Human Resource Management program prepares students with competencies to inform their decision-making in areas related to labor relations, human resources, leadership, employee management, and the law. After completing coursework in talent management, HR employment law, labor relations and negotiations, and human capital management systems, graduates are equipped to help employers meet business goals and maximize employee performance.
Learn more about Maryville University's online bachelor's in human resource management program.
Recommended Readings
Business Management vs. Human Resource Management: Comparing Two Career Paths
How to Become a Compensation and Benefits Manager
Human Resources Manager vs. Specialist
Sources:
The Balance Careers, "What Does a Labor Relations Professional Do?"
Economic Policy Institute, "U.S. Employers Are Charged with Violating Federal Law in 41.5% of All Union Election Campaigns"
Forbes, "10 Timely Statistics About the Connection Between Employee Engagement and Wellness"
Gallup, "Employee Engagement on the Rise in the U.S."
Houston Chronicle, "Labor Relations Specialist Training"
Houston Chronicle, "Skills Needed in Employee Relations"
Inc. "Human Resources Management and the Law"
National Labor Relations Board, National Labor Relations Act
PayScale, Average Labor Relations Specialist Salary
Seyfarth, "Workplace Class Action Litigation Report"
U.S. Bureau of Labor Statistics, Labor Relations Specialists
U.S. Department of Labor, Labor Relations
U.S. Department of Labor, Wages and the Fair Labor Standards Act
The Washington Post, "Workers Are Fired Up. But Union Participation is Still on the Decline, New Statistics Show."
Be Brave
Bring us your ambition and we'll guide you along a personalized path to a quality education that's designed to change your life.