Mental Health Program Manager Salary & Career Outlook
Mental Health Program Manager Salary & Career Outlook
Mental Health Program Manager Salary & Career Outlook
If you want to work in the mental health field, and you're passionate about both healthcare and business, you may want to consider a future as a mental health agency manager. This position balances the vital administrative responsibilities of overseeing the operations of a healthcare institution with the unique concerns of mental health organizations.
This role is critical to the success of mental health delivery at hospitals, private healthcare groups, and community clinics. In this position, you may manage a robust staff of mental health professionals; ensure compliance with changing government regulations as they relate to the mental health industry; oversee budgeting, billing, and treatment delivery; and work closely with doctors, nurses, and patients.
So, how do you become a mental health agency manager? The first step is educating yourself on the demands and requirements of this rewarding position.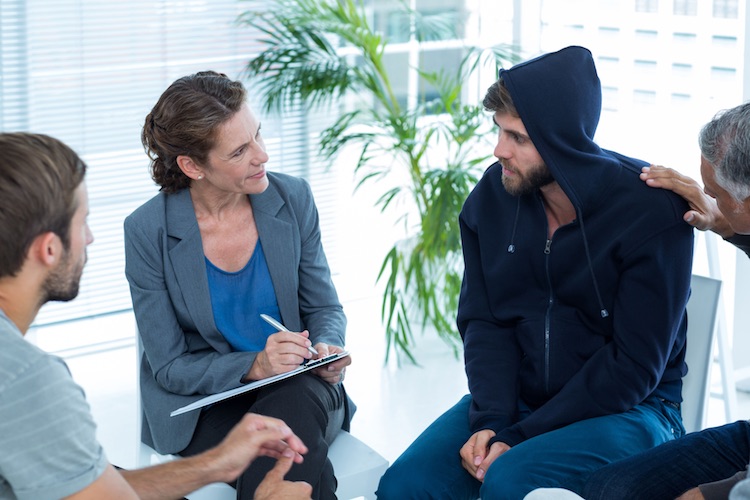 What Does a Mental Health Agency Manager Do?
This profession requires a compassionate approach to patient advocacy. Mental health agency managers generally possess a strong attention to detail, keen ability to communicate, and proficiency in technology. When you combine these skills with knowledge of mental health issues and management skills, you are positioned for future success.
What a mental health agency manager does can vary according to the day or week. Responsible for a number of the operations of private practices, hospitals, or clinics, mental health agency managers take on a variety of important roles. Acting as a vital team member, they manage a team of doctors, nurses, and mental health professionals, as well as engage with clients. These activities may consist of coordinating medical and/or business activities, managing databases and patient charts, and ensuring the facility is equipped to serve patients.
On a day-to-day basis, mental health agency managers may perform the following functions:
Development and supervision of health services. As they oversee the general operations of their workplace, mental health agency managers develop policies with other leaders and ensure that all patient needs are being met. In this role, you would help introduce technology, train staff as necessary, and ensure the highest quality of care for all facility patients.
Collaboration with staff and patients. In this position, expect to interact often with the public, patients, and other healthcare providers. Mental health agency managers often help guide patients through the entire treatment process, as well as work with patients' health insurance companies to ensure payments remain current. Additionally, in this managerial position, you may oversee the daily routines of staff members.
Budget management. As manager, your responsibilities would include monitoring income and expenditures. You would also create comprehensive budgets that address specific patient needs and the broader goals of providing mental health assistance. It is often a mental health agency manager's responsibility to track the finances of their organization and find opportunities for improved efficiency.
Assurance of compliance with regulations and policies. Providing the highest quality care also means guaranteeing the safety and legality of treatment while ensuring the delivery process runs smoothly. In this position, managers stay attuned to changes in mental health laws and policies while making sure their staff members are aware of such standards. They also help guide the policies of their organizations and make sure everyone is working together to deliver effective mental health care that makes a meaningful difference in patients' lives.
Steps to Become a Mental Health Agency Manager
What mental health agency managers do involves guiding the complex operations of a multifaceted healthcare delivery organization. Their responsibilities are often far-ranging and entail a number of learned and practiced skills.
If you're ready to start your journey toward becoming a mental health agency manager, you will need to complete several steps. These often include earning at least a bachelor's degree, gaining experience, and becoming licensed.
Step One: Earn a Bachelor's Degree
Almost all mental healthcare organizations require a manager to have an undergraduate degree, preferably in a field related to healthcare or business. Aspiring mental health agency managers have several options for a course of study, such as healthcare management, psychology, and behavioral science. This coursework provides a foundational knowledge of the unique needs of the mental health field and is the basis for continued studies in mental health administration.
Step Two: Consider a Master's Degree
Occasionally, employers who are looking to hire a mental health agency manager require candidates to have completed postgraduate work in a related field. In addition, some aspiring mental health agency managers find greater opportunities and insights when they have a master's degree. A mental health program manager salary can also vary based on education level. In a master's program, you'll improve skills in specific areas of clinical training, strategic healthcare planning, and health information systems.
Step Three: Gain Experience
You'll need to put your hard-earned skills into practice in real-world settings to thrive as a mental health agency manager. Being well versed in all areas of management will help you feel prepared and confident. Often during undergraduate or graduate study, aspiring mental health agency managers complete practice hours in a hospital, nonprofit, or similar mental health provider setting.
Step Four: Earn Licensure
Some states require that individuals working in management at mental health organizations obtain licensure. The licensure must speak to their ability to work with those in need of mental health support. To receive a license, prospective managers must prove their education and experience, as well as pass an examination. The specific area of licensure may vary, but specialties include nursing, clinical mental health counseling, and social work.
Step Five: Qualifications and Certifications
Most employers are looking to hire mental health program managers who have certain qualifications and certifications. Since these professionals must exhibit a foundation in both management and healthcare, many candidates pursue degrees in health administration, health information management, healthcare management, or business management. To facilitate professional success, individuals should take classes that enable them to be certified in health economics, human resources, health information systems, accounting, health services management, budgeting, or strategic planning.
Individuals can also qualify for positions by working in administrative or clinical roles in medical facilities. Additionally, they can earn additional certifications such as the Medical Management certification through the Professional Association of Health Care Office Management, or the Health Information Management certification offered by the American Health Information Management Association.
Skills for Mental Health Agency Managers
Individuals who wish to become mental health agency managers should be able to exhibit the following essential skills.
Communication. Mental health program managers need to communicate effectively on a daily basis with health professionals, clients, staff members, health insurance representatives, and other individuals working in their medical facility.
Analytical skills. Professionals should be able to solve problems by analytically thinking them through and making sure their decisions align with their medical facilities' policies and overall legal regulations.
Technical acumen. While mental health program managers may not be working as information technology or information management specialists, they should still understand and know how to use healthcare technology and be able to analyze data.
Leadership. Professionals must display leadership qualities in everything they do, from training new staff to being detail oriented when making important decisions.
Mental Health Program Manager Salary
Generally, mental health management is a stable field that offers ample compensation. Mental health agency manager salaries can vary depending on the type of institution, as well as the state or city in which the manager works. The U.S. Bureau of Labor Statistics (BLS) reports the median annual salary for medical and health services managers as $100,980.
To earn a higher mental health program manager salary, you often need to earn postgraduate degrees and certifications, or gain considerable experience in healthcare management. Geographic region may also impact a mental health agency manager's salary.
Employment Outlook for Mental Health Agency Managers
The healthcare industry is experiencing a sustained boom, and mental health services are no exception. The BLS expects the demand for medical and health services managers in general to continue to climb at a rate of about 18% between 2018 and 2028.
In addition, the nonprofit Mental Health America reports a workforce shortage of mental health professionals and that 9 million Americans feel they have unmet mental health needs. With so many people needing mental health support, the role of mental health agency manager is more critical than ever. Providing a safe place to receive high-quality care is essential, and that's exactly what you would be doing as a mental health agency manager.
Explore Career Opportunities in Mental Health Agency Management
What mental health agency managers do has the power to have a real impact on those who need advocacy and care. You will work closely with others helping patients improve their mental health. You will also help ensure staff members feel appreciated and that they are making a substantial impact on people's lives.
If you're excited by this rewarding position, consider taking your first steps toward becoming a mental health agency manager. Learn all the details about Maryville University's online bachelor's in healthcare management degree — and discover where this program can take you.
Recommended Reading
Risk Management in Healthcare: Challenges and Opportunities
Skills Every Health Administrator Should Have
What Do Healthcare Administrators and Hospital Administrators Do?
Sources
Glassdoor, Salary: Mental Health Program Manager
Houston Chronicle, "Job Description for Mental Health Program Directors"
Mental Health America, The State of Mental Health in America
The Bureau of Labor Statistics, Medical and Health Services Managers
The Bureau of Labor Statistics, Social and Community Service Managers
Be Brave
Bring us your ambition and we'll guide you along a personalized path to a quality education that's designed to change your life.