Home Health Case Manager Job Description and Salary
Home Health Case Manager Job Description and Salary
Home Health Case Manager Job Description and Salary
Help patients receive vital care from the comfort of their residences as a home health case manager. Whether patients are recovering from surgery or managing an injury or long-term illness, home health case managers play a vital role in ensuring their patients are receiving the highest level of care in a setting that fits their needs. They oversee clinical and clerical staff, coordinate care, reinforce policies and expectations, and ensure a positive patient experience.
Through devoted and careful management, home health agencies positively contribute to overall patient health and well-being. As the healthcare industry continues to see rapid growth and a large percentage of the American population enters the over-65 age bracket, the demand for such administrators will continue to grow, according to the U.S. Bureau of Labor Statistics (BLS).
When considering how to become a home health case manager, think about your ability to hone skills such as communication, active listening, financial planning, and quantitative and qualitative reasoning. You should also consider pursuing an online bachelor's in healthcare management degree to prepare for the role. These competencies and credentials are vital in ensuring the quality of home healthcare for patients.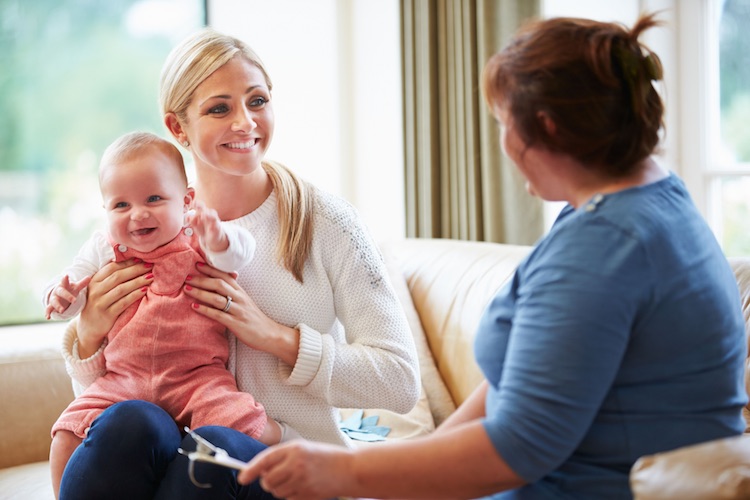 What Is Home Healthcare?
Home healthcare provides patients with the opportunity to receive medical care in their homes. According to the official U.S. government site for Medicare, "Home healthcare is a wide range of healthcare services that can be given in your home for an illness or injury. Home healthcare is usually less expensive, more convenient, and just as effective as care you get in a hospital or skilled nursing facility."
Doctors can recommend a home healthcare option for patients who are in recovery from an illness or injury. Home health case managers organize patient care and work with nurses who provide therapy, dress wounds, monitor vital signs, administer medication, give injections, and run IVs. Home health case managers play an important role as they improve the efficiency of the home health service, create schedules for home health nurses, manage finances, and keep patient records.
Home Health Case Manager Job Description
Home health case managers work in hospitals, hospice centers, private practices, and nursing home facilities, though many more industries, such as health law and wellness technology, are starting to seek the expertise of these skilled healthcare managers.
If you're excited by the prospect of bringing practiced skills to the field of healthcare delivery and its critical extension into the home, you may be interested in this role. These managers oversee the care of patients in their own residences, manage direct care providers, help with treatment planning, and support all involved in the operation.
The specifics of what a home health case manager does can vary based on the setting, distinct needs of clients, and kind of care the manager oversees, but there are some responsibilities that are common across the board:
Hiring and overseeing staff. A key duty of home health case managers is hiring, training, and monitoring a healthcare team that provides a range of services, from nutritional support to physical therapy. Through this process, managers communicate goals and ensure they are being met. They make use of strong communication skills to work with others, coordinate the efforts of their teams, and ensure positive outcomes for all.
Budget planning. Home health case managers oversee the financials of their organizations and implement measures to improve revenue generation and streamline expenditures. This allows them to allocate funds to the purchase of cutting-edge medical devices, equipment that improves quality of life, clinician training, and more. In this position, healthcare professionals can expect to continually perform financial analyses to ensure their agencies are meeting budgets while maintaining quality of care and professionalism.
Assessing patient experience. Home healthcare services hinge on making patients feel comfortable and cared for in their homes. As such, home health case managers might interface with patients and their families to discuss outcomes and treatment plans. They monitor the success of their teams and incorporate client feedback into operations.
Steps for Becoming a Home Health Case Manager
The steps to becoming a home health case manager vary depending on the work environment. Based on your specific role, the experience and training you receive may differ. For example, managers at a hospice facility may receive training that is specific to end-of-life care. Those working at a nonprofit may develop a high level of competency regarding nonprofit financial supervision and grant program compliance.
No matter where you begin your career as a home health case manager, there are certain shared milestones along the way, such as earning a bachelor's degree.
Step One: Earn a Bachelor's Degree
If your goal is to qualify for a job as a home health case manager, earning an online bachelor's in healthcare management can improve your chances. The curriculum for this type of program typically includes coursework in communication, business operations, and healthcare compliance and quality. Employers in the field often expect candidates to have at least a bachelor's degree in healthcare management.
Step Two: Consider Different Home Health Options
What kind of environment would you like to work in? As you consider your preferred type of workplace, you can tailor your studies and experience accordingly. Some common options include general home healthcare businesses and hospice organizations. As you research and home in on a path, you can become well-versed in the regulations, laws, practices, and norms of that particular home health niche.
Step Three: Gain Experience
To find success as a case manager, you will need to gain experience in the field of home health. You may find opportunities to gain this experience as you pursue your undergraduate degree. Alternatively, you may train on the job or through a related position, for example, as a registered nurse, administrative assistant, or medical records manager.
Step Four: Continue Your Education
Healthcare is a quickly evolving industry, and some home health case managers find it worthwhile to continue their education by either pursuing certifications or enrolling in a continuing education program. While most home health organizations require a bachelor's degree to get started, some require a master's degree, a registered nurse license, or a social work license. Regardless of whether you pursue a postgraduate education, it is important to stay active in the field and abreast of evolving technologies and policies so you and your team can offer the highest level of care possible.
Skills for Home Health Case Managers
Home health case managers play an important role in modern healthcare, and it is crucial for them to demonstrate certain essential skills. Whether individuals have experience in nursing, business, or healthcare administration, it is necessary for them to develop the following skills for home health case management:
Communication. Case managers should be able to communicate effectively with their staff, nurses, patients, and administrators.
Decision-making and budgeting. Since case managers manage the finances of their facilities, it is important for them to be able to make well-informed financial decisions that can help meet long- and short-term goals.
Organization and delegation. Working with staff members can prove to be a difficult job if case managers do not create effective schedules and delegate responsibilities to others.
Political and cultural sensitivity. As case managers work with patients and staff from diverse backgrounds, it is important for them to be aware of political and cultural differences, serving all patients and dealing with all employees in an equitable manner.
Home Health Case Manager Salary
According to the BLS, the median salary of medical and health services managers — which includes home health agency manager salaries — was $100,980 in 2019. This number can vary greatly depending on the home health professional's employer, years of experience, education, and geographic location.
What home health agency managers do is complex, multidisciplinary work. Not surprisingly, these highly trained administrators are sought after and generally well compensated in many professional settings.
Future Growth of Home Health Case Managers
As the availability of technology improves and providers are driven increasingly by outcomes, modern medicine is becoming more personalized. In addition, the aging U.S. population is continuing to grow, placing a higher demand on healthcare services. Between these two trends, it is likely that home health will remain in high use by patients. In fact, when it comes to the management of home healthcare services, the job outlook is quite positive, with the BLS predicting 18% growth between 2018 and 2028.
Explore Possibilities in Home Health Case Management
Are you ready to grow your career while making an impact on the lives and health of others? Home health agency managers are compassionate, proactive leaders who are playing an increasingly important role in the future of healthcare. Take the first step toward becoming a home health case manager by learning more about Maryville University's online bachelor's in healthcare management degree. Discover the skills and knowledge you will learn in your degree program that can pave the way for future success as a home health case manager.
Recommended Reading
Healthcare Careers and Opportunities for Recent Healthcare Grads
Mental Health Crisis Intervention Guide for Schools
Risk Management in Healthcare: Challenges and Opportunities
Sources
Grand View Research, "Home Healthcare Market Size, Growth Report, 2020-2027"
HCPro, "Skills of Effective Case Managers"
Medicare, What's Home Health Care?
U.S. Bureau of Labor Statistics, Medical and Health Services Managers
U.S. News & World Report, What Is a Medical and Health Services Manager?
Be Brave
Bring us your ambition and we'll guide you along a personalized path to a quality education that's designed to change your life.