How to Become a Patient Care Assistant
How to Become a Patient Care Assistant
How to Become a Patient Care Assistant
The senior citizen population is growing faster than it has at any point in U.S. history. The U.S. Census Bureau projects that the number of Americans aged 65 and older will nearly double between 2018 and 2060, from 52 million to 95 million. The average U.S. life expectancy is also increasing. Not surprisingly, the need for qualified healthcare professionals who can help care for an aging population is rising as well.
Individuals who are interested in pursuing an entry-level healthcare position that enables them to provide hands-on, basic care to patients in hospitals and nursing homes are likely to be drawn toward a career as a patient care assistant (PCA).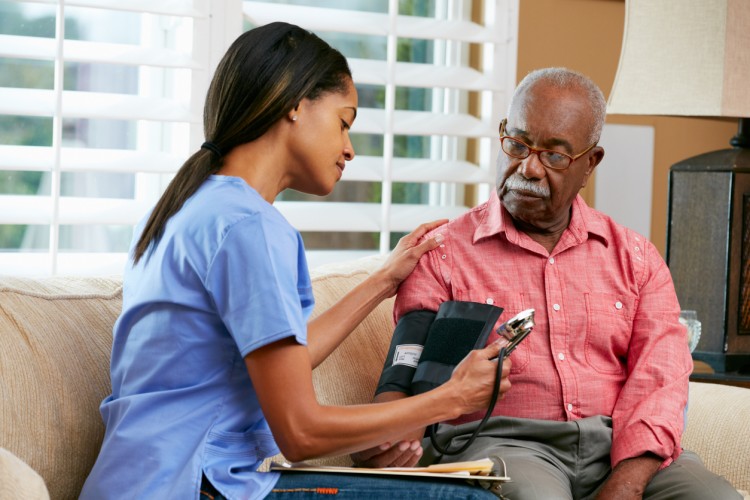 Professionals in this capacity not only regularly interact with patients, they're often among the most visible members of a facility's care staff. The faster-than-average job growth projections for PCAs, coupled with the fact that healthcare is among the most recession-proof sectors of the U.S. economy, makes this career an ideal choice for individuals interested in improving patients' quality of life.
Students who wish to embark on this career path should start with the proper education. Completing an online degree, such as Maryville University's online Bachelor of Arts in General Studies with a Concentration in Healthcare, can help prepare graduates to pursue jobs in the field.
What Does a Patient Care Assistant Do?
Individuals who are researching how to become a patient care assistant should know that PCAs work under the direct supervision of licensed healthcare professionals, such as doctors and nurses.
Professionals who choose this career continue to find work in various environments, including hospitals, nursing and residential care facilities, and patients' homes. In nursing and residential care facilities, PCAs are often the principal caregivers. Data from the U.S. Bureau of Labor Statistics (BLS) notes that nursing care facilities are the largest employer of PCAs (37%), followed by hospitals (27%) and retirement and assisted living facilities (11%).
PCAs perform a variety of tasks to monitor patients' health, improve their quality of care, and assist with daily tasks. Examples of common duties include the following:
Cleaning and bathing patients
Helping patients dress and use the toilet
Repositioning patients and transferring them between wheelchairs and beds
Recording patients' health concerns and reporting information to supervisors
Measuring vital signs, such as patients' temperature, blood pressure, pulse, and respiration
Serving meals
Assisting patients who need help standing or walking
Transporting patients to and from exam rooms
Helping patients eat
Depending on the state in which they work and their level of training, patient care assistants may also dispense medication.
PCAs must stay abreast of changes in local and federal guidelines and regulations — which can occur frequently in the healthcare industry — including changes related to the COVID-19 pandemic. For instance, they must take extra precautions to wear personal protective equipment (PPE), such as N95 masks, face shields, and rubber gloves, to protect against the spread of COVID-19. Infection prevention and control programs are critical to protecting both patients and healthcare personnel, and the actions of PCAs are essential to a program's success.
Steps to Become a Patient Care Assistant
Students who are interested in becoming a PCA are typically required to complete a state-approved educational program, which may be available from community colleges, vocational schools, high schools, or healthcare organizations. They must also typically pass a state exam and gain state licensure or certification.
Although a four-year degree is not a requirement to become a patient care assistant, individuals with a bachelor's degree may have the best job prospects. Bachelor's degree holders also have greater opportunities to advance into nursing and take on more responsibilities. Completing a degree, such as an online Bachelor of Arts in General Studies with a Concentration in Healthcare or an online Bachelor of Science in Healthcare Management, can prepare students for a career as a PCA by equipping them with the knowledge and skills to pass their state's competency exam.
Depending on the state in which they are employed, patient care assistants may be able to earn additional credentials, such as the Certified Medication Assistant (CMA), which qualifies them to dispense medications.
Fundamental Skills for Patient Care Assistants
Aspiring PCAs will be well-served by developing several core skills and competencies. Examples of these fundamental skills include the following:
Compassion: PCAs often provide care to patients who are sick, injured, or need assistance with various short- or long-term care needs. Compassion and empathy can help PCAs excel in their role.
Patience: Feeding, transporting, and bathing patients can be stressful. Patience can help PCAs maintain their professionalism.
Physical stamina: PCAs often help patients stand and walk, in addition to repositioning them in their beds. Physical stamina will help PCAs perform these duties.
Communication: PCAs must listen to and relay patients' concerns to medical staff. They must also explain treatment plans to patients and their families. Individuals who develop strong communication skills, such as written and verbal communication capabilities and active listening skills, will be best equipped to handle these tasks.
Patient Care Assistant Salaries
The U.S. Bureau of Labor Statistics (BLS) classifies PCAs under the blanket category of nursing assistants and orderlies. According to BLS data, as of May 2019, the median annual salary for PCAs was $29,660. Salaries vary widely based on a variety of factors, such as experience, education level, and location. For instance, the compensation website PayScale reports that as of October 2020, PCAs employed in New York City earned 51% more than the national average. Salaries also vary by employer. According to the BLS, employees in the hospital or government sectors earned a median annual salary of between $31,000 and $36,000 as of May 2019, while those in home health or nursing homes roles earned between $28,000 and $30,000.
Employment Outlook for Patient Care Assistants
BLS data reports employment of nursing assistants, including PCAs, is projected to grow 8% between 2019 and 2029, which is much faster than the projected growth rate for the labor market as a whole. Growth in the field is expected to be primarily driven by the increased healthcare needs of the aging population.
Your Path Toward Becoming a Patient Care Assistant Starts at Maryville University
Individuals who are interested in pursuing this rewarding entry-level healthcare career must start by developing the knowledge, skills, and competencies to succeed. Aspiring patient care assistants will find that completing an online degree, such as Maryville University's online Bachelor of Arts in General Studies with a Concentration in Healthcare, can help prepare them to make a difference in patients' lives.
Are you ready to take the first brave step toward a career as a patient care assistant? Discover how Maryville University can help prepare you for a new adventure.
Recommended Reading
12 Common Public Health Issues and How They Can Be Prevented
The Future of Healthcare: Trends, Technology and New Skills for Success
The Future of Public Health: Skills for Helping Communities Thrive
Source
American Nurses Association, What Is Nursing?
Centers for Disease Control and Prevention, Life Expectancy
PayScale, Average Patient Care Assistant (PCA) Hourly Pay
Population Reference Bureau, Fact Sheet: Aging in the United States
U.S Bureau of Labor Statistics, What Nursing Assistants and Orderlies Do
U.S. Bureau of Labor Statistics, Nursing Assistants and Orderlies Pay
Be Brave
Bring us your ambition and we'll guide you along a personalized path to a quality education that's designed to change your life.