How to Become a Health Educator
How to Become a Health Educator
How to Become a Health Educator
Anyone looking for a career dedicated to improving the lives of people in his or her community should consider becoming a health educator. This career could involve influencing a number of positive outcomes, such as helping middle school and high school students establish habits that promote their physical and mental health, or instructing older adults on activities to stay active and avoid falls. Health educators teach people day-to-day skills to help prevent illness, find the health resources they need, and live life to the fullest.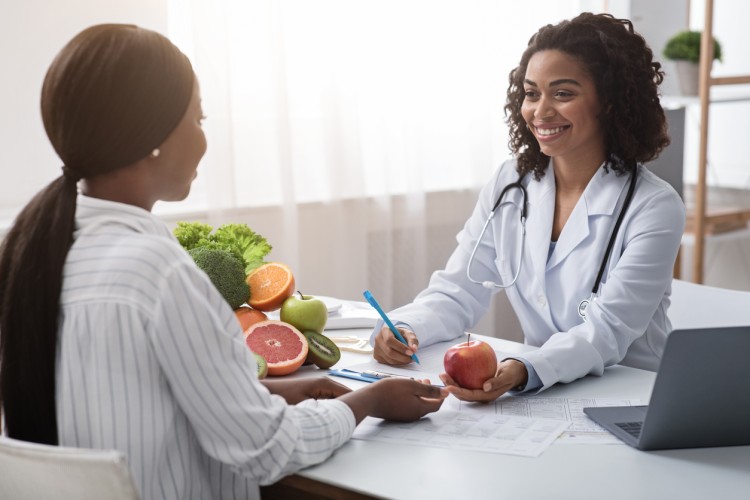 If you have a passion for public health issues and a talent for public speaking, you possess two key skills that are required to become a health educator. Increasingly, health educators also help collect and analyze health data. This information is then used to devise effective strategies for teaching healthy habits to specific populations and individuals.
If you are wondering how to become a health educator or considering pursuing a career in the field, explore how an online Bachelor's in General Studies with a Healthcare concentration from Maryville University can help you.
What Does a Health Educator Do?
Health educators primarily instruct the public on how and why to adopt healthy living habits. They perform this work either directly or by working with other healthcare professionals. The lifestyle plans devised and promoted by health educators are intended to make individuals and entire communities sound in mind, body, and spirit. While some health educators interact primarily with people one on one, others focus their efforts on specific groups or communities. In both instances, listening to people's health concerns and gleaning useful information about their needs are important components of how to become a health educator.
Many health educators work for hospitals, public health centers, and other medical service providers. Others are employed by schools and corporations. In all these settings, health educators interact with the public to teach and promote healthy lifestyles. They apply a variety of resources, including instructional materials tailored to the needs of specific groups, such as students, employees, the elderly, and at-risk populations.
Following are some of the duties of health educators as listed by the U.S. Bureau of Labor Statistics (BLS) Occupational Outlook Handbook.
Create instructional materials and education programs tailored to specific clients
Help people cope with acute and chronic medical conditions
Determine how useful health education programs have been and how to improve their effectiveness
Train healthcare professionals in methods to encourage healthy habits in their patients
Gather and parse health-related data used to improve the impact of health education efforts
Advocate for community healthcare needs with leaders and members of the community
Create awareness of healthcare services available to the public via outreach programs, counseling, and community support groups
Why Become a Health Educator?
Health educators make an important impact on the lives of countless people. In U.S. News & World Report, Deborah Tackmann, a health educator with 30 years of experience, says the goal is to work with clients to "improve the quality of life and the quantity of their life." Health educators are positioned to help individuals of any age or stage in life achieve wellness.
One of the benefits of working as a health educator is that professionals can pursue fulfilling careers in health, while not administering medication or performing surgeries. Health educators can help community members understand a range of key public health issues, from smoking to the importance of vaccines and beyond.
Steps to Become a Health Educator
The process of how to become a health educator combines formal education and hands-on experience. Experienced health educators recommend developing a strong support network by cultivating professional relationships beginning in college and continuing through internships and student teaching. Health educator Deborah Tackmann emphasizes the importance of lifelong learning by "embracing —consistently — professional development opportunities."
Among the requirements to succeed as a health educator are written and oral communication skills, computer and other technical competence, an aptitude for data analysis, self-motivation, problem-solving ability, and a talent for interacting with people of all ages and backgrounds. Overall, the role of health educator requires a love of teaching.
Earn a Bachelor's Degree
Those entering the health education field may gain a competitive edge for open positions by earning a college degree. A sound strategy is to acquire a bachelor's degree in education with a focus on health or a related social or science discipline. For example, an online bachelor's in general studies with a concentration in healthcare typically features a curriculum that combines substantial coursework in health topics with a comprehensive liberal arts foundation. Successful graduates benefit from having a high-level perspective of the healthcare industry and the health needs of communities.
At Maryville University, the general studies foundation of this specific degree program is complemented by classes such as Healthcare Informatics, Cultural Diversity in Health and Illness, Genetics for Healthcare Professionals, and Human Anatomy and Physiology. Specialization options are Gerontology and Mental Health. Graduates are able to choose the areas they wish to concentrate in for their careers as health educators. They are also well-prepared to pursue graduate degrees in various healthcare specialties.
Pursue a Professional Certificate
In addition to a bachelor's degree, employers often require health educators to hold a professional certificate related to health education. That's why the path to becoming a health educator can include earning a designation as a Certified Health Education Specialist (CHES) or Master Certified Health Education Specialist (MCHES). Both of these certifications come from the National Commission for Health Education Credentialing (NCHEC). The CHES is geared toward educators who are beginning their careers, while the MCHES is intended for experienced health educators who are seeking greater managerial responsibilities.
Prior to qualifying for the CHES examination, candidates must hold a bachelor's degree with a major in health education — or they must have completed at least 25 semester hours or 37 quarter hours of coursework toward such a degree with a grade of "C" or better. Their education must address the NCHEC's seven areas of responsibility and competency for health education specialists. These are as follows.
Assessment of the requirements, resources, and limits of health education and promotion
Planning health education programs
Implementing and promoting the programs
Evaluating and researching topics related to the programs
Managing the programs
Serving as a resource for clients and other health professionals
Communicating and advocating for the programs and for the health educator profession
Gain Health Education Experience
The next step toward understanding how to become a health educator is to learn by doing. Professionals can gain firsthand experience as a health educator by volunteering as an assistant at a business, healthcare facility, government agency, or nonprofit group. Many health educators' initial work experience comes by participating in an internship or registering for an employer's on-the-job training program.
Job candidates can improve the chances of landing their first job as a health educator by strengthening professional network connections made during their education. This can also develop the interpersonal skills that are vital when meeting with clients and other healthcare professionals.
Community Health Educator Salary
According to figures compiled by the U.S. Bureau of Labor Statistics (BLS) as of May 2019, the median annual salary for health educators was $55,220. Salaries can range from under $32,890 for the lowest earning 10% to more than $98,680 for the highest 10%. Health educators in hospitals had median annual wages of $64,680 as of May 2019, while the median annual salary for those in government was $57,410. Outpatient care centers paid health educators a median annual wage of $52,360 in May 2019, while those working for individual and family services earned a median annual wage of $42,710.
Health Educator Job Outlook
Health educators and community health workers are among the fastest growing occupations in the U.S. The BLS forecasts that between 2018 and 2028, employment in these job categories will increase by 11% — a higher rate than the 5% growth projected for all occupations during this period.
Much of the increase in health educator hiring will be caused by renewed efforts of communities and employers to promote healthy lifestyle choices, discourage unhealthy habits, and help people find and use the healthcare services available to them. Health educators can also help lead efforts to rein in healthcare costs by encouraging prevention and early detection of illness and disease.
Individuals who want to know how to become a health educator should understand certain skills associated with the job. Effective health educators demonstrate the following competencies.
Interpersonal: Health educators work with diverse groups of people and should be good listeners and have cultural awareness
Problem solving: Since they create health education programs, health educators should be able to recognize problems in the communities they serve and develop plans for solving them
Writing and instruction: Health educators should exhibit excellent writing skills as they create educational materials, and should demonstrate excellent communication when leading classes or training programs
Critical thinking: Health educators use analytical skills and critical thinking when collecting and analyzing data about the communities they serve
Become Part of This Dynamic Field
The healthcare industry faces many challenges, such as preparing to serve an aging population, adapting to budget shortfalls, and keeping pace with technological innovations. Yet each challenge also presents opportunities for healthcare providers to make their services more effective and efficient.
By bridging the worlds of healthcare providers and patients, health educators play a key role in helping people in their communities live healthier lives. If you want to learn how to become a health educator, explore how Maryville University's online bachelor's in general studies, healthcare can put you on the path toward a career in this exciting field.
Recommended Reading
Healthcare Careers and Opportunities for Recent Healthcare Grads
The Future of Healthcare: Trends, Technology & New Skills for Success
The Future of Public Health: Skills for Helping Communities Thrive
Sources
American Public Health Association, "Public Health Education and Health Promotion"
American Public Health Association, "What is Public Health?"
Glassdoor, Health Educator Salaries
National Commission for Health Education Credentialing, Health Education Specialist Certification
National Commission for Health Education Credentialing, Certified Health Education Specialist Exam
National Commission for Health Education Credentialing, "Reasons to Hire a Certified Health Education Specialist"
PayScale, "Average Public Health Educator Salary"
Society for Public Health Education – SOPHE
The Bureau of Labor Statistics, Health Educators and Community Health Workers
US News and World Report, "Health Educator"
Be Brave
Bring us your ambition and we'll guide you along a personalized path to a quality education that's designed to change your life.