How to Become a Healthcare Administrator
How to Become a Healthcare Administrator
How to Become a Healthcare Administrator
The accomplishments of healthcare professionals are immense and far-reaching. Those in healthcare strive to provide high-quality care to patients, advocate for changes in health policy, and serve communities facing social and public health issues. In addition to medical professionals such as nurses, doctors, and specialists, healthcare administrators contribute to the many benefits that healthcare organizations bring to the public.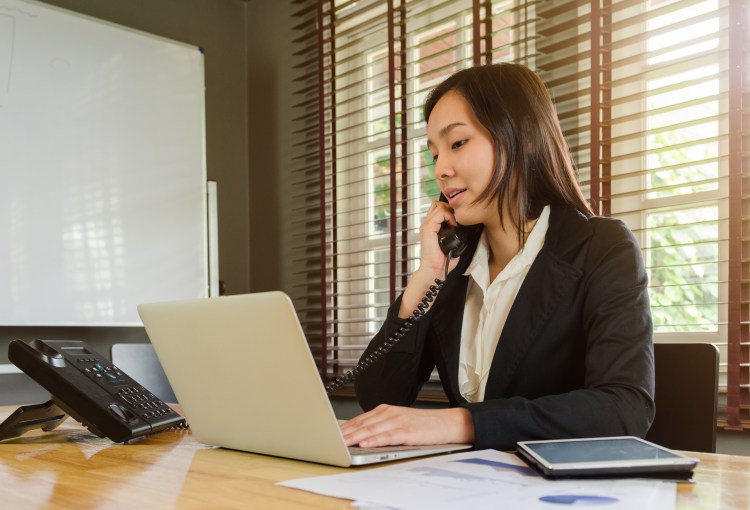 Healthcare administrators assume responsibility for managing the non-clinical tasks that help medical facilities operate smoothly. This occupation is an integral part of healthcare delivery. It requires dedicated business-minded professionals who understand the merging of medical science and business.
Beyond the typical steps to becoming a healthcare administrator, additional training, education, certification, or experience may be required, depending on the employer, organization, and nature of the position. Many healthcare administrators pursue specialized degrees, such as Maryville University's online bachelor's degree in general studies, healthcare.
What Does a Healthcare Administrator Do?
For individuals interested in learning how to become a healthcare administrator, the first step is to know the responsibilities of the position. While the day-to-day duties of a healthcare administrator vary depending on the type of organization, they are typically responsible for managing all non-clinical aspects of their facilities. Healthcare administrators coordinate the activities and directives of departments in various organizations, including hospitals, assisted living facilities, mental health centers, outpatient care centers, and other medical institutions.
With the overarching goal of maximizing efficiency and improving the quality and cost-effectiveness of healthcare delivery, healthcare administrators develop and enact policies while regularly evaluating the results. They may work with business and accounting departments to plan budgets and oversee spending, as well as with government and accrediting agencies to ensure compliance with regulations and policies. Administrators also assist human resources in hiring, training, and managing personnel, as well as resolving staff conflicts.
Healthcare administrators also contribute to public relations. They may handle marketing efforts, and create programs to inform local communities about public health initiatives and promote their organization's work. They also take an active role in handling patient complaints and addressing problems with care delivery.
Healthcare administrators strive to ensure a comfortable setting for patients and visiting family members, and a safe working environment for employees. In addition, administrators help with investing in new technology and innovative methods for collecting and storing patient data, monitoring patient health, scheduling and tracking employee hours, and coordinating care. They do all this while working within a budget and keeping in mind the overall goals of organizational growth and profitability.
Steps for Becoming a Healthcare Administrator
There are several paths to becoming a healthcare administrator. Below are a few key steps that can put professionals on track to pursue this rewarding career.
Step 1: Earn a Bachelor's Degree
To qualify for entry-level positions, professionals typically need an undergraduate degree in a healthcare-related field, such as an online bachelor's degree with a healthcare concentration. This type of program offers an in-depth healthcare curriculum that can help students develop fundamental skills and concepts in areas such as public health, ethics, healthcare systems, and communications. These competencies are foundational for non-clinical healthcare occupations.
Step 2: Earn a Master's Degree (Optional)
Aspiring healthcare administrators may then choose to pursue a graduate degree, such as an online master's degree in health administration to help advance their careers. Earning this degree may better position professionals to take on greater responsibilities and earn higher salaries. Master's programs in general enable healthcare professionals to develop leadership competencies and deepen their knowledge of healthcare operations.
Step 3: Gain Work Experience
Another important step to becoming a healthcare administrator is gaining on-the-job experience at a medical facility. As they gain work experience, future healthcare administrators acquire a firsthand understanding of both healthcare and business, and how teams and departments work to support each other while addressing the needs of patients.
Healthcare Administrator Skills
For individuals who are aspiring to become healthcare administrators, a key step is to acquire critical technical and leadership skills. Below is a list of core competencies for healthcare administrators.
Technology skills: Administrators need technology skills to effectively organize and manage all of the moving parts in their facilities. Most medical facilities increasingly rely on information technology, such as electronic health records (EHRs), to track patient data. They also work with software tools that help manage staff schedules, handle billing and payables, and oversee hospital budgets. Administrators must also stay up to date on the latest healthcare technology innovations. For example, the internet of things (IoT) and the increased use of patient mobile apps are transforming the way medical facilities update patient medical records, order equipment, and more.
Leadership skills: The healthcare administrator's role is managerial, requiring strong leadership abilities that aid in motivating employees, providing clear direction and guidance, and solving complex issues. Leadership responsibilities include team-building, establishing values based on clinical best practices, and promoting a workplace culture that encourages collaboration and cooperation. Leadership traits of effective healthcare administration involve inspiring staff to focus on providing excellent patient care and managing people through change.
Interpersonal skills: Healthcare administrators spend most of their time interacting with hospital executives, government representatives, vendors, staff members, and patients. Therefore, they should have strong communication and relationship-building skills. Healthcare administrators also need to demonstrate interpersonal skills when advocating for staff needs, settling disputes among departments, and negotiating contracts with vendors.
Critical-thinking and problem-solving skills: Healthcare administrators use their critical-thinking and problem-solving skills to find solutions to a host of issues, from scheduling conflicts, to patient billing challenges, and far beyond. Healthcare administrators also keep track of evolving healthcare regulations. This requires critical thinking on how to implement regulatory changes into existing processes and mitigate any issues related to the changes.
Healthcare Administrator Salaries
Healthcare administrator salaries can vary depending on factors such as experience and the type of patient care being provided. According to the U.S. Bureau of Labor Statistics (BLS), medical and health services managers, including healthcare administrators, earned a median salary of $100,980 as of May 2019. Pay can also differ according to the professional setting. For example, healthcare administrators in state, local, and private hospitals earned a median annual salary of $110,430, while those working in nursing care facilities earned $86,820.
Employment Outlook for Healthcare Administrators
Projections indicate that nearly every occupation in healthcare will see substantial employment growth in the future, and healthcare administrators are no exception. According to the BLS, the expanding number of physicians, nurses, and other healthcare staff — as well as growth in medical procedures and facilities — will create more job opportunities for healthcare managers. These roles will be essential for overseeing medical staff and a growing volume of healthcare data.
The BLS projects an 18% increase in employment for medical and health services managers, including healthcare administrators, from 2018 to 2028, significantly exceeding the average for all occupations.
Learn More About How to Become a Healthcare Administrator
Healthcare administrators play a critical role in the growth of the healthcare industry. With their hard work and attention to detail, they keep medical facilities functioning smoothly. Becoming a healthcare administrator is a prime opportunity for leadership-minded professionals who are dedicated to improving the business of healthcare.
Learn more about what healthcare administrators do and discover Maryville University's online bachelor's degree in general studies, healthcare. With its robust and targeted curriculum, the program is an excellent choice for professionals with expertise in healthcare and a desire to help individuals and communities.
Recommended Reading
The Future of Healthcare: Trends, Technology & New Skills for Success
The Future of Public Health: Skills for Helping Communities Thrive
General Studies with a Concentration in Healthcare and Healthcare Management Information Session
Sources
Maryville University, BA General Studies Healthcare Careers
Maryville University, Master's in Health Administration Online
Maryville University, Online Bachelor's Degree in General Studies, Healthcare
Maryville University, "Skills Every Health Administrator Should Have"
PayScale, Average Healthcare Administrator Salary
U.S. Bureau of Labor Statistics, Medical and Health Services Managers
Be Brave
Bring us your ambition and we'll guide you along a personalized path to a quality education that's designed to change your life.