Forensic Psychology vs. Criminal Justice Degrees
Forensic Psychology vs. Criminal Justice Degrees
Forensic Psychology vs. Criminal Justice Degrees
For many graduates, a bachelor's degree in forensic psychology or criminal justice can be the gateway to an exciting career in assessing and solving crimes. Making the forensic psychology vs. criminal justice decision, however, can be difficult. While both are rooted in the observation of crime as a social phenomenon, the two degrees are quite different.
Forensic psychology revolves around delving deep into the human psyche with the ultimate goal of bettering society by understanding the causes and effects of crime. Criminal justice, on the other hand, is centered on developing an understanding and appreciation of the legal and societal dynamics related to criminality, the law, and its enforcement.
Students with eligible transfer credits who leverage the flexibility and convenience of online learning can complete either degree in as little as two years through Maryville University's online forensic psychology degree program or online criminal justice degree program.
Here is an in-depth look at both degree programs, including essential courses and possible career tracks, complete with the necessary skills and average pay.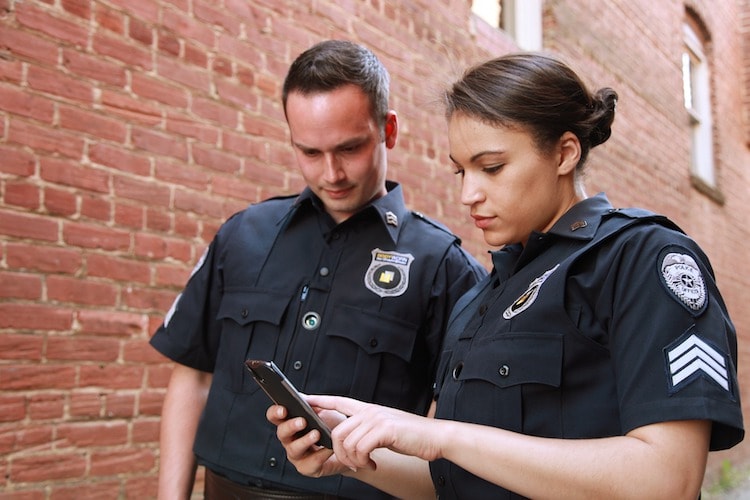 Understanding Forensic Psychology
Combining the essentials of an education in criminal justice with an understanding of human psychology, the Bachelor of Arts in forensic psychology prepares graduates for the process of pursuing a host of different careers that utilize the science of the mind. In addition to forensic psychology coursework, this degree requires the completion of a 150-hour internship.
Common Forensic Psychology Courses
General Psychology: This introduction to psychology provides a broad overview of the field, touching on psychology as a science, the biological foundations of behavior, motivation and emotions, abnormal psychology, sensation and perception, and learning and memory.
Forensic Psychology: This course examines the role of forensic psychology in relation to the criminal justice system and law enforcement in general. Specific topics include serial killers, sex offenders, terrorism, the insanity defense, the etiology of aggression, and the re-introduction of offenders into society.
Criminal Law and Procedure: The various aspects of the criminal justice system — from the steps involved in prosecution to defense and immunity — is the focus of this fundamental introduction to the criminal law process.
Police Psychology: This course examines the stresses unique to law enforcement officers and the associated effects these stress-related issues have on officers both professionally and personally. The curriculum covers how the stressors affect an officer's work life and home life, the application of psychological principles in relation to detective work, and the interpersonal dynamics of the relationships between officers and civilian complainants, victims, and offenders.
Forensic Psychology Careers
Graduates can leverage a degree in forensic psychology to potentially pursue careers in a host of industries. It is important to note that some of the career paths highlighted below, such as a forensic psychologist, require a graduate degree and professional licensure.
Forensic Psychologist (Average Salary: $62,981; PayScale): According to the U.S. Bureau of Labor Statistics (BLS), the job outlook for psychologists is expected to grow by 14 percent between 2016 and 2026. Forensic psychologists evaluate offenders and victims, and can also diagnose patients' mental health while determining the motivations behind suspected crimes. While a bachelor's degree can help build the analytical and communication skills needed in this position, becoming a forensic psychologist will require an additional advanced degree, such as a master's or doctorate, as well as professional licensing.
Victim Advocate (Average Salary: $49,000; PayScale): Often partnering with law enforcement officers and court officials, victim advocates help victims in times of need in a host of ways, such as providing consulting services and shelter. They can also support victims during court proceedings and lead support groups. Strong communication skills (verbal and written) and a bachelor's degree are typically required for victim advocate roles. While the BLS does not provide job data specifically for victim advocates, the job growth for social and human service assistants – whose responsibilities are similar – is expected to be 16 percent from 2016-2026.
Probation/Correctional Specialist (Average Salary: $51,410; BLS): Relying on specialized training in offender rehabilitation and treatment planning, probation and correctional specialists are often vital in the development and coordination of recovery plans for offenders as they re-enter society while on probation or parole. While also working with incarcerated offenders prior to their release, probation and correctional specialists frequently collaborate with court officers to ensure the alignment of plans and the terms of release. In most cases, a bachelor's degree is required for this position. The BLS projects the job growth for probation officers and correctional specialists to grow by 6 percent between 2016-2026.
Understanding Criminal Justice
The Bachelor of Arts in criminal justice degree prepares graduates for the process of pursuing careers dealing specifically with the law and its enforcement. Students who successfully complete police academy training through select academies may be able to obtain credit when enrolling in Maryville's online bachelor's in criminal justice program.
Common Criminal Justice Courses
Introduction to Criminal Justice: Students explore the fundamental concepts and structures of the U.S. criminal justice system as they learn the links between law enforcement, criminal court, and incarceration.
Multicultural Policing: Because of the diversity of American society, it's vital that law enforcement officers understand many different cultures and be prepared to communicate effectively across cultural barriers.
Corrections in Society: Examining the progression of correctional practices in the United States, this course provides students with an understanding of the various disciplinary options in the criminal justice process.
Criminological Theory: This course introduces students to criminology and examines the theories that have shaped the U.S. criminal justice system for the past three centuries.
Criminal Justice Careers
There's an abundance of career opportunities for graduates with criminal justice degrees.
Police Officer, Detective, or Criminal Investigator (Average Salary: $62,960; BLS): While protecting the lives and property of others, the responsibilities of a police officer change on a daily, and even hourly, basis. A police officer might have to handle a variety of duties such as routine patrolling, responding to emergency and non-emergency calls, issuing citations and dealing with crowd control. The roles of detectives and criminal investigators, however, are far more specialized and revolve around gathering facts and evidence to solve a case. Some law enforcement agencies require only a high school degree as the minimum education requirement, but others require a bachelor's degree. Attaining these positions also requires meeting additional qualifications and completing police academy training. The projected job growth for police officers, detectives and criminal investigators is about 7 percent for 2016-2026.
Computer Forensics Investigator (Average Salary: $69,917; PayScale): Skilled in tracking digital evidence, computer forensics investigators analyze computer hard drives and storage devices to establish user patterns, recover data from destroyed media devices, and prepare detailed reports for colleagues. A bachelor's degree in criminal justice or computer security can provide students with the education and necessary skills to begin working towards becoming a computer forensics investigator. Other requirements include additional training, advanced education, and certifications in subsets of information technology and cybersecurity.
DEA Special Agent (Average Salary: $147,526; Indeed): Trained to track and apprehend drug traffickers, DEA agents must possess advanced criminology knowledge and have robust experience. It's important to note that a bachelor's degree is merely a foundational requirement. Working up to the highly regarded position of DEA Agent depends greatly on developing skills that can only be gained through years of experience in the field. In addition, further education, licensing or certifications, which can vary from state to state, may be required.
Learn More at Maryville University
When comparing the forensic psychology vs. criminal justice degrees, it is important to know that both careers require a strong educational foundation. To learn more, visit Maryville University's online forensic psychology program and online criminal justice program.
Sources
Maryville University's online forensic psychology bachelor's degree program
Maryville University's online criminal justice bachelor's degree program
U.S. Bureau of Labor Statistics
Be Brave
Bring us your ambition and we'll guide you along a personalized path to a quality education that's designed to change your life.