How to Become a Video Game Developer: A Look at an Exciting Career
How to Become a Video Game Developer: A Look at an Exciting Career
How to Become a Video Game Developer: A Look at an Exciting Career
Video games are a booming industry that has grown steadily, especially in the past decade. The gaming audience is no longer limited to those who purchase a gaming console such as an Xbox One or PS5. With the rise of mobile gaming, the number of gamers (casual or otherwise) has never been higher.
The incredibly high consumer demand for this medium of entertainment translates to a healthy job market for aspiring video game developers.
As anyone working in the industry will tell you, it takes a certain level of passion and dedication to pursue video game development as a career. Ideal applicants should be avid game players, have experience across multiple platforms, and demonstrate a keen eye for design and detail. They should know how frameworks and pixels ultimately come together to create an experience that engages players for hours at a time.
If you're wondering how to become a video game developer, a degree such as an online Bachelor of Fine Arts in Digital Media can help provide the skills and hands-on experience you need.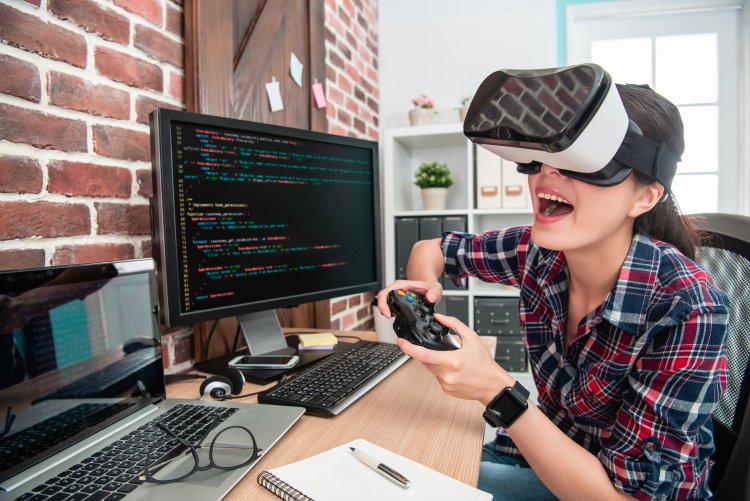 A Video Game Developer's Role
Making a game has two distinct phases: design and development. Video game designers create a game's concept, characters, and the world in which they exist. They are the dreamers of the project, the architects who sketch, map, and otherwise turn nothing into something.
From there, video game developers — usually a team — step in to bring things to completion. They take all ideas, drawings, and storylines created by the designers and convert them into code, the digital foundation upon which all games are made. Character animation, world building, testing, and programming the game engine are all in a day's work for video game developers. It's only through their efforts that an idea becomes a playable product that can be distributed to the masses.
Although video game designers and developers work hand in hand, the developer role is the more technical of the two. Learning how to become a video game developer involves becoming an expert in several different disciplines of technology and design.
How Can You Become a Video Game Developer?
You have the drive for developing video games, but you need to make sure you're pointing it in the right direction. After all, this is a competitive field, and it takes more than determination to stand out from the pack. These steps can lead you to a rewarding career in game development.
Earn a Bachelor's Degree
The first step to turning any passion into a profession is education and practice. Video game development is no different. Aspiring video game developers should typically have a bachelor's in digital media, computer science, or a related field. A digital media program offers students the essential foundation of skills and hands-on experience. With these, students can pursue a future career in video games, or in fields such as film, web development, and UI/UX (user interface/user experience) design.
The end game of higher education is to not only learn what it takes to do the job, but to amass examples of work in the form of a portfolio. Hiring managers are much more inclined to take on a candidate who has a diverse body of work in addition to a degree.
Network, Build Relationships, and Learn as Much as Possible
Beyond education and experience, video game developers should also be active networkers who are immersed in the culture. That doesn't mean simply playing every game that comes out. It means meeting the makers of those games, reading industry publications, and building relationships with people who may one day become your coworkers.
To become a great developer, you should learn from those who have already walked the path. Use social media to connect with companies and developers whose work you admire. Attending gaming conventions with industry-leading keynote speakers is another way to gather insights about the job.
Expected Salary and Job Growth of a Video Game Developer
Salary expectations are an important factor to consider. While the U.S. Bureau of Labor Statistics (BLS) doesn't present specific data for game developers, the median annual wage for software developers was $107,510 as of May of 2019, and $75,270 for multimedia artists and animators.
PayScale reports a median annual salary of $60,000 for video game developers as of November 2020, with the opportunity for significant bonuses. Annual salaries can vary considerably depending on the employer, job location, and a candidate's experience.
The BLS projects that employment of software developers will increase 22% between 2019 and 2029, much faster than the average for all jobs, while employment of multimedia artists and animators is expected to increase 4%.
What Are the Essential Skills of a Video Game Developer?
Video game developers need a particular set of skills to thrive in the industry, including strong computer and programming capabilities. Developers should be highly analytical and detail-oriented; the smallest error in code shouldn't be able to sneak by them. They should also be highly creative and visual communicators; a must, since the developer's core function is to interpret the designer's vision. Finally, any video game developer who plans on a long-term career should possess a certain level of adaptability.
As technology changes and video games advance, so do the teams that create them. We're already seeing that VR (virtual reality) and augmented reality are the next big steps in gaming. The industry needs forward thinkers to see how far those concepts can go.
Discover Your Path with a Digital Media Degree
If you are enthusiastic about video games, and about being part of a team that turns big ideas into a reality, a career as a video game developer can be fulfilling and lucrative. As you build your skills and portfolio of work, you should see more opportunity. That may come in the form of higher salary, being part of a large-scale studio project, or even managing your own team of developers. It's a career path full of potential and possibilities — and it can all start with an online Bachelor of Fine Arts in Digital Media from Maryville University.
Be brave and take the first step today. Your personal and professional goals are well within your reach, and Maryville University has the tools and resources to teach you how to become a video game developer.
Recommended Reading
Motion Graphics vs. Graphic Design: What's the Difference?
UX Designer vs. Graphic Designer: Breaking Down the Difference
Marketing in the 21st Century: How Does Digital Media Affect the Marketing Mix?
Sources
BuiltIn, "A Guide to a Career in Game Development"
Fortunly, "The Rise of the Virtual Empire: Video Game Industry Statistics for 2020"
Newzoo, "The World's 2.7 Billion Gamers Will Spend $159.3 Billion on Games in 2020; The Market Will Surpass $200 Billion by 2023"
OrtusPublishing, "Difference Between a Game Designer and Game Developer"
PayScale, "Average Video Game Developer Salary"
U.S. Bureau of Labor Statistics, Multimedia Artists and Animators
Be Brave
Bring us your ambition and we'll guide you along a personalized path to a quality education that's designed to change your life.